How to Decorate Your Home for a Halloween Party?
As Halloween is fast approaching, here are some ideas to decorate your home while throwing a Halloween Party.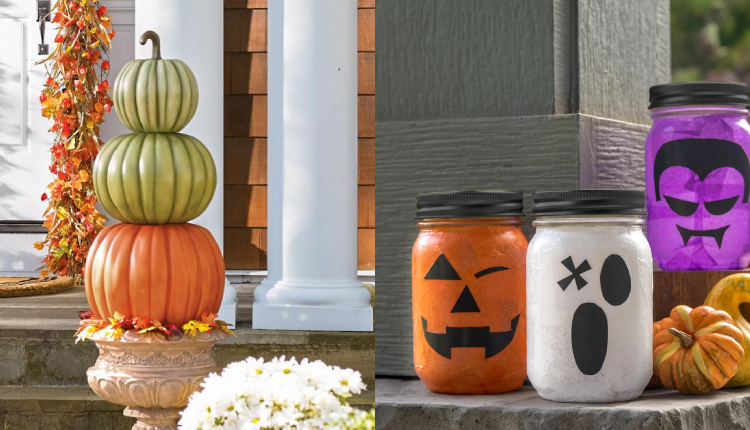 Your family's Halloween costumes are probably something you've been working on for weeks, but have you given any thought to how you'll decorate your own house? To your surprise, getting your home ready for the craziest holiday of the year doesn't require a mad dash to the stores. Roll up your sleeves and get clever in the days and weeks leading up to Festivities by making distinctive decorations that give your visitors a delightful sense of dread. Let's take a look at some of the best Halloween decorating ideas for your home, shall we?
How to decorate your home for a Halloween Party?
Pumpkin Topiary
A pumpkin topiary is a must-have Halloween decoration. With a pumpkin topiary, you could use your creativity and place it in any nook or cranny of the environment. However, if you were to ask us, we'd say the best location is right at the entrance. Why? It will set the scene for a wild welcome. How do you make it? Simple: just purchase some plastic pumpkins, decorate them, drill holes for eerie eyes, and insert some lights. Then all that's left to do is stack each pumpkin on top of the others. Your scary pumpkin topiary is now complete!
Mummy Candy Canes
These Mummy candy cans make great take-home treats for everyone. The good thing is that recycling tin cans will save you money, and the other items are incredibly cheap. An image of a mummy is created by wrapping cheesecloth around some black tin cans. The finishing touches are a pair of goofy eyes and a small mouth opening. Put the brown lunch bags from the previous year to shame by using them as party favours. Simply use a few as the centrepiece of your entryway if you don't want to create that many cans. The place will get a festive makeover, and your guests can grab some treats whenever they want a quick snack.
You may also like: 5 Traditions of Halloween You Should Know 
DIY Spider Sacks
Make some thread nests for your spiders to have their own spooky home. The spider sacks can then be hung in some creative and unexpected areas. A few can hang upside down over the bathroom cabinet, and one or two can be tucked into the hallway. To keep the attention on the festivities, place them in your entrance hall and have them collapse in front of the television. To create a fun, slightly spooky look, use a glow-in-the-dark thread and drape the sacks right in front of your window frames.
Mandarin Pumpkins
Your food is the icing on the cake, while the décor sets up the mood. It's simple to reach for packs of candy when putting out snacks, but you might prefer something a little more interesting and healthy. For a festive treat that everyone will enjoy, choose Jack-o-lantern painted mandarin oranges. In order to provide a small treat for your early visitors, place a bowl of them on the counter or keep it on the table. These oranges can also be used to add visual elements to classy Halloween centrepieces.
Paper Bats
Looking for more haunting decoration ideas? How do you like the sound of paper bats? They are simple to make and can be made in a matter of minutes. Simply draw a bat on a piece of black construction paper. Basically, cut it and repeat the procedure to create several more bats. Once completed, paste them to the walls. It is also an excellent idea to place them near the entrance. That's all! Just sit tight until you can astonish (or shock) the visitors with the décor.
Spooky Mason Jars
By giving your visitors adult sippy cups, you can encourage them to unwind and continue mingling. Mason jars with decoratively cut lids can hold a straw with no problem, and plastic spiders and bones can give the arrangement a spooky feel. Everyone will enjoy the cute little mason jars, whether you serve Witches Brew to the adults or a simple mummy punch to the kids. Put a few on a shelf close to the bowl to spruce up the place and make it simple for guests to help themselves.
Are you planning on throwing a haunting and spooky Halloween party this year? How are you decorating your house for the spookiest season of the year? Let us know!
We will be delighted to have your thoughts and feedback. Please write to us at [email protected]
Follow Life and Trendz on Instagram:https://www.instagram.com/lifeandtrendz/
Facebook: https://www.facebook.com/lifeandtrendz
Twitter: https://twitter.com/LifeandTrendz