Perhaps, a freelancer or regular office goer, your workspace should be more welcoming. If not, it will have its impact on your productive. When it comes to workspace, it must be pleasant and infuse productivity. Either placing your table near the French window or having a cabin for yourself, it must be comfy and efficient for yourself. It's the first month of the New Year and it's time to give a makeover for your workspace. And no! It will never be an expensive makeover. Let's check out the simple ways to give a makeover for your workspace.
Setting the Workspace near the Window: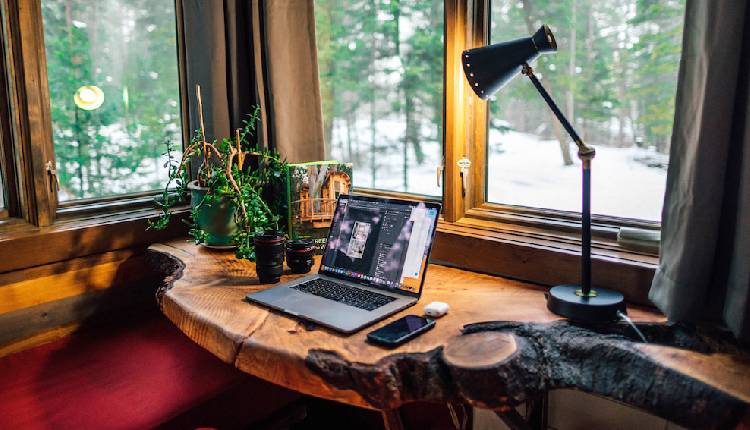 If you are working from home, then this trick will definitely a help. When placing your table or setting your workspace near the window, you may feel the efficiency in your work. A big-open French window or normal window can help enhance your creativity in work. Watching through the window and the scenery will be an additional one. So, it is always good to set your workspace or place a table near the window.
You may also like: Benefits of Positioning Your Work Desk Near Open Windows
Add Tiny Indoor Plants:
Try to add tiny indoor plants to your work desk. When adding plants to table, it infuses the better ambience for your work atmosphere. It reverses the stressful ambience of your workspace. Looking at the plants may help calm your nervous when you are pressured. So, pick some low-maintenance plants for your work desk such as Mini Succulents, Peace Lily, Golden Devil's Ivy and so on. They are durable and do not take much of your space.
Add Pen Stand and Lamp:
Does pen stand necessary? Yes, it is! Lot of us may not think how pen is a necessary stationary at office. Adding a Pen stand to a work desk is a must as you do not have run to pick a pen next time. And if you are working from home, just add a lamp at your work desk. It may not disturb others when you work late at night.
Stick Polaroid Photographs and Have Sticky Papers:
It will be an amazing idea to stick memorable polaroid photographs at the background. It may be your family or friends or whoever you miss. You can even use this idea at office workspace as well. Next comes the sticky papers. Most people use sticky papers which even known to be a trendy stationary. Try incorporating sticky papers not just to write 'things to do' but to have a positive note remembering you every day. It may not only boost your mood but also others who catch it for a minute.
Books & Notebooks with cool Book Ends:
Some of you may love reading books and so you can add your books to the workspace décor. However, ensure to give it the best book ends. You cannot forget the notebooks which is a must-needed one at your work desk. So, pick one with cool cover and have it aside on your desk.
How about adding Miniatures?
Adding miniature to your work desk is one of the coolest ideas ever. It can be your choice of picking. Miniature of artificial plants or favourite cartoon characters or favourite God or dolls or animals is a win. So, place it wherever you want on your work desk.
We will be delighted to have your thoughts and feedback. Please write to us at [email protected]
Follow Life and Trendz on Instagram: https://instagram.com/lifeandtrendz?igshid=Yzg5MTU1MDY=
Facebook: https://www.facebook.com/lifeandtrendz
Twitter: https://twitter.com/LifeandTrendz