The last six months have felt like a battle with time for me, where I wanted it to slow down (please don't grow up so quickly I would whisper into my daughter's ears.), and also couldn't wait for it to speed up (What is taking my hubby so much time at the office?). The transition phases of a female from being an employee to being a mother to finally becoming a working mother is perhaps one of the most significant shifts in her life.
In an interview with the New York Times, former First Lady Michelle Obama said, "You feel guilty if you're away from your kids, you feel guilty if you're not giving your job enough attention. I think that's the hardest piece for working mothers." The best way to cope up with this constant fear of missing out is to acknowledge that our familial connections are not mere diversions from our professional pursuits, but integral factors that contribute to our achievements.
As a new mother who has just returned to work, there are days when I struggle to find the right balance between my work and home responsibilities. I feel guilty about leaving my child in someone else's care and often I worry about how I'll get everything done. Sometimes twenty-four hours seem like a very short span of time. But honestly I feel I do rise to the occasion as I did many times before for several challenges or transitions. I am learning how to be more efficient with my time. And the most important thing that I've learned is to ask for help, which doesn't come naturally to me.
Here are five things that I've decided to follow to ease myself back into the corporate world.
1. Upfront and Honest
From discussing the new realities of my life with my boss to sharing with my colleagues the upcoming bumpy weeks, to conditioning my help on the various ways that I'd appreciate my child would be bought up in, to saying No for tasks at times. I promise myself to be upfront with anyone and everyone I know.
2. Deliberate about time spent with child
Quality time is the key, I focus on when I can spend some worthwhile time with my daughter, since unlimited time is a luxury we working women cannot afford. My Nanny and my daughter's grandparents are now crucial pieces of my professional puzzle and hence I always let them in on this thinking so that my emotional bond with my child doesn't play second fiddle.
3. Resetting Expectations
I have always been a hard worker, a good mentor however there are things I should work on. I now need to become an efficient worker one who can delegate. If I don't adapt and change I will land up being a person I can no longer afford to be. I have to be realistic about what I can and should give, so before anyone else I will reset my expectations.
4. Emotional Temperature
As a new working mother there are so many different emotions that come to me all the time, joy, curiosity to catch-up, (Separation) anxiety, excitement, sadness because I will miss out, and more. But I will stick to keeping my emotional temperature in check. I will try and let my brain and not my hormones guide & drive my decisions.
5. Forgiveness
Like things are new for me, they are different for everyone around me as well. My friends, colleagues, bosses, parents, spouse, are interacting with a changed Sanjula and so when they judge me or do not understand me or probably are not as flexible as I want them to be. I will be forgiving. More than anything else I will take each day as it comes and be more patient and kind to myself.
Finally, Dearest working Moms, let's make sure to carve out some time for ourselves during the week to do something enjoyable, even if it means turning down other obligations. Whether it's reading a book at a coffee shop on the weekend, meeting a friend in the park, or taking a relaxing bath mid-week after putting the baby to bed, let's prioritize our own personal time. After all, what are we humans if not the prisoners of our own happiness? Have a happy day mamas!
– Article by Sanjula Miglani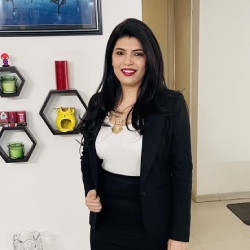 We will be delighted to have your thoughts and feedback. Please write to us at [email protected]
Follow Life and Trendz on Instagram:https://www.instagram.com/lifeandtrendz/
Facebook: https://www.facebook.com/lifeandtrendz
Twitter: https://twitter.com/LifeandTrendz