Resorts to check-in at Chennai's ECR is essential when you are in the state's capital. ECR is a stunning and posh area away from the city. This place has everything from incredible architecture to cosy beaches. Currently, ECR is filled with many sightseeing centres, malls, and heritage places. Also, some of the calmest and less crowded beaches are in and near ECR. Thus it is a perfect gateway for recreation. Furthermore, it is closer to the city and is ideal for a mini weekend vacation.
The place is also filled with resorts and villas of various budgets. If you are looking for a luxurious stay then definitely try the Taj Fisherman's Cove Resort, Four Points by Sheraton, and Kaladan Samudra. Here we give you some additional resorts to check in at Chennai's ECR.
MGM Resort
If you are looking to take a break from your routine and chill in the sea breeze, then MGM resort is the ideal place. This resort is located near the seashores of Muthukadu and is perfect for all thalassophiles. They have rooms catering to every need and budget. From premium to sea-facing deluxe rooms, they have plenty of choices to choose from. Also, they have a multi-cuisine restaurant and banquet hall for parties and events.
You may also like: Chennai's ECR: Every Place You Can Cover in the Long Drive
Chariot Beach Resort
This luxurious beach resort is located in Mahabalipuram. They offer eight different categories of accommodation from cottages to suites. With a blissful sea view and garden area, this place is nothing less than a paradise. Also, it is located closer to the Five Rathas Monument. If you want some spa time and a private candlelight dinner with your loved ones, then this is just perfect. The resort also serves some yummy sea foods and grills.
Bodhiwoods Resort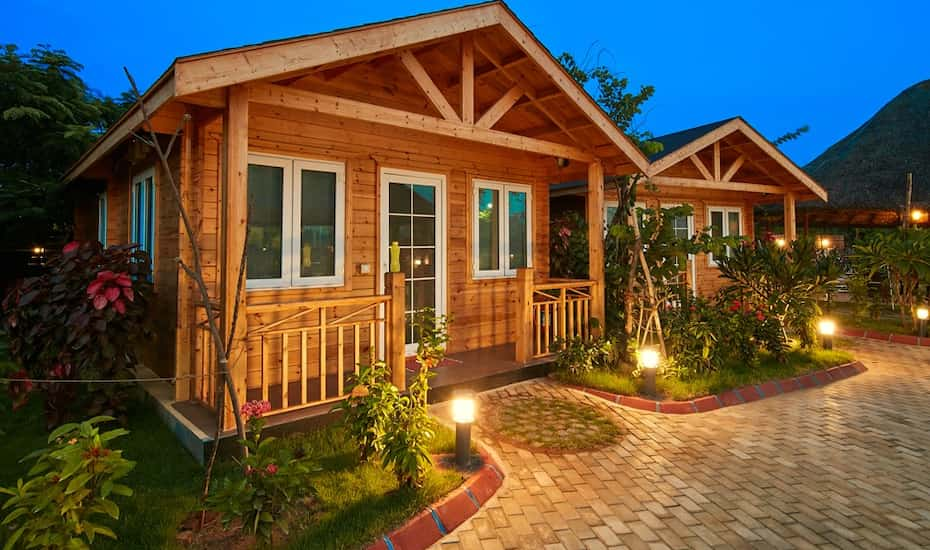 This cosy resort is also located in Mahabalipuram. The resort includes wooden houses and cottages of different sizes. This elegant space is known for its aviary. If you want perfect family time with your kids, then do check out this resort. They have a kids' play area, a swimming pool, and a small hobbit house designed for kids. Also, it is budget-friendly compared to the other posh resorts in ECR.
Grande Bay Resort
This lavish resort in ECR offers some cute and vibrant accommodations. Their dining, lounge bar, banquet hall, and spa are in luxury par excellence. The resort is also close to many cultural and heritage sites. Also, they offer activities like adult surfing, deep-sea fishing, and motorcycle tour. It is a picturesque resort with a nice ambience.
Want To Try Some Villas?
Some of you might look for separate private villas along the beach. They provide a home-like feel and are ideal for family get-togethers. If you are looking for a calm and personal space to spend your weekend with your family, then beach houses are also a choice to consider. As a bonus, we also provide some villa options to check in at Chennai's ECR.
Coral Drive Villas – This cosy beach house is near Graveside beach in Kanathur. The house also includes a swimming pool. It is one of the cleanest beach houses for rent in ECR.
Costa Verde Luxury Seafront Villa – This highly-rated luxury villa in ECR is ideal for large family gatherings. It is a serene oasis close to Uthandi beach.
The Pine Homes – This place is also nearby to Uthandi beach in ECR. It is an affordable A-framed wooden house with all basic amenities.
ECR is filled with many such resorts and beach houses. Before booking any stay place, do check their official websites for amenities and also try to get rooms under the best deal.
We will be delighted to have your thoughts and feedback. Please write to us at [email protected]
Follow Life and Trendz on Instagram:https://www.instagram.com/lifeandtrendz/
Facebook: https://www.facebook.com/lifeandtrendz
Twitter: https://twitter.com/LifeandTrendz