With a stay at one of its opulent villas, you may escape to the East Coast Road's (ECR) pristine beaches and crystal-clear waters. The picturesque section of the ECR connecting Chennai and Pondicherry is lined with numerous magnificent houses. They provide unmatched comfort, style, and service for a special vacation. These opulent villas are sure to satisfy your every desire, whether you're searching for a tranquil retreat, a romantic getaway, or an exciting family holiday. We'll explore some of the top luxury villas in ECR in more detail in this article. With these best Luxury Villas and Resorts in ECR, you can enjoy the ideal coastal getaway.
Best Luxury Villas and Resorts at ECR:
Lotus Villa
Address: No. 161, Venpurusham Village, ECR Mahabalipuram, Pine Beach, Near Chariot Resorts
Price Range: Starting from ₹ 22,325 for one night
Lotus Villa offers accommodations in ECR with access to an indoor swimming pool, located 400 metres from Mahabalipuram Beach. This villa features a lawn, a private pool, and ample parking. With 1 bedroom and 2 bathrooms, including a bidet, a shower, and a hairdryer, this air-conditioned villa is furnished. There is a kitchen on the premises. Every morning the villa also serves an Asian breakfast. Our list's top spot goes to this villa because of its exquisite design. After working long hours at the office, the tranquility you experience here is worthwhile.
You may also like: Top Places to visit this June 2023 
Ocean Spray Beach Resort
Address: #7,8,9 ECR Main Road, Manjakuppam, 604303 Kālapettai, India
Price Range: Starting from ₹ 11,000 for one night
Ocean Spray, which has the largest island pool in Pondicherry, is situated in Kalapet along the picturesque East Coast Road. The resort features three eating options, a spa, and free WiFi access and is only 200 metres from the beach. The air-conditioned rooms have balconies with scenic views. Though other suites have their own personal infinity pool, others have an open-to-sky hot tub. Every room includes a flat-screen TV, a computer desk, and tea and coffee-making supplies. The tea lounge is open around-the-clock and serves a variety of exquisite snacks and drinks. For guests to indulge in at this opulent property, Elysium, the on-site spa, offers exclusive treatments.
Ideal Beach Resort
Address: 164, ECR Road, Devaneri Village, 600041 Mahabalipuram
Price Range: Starting from ₹ 8,579 for one night
The Ideal Beach Resort, in Chennai, Mahabalipuram, has an outdoor pool along with a spa and wellness centre. Both Chennai Railway Station and Chennai Airport are 32 miles apart from the property. Arjuna's Penance, Shore Temple, the Mahabalipuram Lighthouse, and Mahabalipuram Seashore are all nearby, at a distance of 1.2 miles. This serene resort provides a private beach, an outdoor pool, a fitness centre, and a number of eating choices. From every room, you have a view of the garden or the pool. A mini-bar, a lounge space, and TV channels are further features. The on-site restaurant offers Sri Lankan, Chinese, Indian, and continental fare. This lavish villa's poolside bar offers chilled beverages that you may enjoy all day long.
The Blue House Villa
Address: No.10, 5th Drive Water Edge Lane, East Coast Rd, Sea Cliff Conclave, Akkarai, Chennai, Tamil Nadu 600119
Price Range: Starting from ₹ 45,034 for one night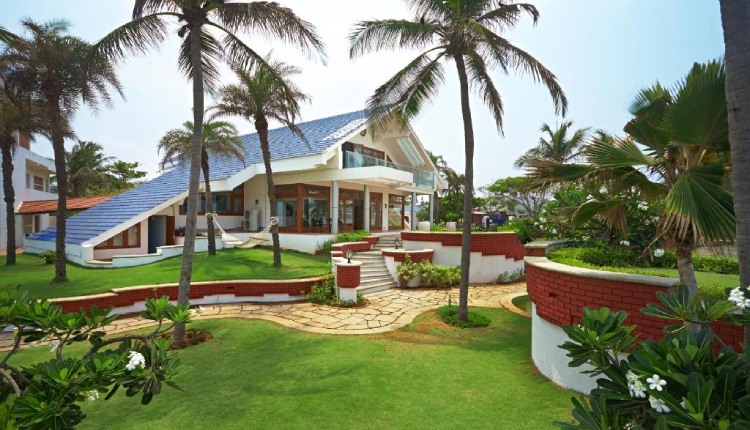 There is nothing less than a distinguished suite about this lovely home in Chennai. The Blue House is a conventionally constructed villa in Chennai that has an indoor pool and an exclusive beach area. The ECR villa is located 13 kilometres from Anna University and 11 km from the Indian Institute of Technology, Madras. The guesthouse is neatly furnished with five bedrooms, a spotless kitchen with an oven, a washing machine and a private bathroom with complimentary toiletries. The front desk personnel are staffed around the clock in English and are prepared to assist visitors. Pondy Bazaar is only 16 miles away from the home, making it the ideal location for relaxation.
Taj Fisherman's Cove Resort & Spa
Address: Covelong Beach, Dist, Chennai, Tamil Nadu 603112
Price Range: Starting from ₹ 10,089 for one night
This chic beachfront hotel provides access to a secluded beach, an outdoor pool, a spa, and a selection of restaurants. It also boasts stunning views of the ocean. Air-conditioned accommodations with flat-screen TVs are situated in tropical settings. A hairdryer and bathrobes are provided. Upper Deck offers exclusive patio dining with Mediterranean cuisine while facing the Bay of Bengal. At the bar, there are also drinks available after meals. This is the place to go if you want the most luxurious experience possible while on a weekend break.
Which of these resorts and luxury villas have you visited? Let us know!
We will be delighted to have your thoughts and feedback. Please write to us at [email protected]
Follow Life and Trendz on Instagram:https://www.instagram.com/lifeandtrendz/
Facebook: https://www.facebook.com/lifeandtrendz
Twitter: https://twitter.com/LifeandTrendz