Every year, the picturesque state of Kerala in India transforms into a vibrant tapestry of colours, traditions, and celebrations during the grand festival of Onam. Known as the 'Harvest Festival of Kerala,' Onam is a time when the state comes alive with a plethora of cultural events, feasting, and festivities. While the state is already vibrant and alive naturally, Onam days come as an enhancement. For travellers looking to experience the rich heritage and warmth of Kerala, Onam is the perfect occasion to embark on a journey that promises both cultural immersion and unforgettable memories.
The Essence of Onam:
Onam is a ten-day long festival that usually falls in the Malayalam month of Chingam, which corresponds to August-September on the Gregorian calendar. The festival commemorates the mythical homecoming of the legendary King Mahabali, whose benevolence and virtuous rule are believed to have brought prosperity and harmony to the land. The centerpiece of Onam is the grand feast, known as the 'Onam Sadhya,' a sumptuous vegetarian spread served on banana leaves, featuring a diverse array of traditional Kerala dishes.
Travel Destinations During Onam:
1. Trivandrum (Thiruvananthapuram):
The capital city of Kerala comes alive during Onam with various cultural events, traditional music and dance performances, and intricately designed Pookalams (flower rangolis). The iconic Napier Museum and Kovalam Beach are must-visit places during this time.
2. Kochi: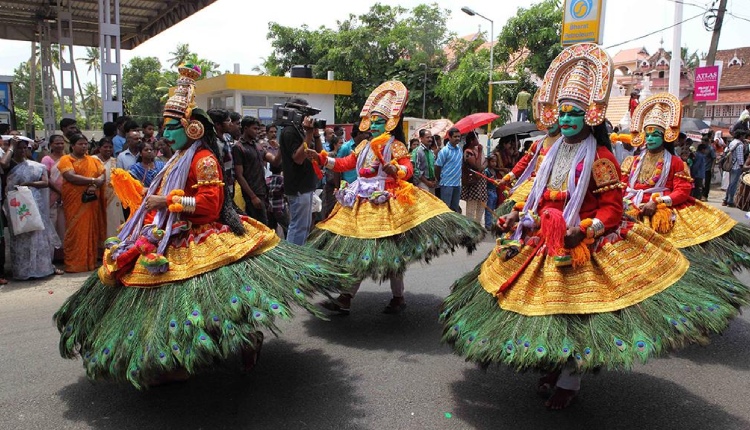 This bustling port city showcases a unique blend of cultures, and during Onam, it hosts boat races, traditional art exhibitions, and Kathakali performances. The Athachamayam festival in the nearby town of Tripunithura marks the beginning of Onam celebrations and offers a glimpse into Kerala's rich heritage.
3. Thrissur:
Known as the 'Cultural Capital of Kerala,' Thrissur hosts the spectacular Pulikali (tiger dance) where performers paint themselves as tigers and hunters. This lively and colorful event is a sight to behold and attracts tourists from around the world.
4. Alappuzha:
Onam coincides with the Nehru Trophy Boat Race in Alappuzha, where long snake-like boats compete in a thrilling race on the backwaters. The festive atmosphere, combined with the natural beauty of the region, makes it a fantastic destination during Onam.
You may also like: 10 Indian Cities You Should Visit If You Are A Foodie 
Experiencing Onam:
1. Pookalam:
One of the most iconic elements of Onam is the Pookalam, an intricate floral arrangement made with vibrant petals. Participating in the creation of Pookalams is a unique way for travellers to immerse themselves in the festive spirit.
2. Vallam Kali (Boat Races):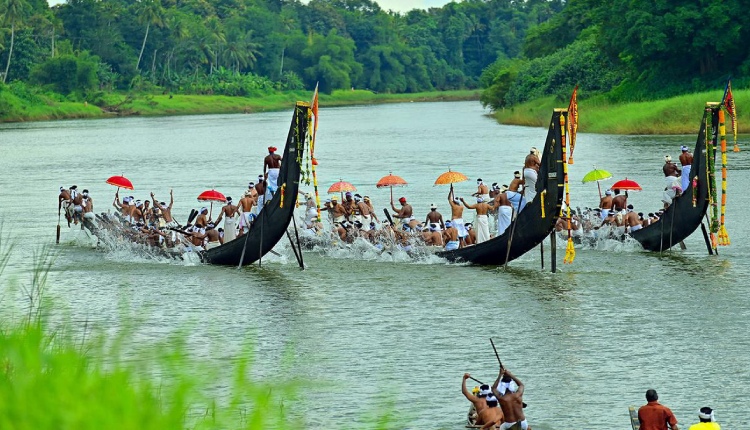 Watching the traditional snake boat races, where teams of rowers maneuver gigantic boats to the rhythm of folk songs, offers an adrenaline-filled experience that showcases Kerala's strong connection to its waterways. This can be one of the best experiences while traveling the God's Own Country during Onam festival.
3. Onam Sadhya:
No trip during Onam is complete without savouring the elaborate Onam Sadhya. It's a culinary journey that introduces travellers to the diverse flavours and culinary heritage of Kerala. Have a lip-smacking feast!
4. Cultural Performances:
Attending Kathakali and Mohiniyattam dance performances, along with traditional music recitals, provides insights into Kerala's rich performing arts scene.
Practical Tips:
• Book Accommodation Early:
Onam is a peak travel season in Kerala, so it's advisable to book your accommodation well in advance.
• Respect Local Customs:
As Onam is a religious and cultural festival, it's important to respect local customs and traditions during your visit.
• Clothing:
Kerala's weather can be quite humid during Onam. Lightweight, breathable clothing is recommended.
• Transport:
Public transport can get crowded due to the influx of travelers. Plan your transportation ahead and consider hiring local guides to navigate the festivities.
Onam is not just a festival; it's an experience that offers a glimpse into the heart and soul of Kerala's cultural richness. For travellers seeking a truly immersive and authentic encounter with India's diverse traditions, Onam travel is an opportunity to be a part of a vibrant tapestry of colours, music, dance, and culinary delights that define this remarkable festival.
We will be delighted to have your thoughts and feedback. Please write to us at [email protected]
Follow Life and Trendz on Instagram:https://www.instagram.com/lifeandtrendz/
Facebook: https://www.facebook.com/lifeandtrendz
Twitter: https://twitter.com/LifeandTrendz