While you're on the road, your skin-care regimen may not be at the top of your priorities. When you've spent so much time perfecting it, you don't want a trip to be the stuff that throws you off your game or causes a breakout, sun damage, or flare-up. Therefore, finding a way to continue your skin-care regimen while travelling is actually pretty crucial. So let's look at the essential skincare items to bring with you wherever you go as well as some travel skincare advice.
How to have a travel-friendly skincare routine:
Hydration is the most important step: Even if your skin is oily, choose serums as well as moisturisers with hyaluronic acid. Besides that, you should always remember to drink plenty of water. You could also hold a hydrating mist on hand for an instant moisture boost.
Remember to clean your face: Keep fragrance-free facial tissues in a zip-top bag. When you notice that your skin is oily or has accumulated dirt, use them. And try to refrain from touching your skin as much as possible.
Choose skincare over Makeup: While moving, avoid wrapping up your skin with primers, foundation, concealers, and so on. Replace it with a tinted moisturiser or simply stick to your everyday day cream and SPF. Bring along some tinted lip balm, quality eye cream, and mascara, and you are good to go.
You may also like: Travel-friendly Workouts to Incorporate
Keep your pH levels stable:
On a scale ranging from zero to 14, with 7 representing neutrality, pH is used to determine how acidic skin is. An impermeable hydrolipidic layer that serves as our skin's protective barrier has an average pH of about 4.7. When the pH of our skin approaches an alkaline range, it sets off a series of events that lead to trans-epidermal loss of moisture, dehydration, and ultimately inflammation. Choosing a pH-balancing toner helps the skin get back to its ideal condition while travelling.
Skincare tips to remember while travelling:
Maintain your normal routine as much as you can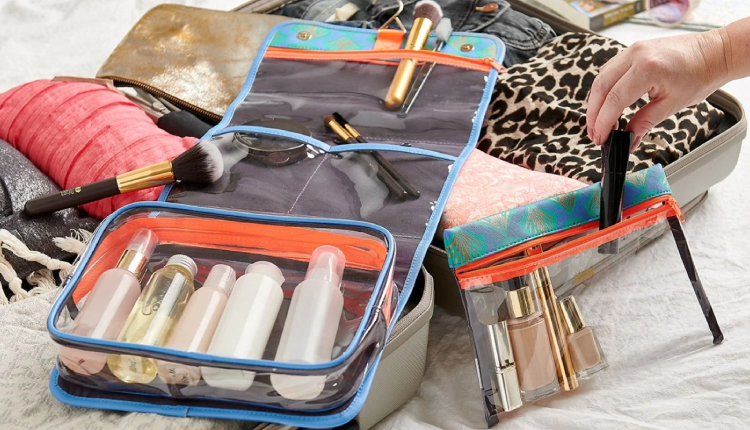 Generally speaking, it's best to continue following as much of your skin-care regimen as you can. Why alter a successful method if you don't have to? Furthermore, maintaining a regular routine is especially important if you're trying to treat skin conditions while travelling. The simplest way to do this is to pick up travel-sized forms of your favourite products. If none of those are available, you can put some of the product into smaller bottles to carry with you.
Focus on the utmost necessities if you can only bring a few things
Just bring the necessary items if you need to travel light or prefer to. Consider the following items to be essentials if you're going somewhere that calls for minimal packing: a sunscreen that has at least SPF 30, makeup removal wipes, face wash, and nighttime moisturiser. If you need to, you can temporarily stop using your toner and serum.
Take special care of your eyes and lips
Your eyes and lips might be the area of your face that is most affected by a dry plane journey or a time zone shift. It is therefore best to keep a handy product with you that you can use on your lips and eyes.
Avoid using hotel soaps
If you're highly susceptible to allergies or sensitivities, it's not a good idea to try something different while you're away from home because hotel products are typically of low quality and may be extremely drying. Therefore, if you are aware that your skin will react to anything unusual, always use your own cleansers and soaps.
Consider more than just skin-care products
Sun protection is always crucial for preventing skin cancer and the onset of early ageing, but far too many of us are prone to forgetting about it. Moreover, we are aware that using sunscreen alone won't provide us with adequate defence. As a result, remember to pack sunglass, a hat with a wide brim, and appropriate clothing for the sun.
We hope you've learned some helpful tips regarding how to travel comfortably on your skin and on a budget. Who wants to purchase a brand-new batch of goods when they arrive at their destination, after all? Or deal with skin problems while trying to have fun? Just plan ahead of time and stick to your H20, and you'll be glowing.
We will be delighted to have your thoughts and feedback. Please write to us at [email protected]
Follow Life and Trendz on Instagram: https://instagram.com/lifeandtrendz?igshid=Yzg5MTU1MDY=
Facebook: https://www.facebook.com/lifeandtrendz
Twitter: https://twitter.com/LifeandTrendz