Regardless of your budget, transportation and hotel costs typically account for a major portion of your trip spending. However, when it comes to low-cost lodging, India has a plethora of possibilities for hotels for people on a tight budget. Traveller hostels, which offer decent lodging at a low rate, are one of the most cost-effective lodging options in India. Whether you prefer getting a bed in a college dorm-style hostel or prefer having a private room that is substantially less expensive than a hotel room, here are some of the top hostels in India for solo or group travel with your friends.
Top hostels in India to stay with friends:
Zostel
Before Zostel introduced the concept of wallet-friendly hostels in India, there weren't any hiker inns for travellers to stay in apart from filthy hotels notorious for shafting visitors and unfriendly behaviour. In an effort to provide visitors and travellers with local, authentic encounters, Zostel has been thinking about another segment since 2017 called Zostel Escape. These experiences, once again, are chosen and led by locals and are designed to push guests beyond the obvious and conventional goals and experiences.
You may also like: How to Take Care of Your Health While Traveling? 
The Hosteller
The Hosteller is without a doubt one of the top hostels to be found in the country because of its commitment to providing affordable accommodations and opportunities for interaction between visitors and hikers. The Hosteller has hostels in Delhi, Jaipur, Kasol, Manali, as well as Pushkar, and every one of them offers pristine and secure lodging with a well-stocked fridge, paid cleaning service, safe & specialised female houses, travel and transport advantages, a brilliant and well-stocked bistro, bright standard rooms, and vast open spaces where our like-minded travellers can bond over some lip-smacking food and beverages.
Backpacker Panda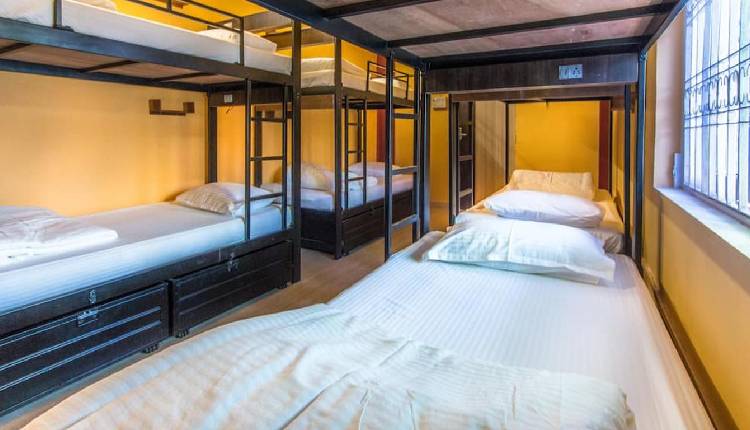 Backpacker Panda's initial hostel property is Goa, with further locations including Jodhpur, Kasol, Varkala, and many more. These top hostels in India have made certain that you receive nothing other than the best. The one in Goa is 100 metres from the lovely Candolim Beach as well as the Calangute/Candolim major road border. It is well connected to all modes of transportation available. Similarly, all of Backpacker Panda's other franchises are placed in breathtaking settings.
Pappi Chulo
Pappi Chulos is positioned on the hills, just a short walk from Little Vagator Beach, 9 Bar, Thalassa, and the majority of the action in Vagator. The colourful images and artwork on the walls add to the hip atmosphere. The hostel features comfortable rooms and unique public areas such as a living room, a cooking area, and a lovely, friendly outdoor area with a bar, making it easy to meet other visitors.
Nomads
Nomads hostels, founded by certain regular guys, are located in two locations: Amritsar as well as Kasol. They contend that people need to be allowed to reside in a setting that makes them feel so at home, even while they are on vacation. Amidst all the grandeur and environment, Nomads hostel offers excellent facilities such as free internet, a lawn, a terrace, and on-site seating with the sound of the Parvati river flowing right close to you and the wonderful sceneries of Kasol and Amritsar.
Vedanta Wake Up
The best chain of backpacker hostels in India, Vedanta Wake Up, was created to cater to the needs of travellers on a tight budget and with backpacks. They feature spaces that are designed to evoke feelings of calm and order. This top hostel network in India provides equipped rooms, en-suite restrooms, and prominent private areas for families. At Vedanta Wake up, you can meet individual travellers who are fully equipped with PCs, free Wi-Fi, TVs, Media players, films, book exchange libraries, guitars, bundled games, maps, and meals.
International Youth Hostels (YHAI)
The Youth Hostels Association of India's hostels is arguably the safest and most dependable place to stay while travelling. This organisation is dedicated to providing tourists and travellers with pleasant and reasonable inn stays. In addition to providing lodging, they organise several State and National scale outdoor and hiking endeavours. As a result, whether you're one of those in-your-face event freaks or wellness nuts, you know what you have to do!
Do you have any recommendations for some good hostels to stay in in India? Let us know!
We will be delighted to have your thoughts and feedback. Please write to us at [email protected]
Follow Life and Trendz on Instagram: https://instagram.com/lifeandtrendz?igshid=Yzg5MTU1MDY=
Facebook: https://www.facebook.com/lifeandtrendz
Twitter: https://twitter.com/LifeandTrendz