'Kashmir of Andhra Pradesh'.
Yes, you read that right! Lambasingi a beautiful village located in Andhra Pradesh is the only place where it snows in south India. 
We associate South India for several things which include ancient temples, the delicious cuisine, the breathtaking coasts or the mesmerizing hill stations, and there is something for every kind of traveler in the southern part of the country. Though there is one thing south India is not associated with – snow.
Snow is always associated with some north Indian destinations like Shimla, Manali, and Gulmarg but none in south India.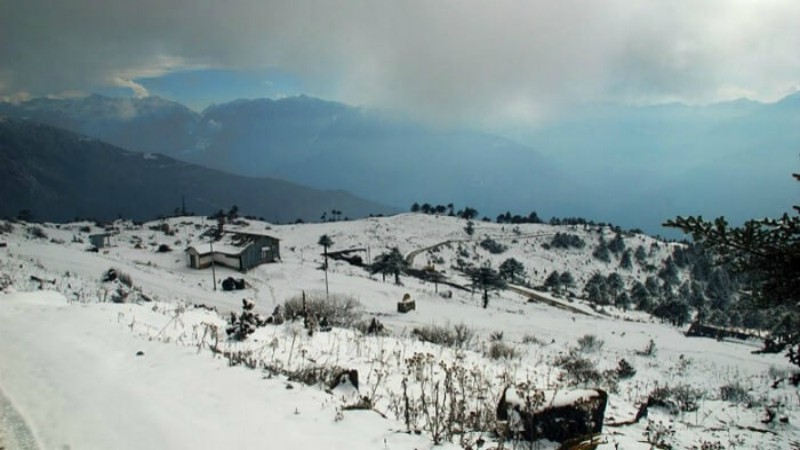 Now South India can be known for snow too! There is one small village which was once undiscovered, Lambasingi – the one place where you can experience snowfall at times during winter in south India.
Located at an altitude of 2702 feet, Lambasingi often receives snowfall during winter. It faces sub-zero temperatures at night and its foggy landscapes are a delight for visitors.
Lambasingi is often referred to as 'Kashmir of Andhra Pradesh'. Season of winter, it's great for a getaway, this located at about 100km from Vishakhapatnam. It's an exotic retreat during summer. Thanks to its low temperature.
It's surrounded by green valleys and serene rivers, chill weather and dense foliage that are extremely picturesque. The mist makes the place looks like a dream vacation spot.
With the growing popularity of this place, APTDC has opened a  state-run resort here and develops Lambasingi as a tourism hub. Lately, this place has seen an increase in the number of tourists.
Pack your bags and head to Lambasingi. Give a visual treat to your eyes. Visit with friends and family. Yet another destination to beat the heat of summer.