Roca takes up smart water management in India; improves water efficiency in manufacturing operations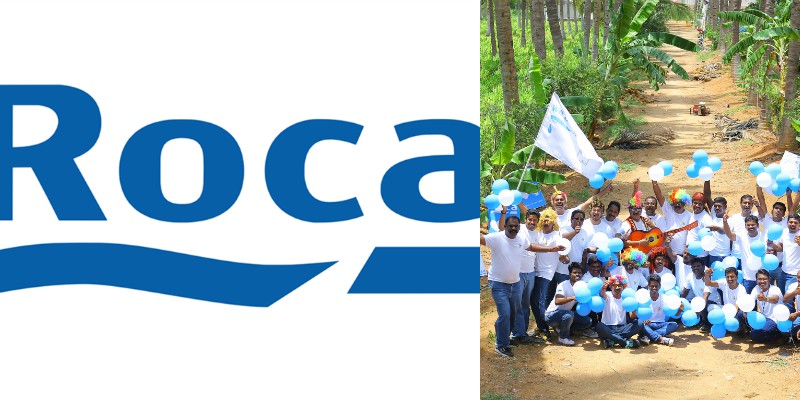 Saved 15,138 KL water from three manufacturing plants
Initiated two water conservation projects in Andhra Pradesh & Telangana
New Delhi, September 16, 2019: Two-third of Earth's cover is water but still the availability of drinking water or useable water for agrarian purpose to individuals is limited. Continuously working towards providing access to one of the most scare resource – Water, this year Roca Corporate University (RCU) has collaborated with We Are Water Foundation (WAWF) for the launch of Let's Make a Deal project to promote this initiative in company's manufacturing plants in India, in order to use water more efficiently and raise awareness on its importance.
Under this global initiative, 18 manufacturing facilities of Roca were assigned the target of saving water within a pre-defined time period. In order to achieve the same, WAWF had conducted various awareness workshops within their manufacturing plants basis which the facilities managed to save a total of 25.611 million liters of water, enough to fill 11 Olympic-size. From India, Roca's Alwar, Dewas and Perundurai plant participated and the former two combined saved 15,138 KL water.
Commenting on the foundation's initiative, Mr. KE Ranganathan, Managing Trustee, We Are Water Foundation, India, said, "Access to proper water and sanitation is an essential element for a healthy life. We are extremely proud to be able to drive such initiative at a global scale and spread awareness around sustainable use of water and respect for environment. As a brand, sustainability and innovation is our priority and we are happy to have imbibed it in our CSR initiative and not have it confined to our product developments. India is an important market for Roca and we have saved water worth INR 5 lakhs approx. which will be donated to the foundation for development projects."
The amount raised from the initiative has been contributed towards the construction of two water reservoirs in Settipali and D.K. Thanda (Andhra Pradesh & Telangana) to collect rain water with an estimated capacity of 33.000m3and 48.300m3. The construction of the reservoirs has begun in July 2019 in association with NGO partner Vicente Ferrerand is estimated to be completed by July 2020. With this initiative it will be possible to supply around 26 surface wells (5 in Settipali and 21 in D.K. Thanda).
Reservoir construction contributes positively in the development of families, for whom agriculture is the only means of subsistence in Andhra Pradesh and Telangana districts. With an intent to collect, store and distribute water, these constructions will further help the agricultural sector to grow and survive, on which more than 80% of the local population depends.
About Roca Bathroom Products Pvt. Ltd
Roca is a company engaged in the design, production and commercialization of products for the bathroom space, as well as ceramic floor and wall tiles for architecture, building and interior design. Its origins date from 1917, when the Roca family started building their first production plant in Gavà (Barcelona). In the centenary of its establishment, the company employs over 22,600 workers and has 78 production plants, with presence in more than 170 markets in the five continents. For more information, visitwww.roca.in
About We Are Water Foundation
The We Are Water Foundation has two key goals. The first is to promote awareness and encourage debate among the public and organizations on the need to create a new culture for water, to enable the equitable development and sustainable management of the world's water resources. The second is to carry out a whole host of actions to counter the negative effects of the lack of adequate water resources. The foundation's fields of activity include involvement in infrastructure, education, health and research, concentrated in the world's most deprived areas.