Shapewears are generally used to alter the shape along the waist, bust, hip, and thighs. These tight-fitting shapewears are in much demand across all lingerie stores. They offer minimal toning to your body without altering its shape. Furthermore, saree shapewears are also available to give a feminine silhouette to your saree look. These saree shapewears are tight around the waist and flare up around the legs. Ultimately they are more stretchable and comfortable to wear beneath a saree. In general, shapewears can help you look thinner and offers a better fit. They help you achieve the ideal hourglass shape. Here let us look at the different types of shapewears and some amazing brands that offer comfy shapewears.
Types of Shapewears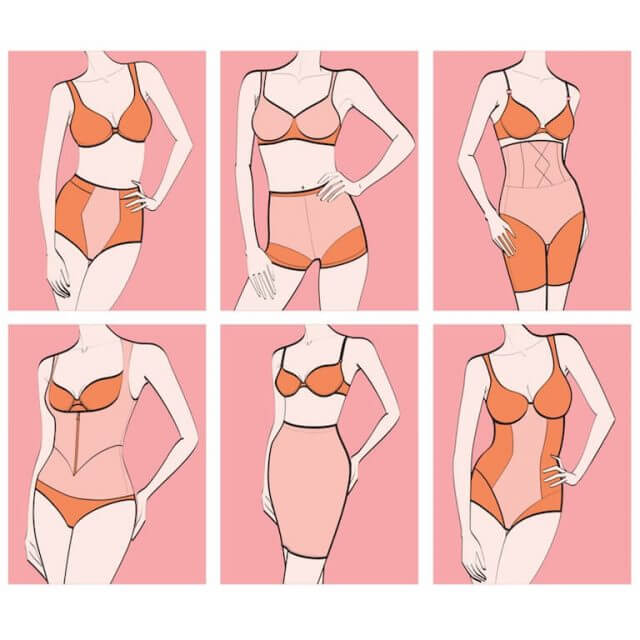 There are multiple types of shapewears available in the market. Picking the right one according to the outfit is a strong choice to make. Here, we have mentioned some of the shapewears that are often chosen.
Corsets – These shapewears have puffed-up busts. Also, they concentrate on the waist region and make it appear smaller as well as sexier. They are in current trend and can be used under any modern outfit. Merry widow corset is also a type of corset that has no bra straps. Their distinctive center point is very distinguishable. They can be used under any sleeveless or thin strap dresses.
Saree Shapewear – This complements ethnic clothing like sarees and lehengas. This gives your body a mermaid shape. It is designed in such a way as to smooth out your waist, hips, thighs, and back. This skirt-style shapewear is also very simple to wear.
Control Camisoles – These are shapewear items that have shaping panels, pads, and/or underwires integrated into the camisole. Control camisoles reduce belly fat and also give your bust the ideal shape.
Long Legs – These shapewears give a thin and extended look to your thighs. It is a type of body con that typically prevents thighs from jiggling. It gives them a sleek appearance.
You may also like: 5 Unisex Shoe Brands to Add to Your Wishlist
Amante
Amante is an extraordinary innerwear brand. They are known to produce comfy and elegant bras. This brand also offers some greatest saree shapewears in India. This leading intimate apparel brand also has a sizable customer base. It caters to the needs of every modern woman. They offer great swimsuits, activewear, and shapewears. Furthermore, you can also find hip shapers and thigh shapers on their online website. This brand is definitely a one-stop shop for all kinds of shapewears.
Zivame
Zivame offers quality innerwear at an affordable range. The brand also offers a wide variety of intimate apparel in both online as well as offline stores. This brand provides activewear, sleepwear, as well as undergarments. If you are someone seeking a high quality, perfect fit saree shapewear then this brand offers a variety of options. Tummy tuckers, control bodysuits, and also sag lift bras are available in this brand.
Clovia
Clovia is India's top manufacturer of women's undergarments. It has advanced the aesthetic of intimate apparel. They have more cheerier and daring range for intimate wear. Clovia has everything from loungewear to innerwear and nightwear to activewear and swimwear. The brand established itself in India by providing the highest quality shapewear. Also, it currently has a sizable consumer base. Apart from their saree shapewears, the most notable one is their 4-in-one shaper. This shapewear offers perfect shape along the tummy, thighs, back, and hip region.
Jockey
This American brand produces and sells sportswear, sleepwear, and undergarments for men, women, as well as kids. Jockey is ideally known in India for its body shaper and innerwear. They have a wide range of basic shapewears for women that targets and shapes the waistline, hips, and tummy. Their high waist tummy shaping panties, as well as shaping camis and slips, are their bestsellers. They instantly slim your body by an inch or two.
Marks And Spencers
Marks and Spencers (M&S) is a British international apparel retailer. Apart from innerwear they also offer a wide range of modern outfits. This London-based brand provides quality trousers and dresses. Their intimate wear range is comparatively less known. Their figure-hugging camisoles and other body shapers give the desired curvy shape. M&S offers high-quality shapewears that might be a bit pricey but is worth investing in. They give a more streamlined and chic look compared to their competitors.
We will be delighted to have your thoughts and feedback. Please write to us at [email protected]
Follow Life and Trendz on Instagram: https://www.instagram.com/lifeandtrendz_com/
Facebook: https://www.facebook.com/lifeandtrendz
Twitter: https://twitter.com/LifeandTrendz