Here in India, the festive season never ends. So you must constantly be prepared to clean up exquisitely and impress your closest friends and relatives. Even if you probably like to buy contemporary clothing most of the time, it's always a good idea to have a few pieces of classic traditional clothing on hand. And one traditional men's attire that will never go out of vogue is the Dhoti. A dhoti is also much simpler to style than you may imagine. However, if you're unsure of how to keep reading. We'll be looking at the best festive shirts for guys to wear with dhotis in this piece. Let's get to the post straight away!
Best festive shirts for men to style Dhoti:
Full Printed Shirts
The moment has come for all-over prints now that ethnic prints are once again in vogue. All year long, these shirts can be paired with a casual pair of jeans or dhoti because they are so adaptable. Aviator sunglasses and a chain neckpiece will help to emphasise the cool dude impression. All things considered, it's a wonderful opportunity to show off your artistic side while still dressing in traditional clothes. Also, you don't necessarily have to care about the shirt's hue when wearing printed shirts. In any case, the prints span the entire shirt, and they look good in practically any shade. So, we say, go nuts!
You may also like: The Difference between Millennials & Gen Z: How Does the Fashion Taste Vary?
Pastel Shirts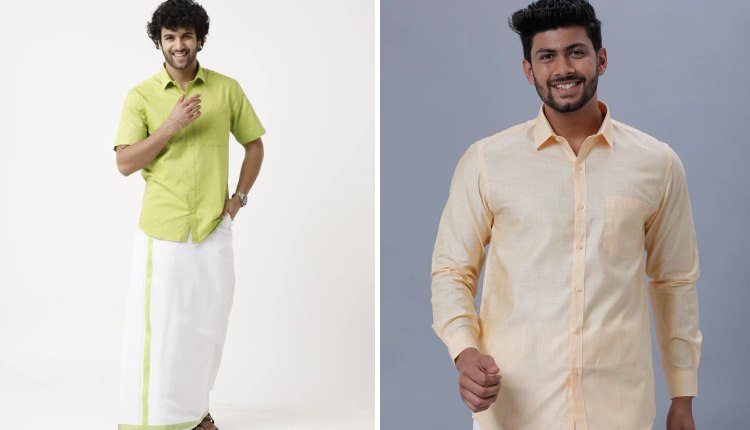 This shirt will look stunning paired with your dhoti or veshti and evoke the traditional charm of an office day. To ensure that the two merge together, the hues should be kept muted. For the afternoon festivities, the traditional veshti and the polished striped shirt make a striking combination. This style of celebratory shirt is ideal for events like modest family gatherings. Choose this option if you want to match the traditional attire worn by those around you. And we have to admit, that is yet another shirt that will always be in fashion. As a result, you never have to worry about being out of style.
Floral Shirts
When designers created flowered shirts for guys, it wasn't exactly an improvement in their life. Even though it was designed from an experimental angle, the ethnic dress is given much-needed respect. Consider this your warning if you've never worn flowered shirts before. And you should be aware that using the proper hues and having a wonderful sense of style works really well for you. One of them is blending quite nicely with your dhoti. To look your best while wearing an all-white dhoti, be sure to pick colours like blue. Try to find a decent flowery shirt in the same shade if your dhoti has any colour stripes. If you just do research, it's not difficult.
Block Printed Shirts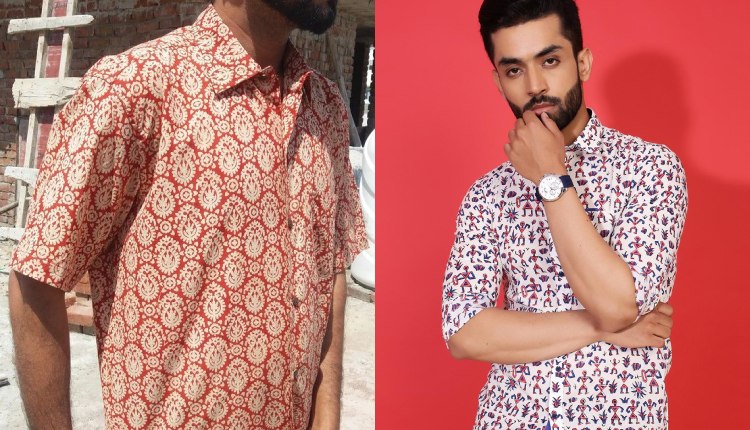 When considering festive shirts with Dhoti, this should probably be your top choice. Block printing adds admirable characteristics to a shirt. No matter how understated or lavish your favourite colour is, a block print layout can instantly transform the feeling into one of festivity. So choose this one if you want to be protected. Additionally, it looks good on everyone! If you choose this one, you never have to be concerned about appearing particularly strange if you're wearing a dhoti for the first time. So, as previously stated, simply close your eyes and choose this one.
Classic White Shirt
Choose a plain white cotton shirt to go with your dhoti for the most traditional style from Tamil Nadu. If you have this, you really don't need anything else. This shirt mixes very beautifully with every style of Dhoti, just like the block-printed shirts. If you truly want to dress to impress, this gives off a rich and flawless appearance. During significant festivals, this look is well-liked not just in Tamil Nadu but all around India. Therefore, you should adapt to it and give it a try at least once.
We are delighted that you found this specific fashion article. because most men now like to wear Kurtas on special occasions. However, it doesn't entail that you must follow suit. We still prefer wearing a shirt and dhoti, therefore we ask that you do likewise.
What do you think of these festive shirts for men to style with Dhoti? Let us know!
We will be delighted to have your thoughts and feedback. Please write to us at [email protected]
Follow Life and Trendz on Instagram:https://www.instagram.com/lifeandtrendz/
Facebook: https://www.facebook.com/lifeandtrendz
Twitter: https://twitter.com/LifeandTrendz