The medium-length beard represents the Goldilocks of facial hair because it looks good on almost every face shape, defines the edges and strands of the face, and allows you to showcase your grooming ability. As a result, its attraction is based on its capacity to create the ideal illusion. In fact, growing a complete medium beard can hide weak spots in complexion or texture and also accentuate the jawline and chin. Let's take a look at some medium beard styles for men in this post.
Best medium beard style to nail:
Medium Fade Beard Style
The fade is unquestionably one of the most popular beard styles for men these days, and it's possible to incorporate it into your medium-length beard. You can achieve that if you fade the edges of your beard. Finish the appearance by doing the same thing with your hair, particularly if you want to carry it short. However, keep in mind that men with long hair seem to find the medium beard fade to be more attractive.
You may also like: 5 Different Beard Styles to Choose for this Festive Month 
Square Beard
If you're still trying to decide on the ideal form and style for your facial hair, the square beard is the obvious choice. This style is excellent because it gives you a jawline that is more muscular. The square beard also offers more sturdiness, which is advantageous for achieving a badass appearance if you have a round face or full cheeks.
Boxed Beard Style
For bald men who also desire to sport a beard, the boxed beard is appropriate. The explanation is that the squareness of this style contrasts effectively with the bulging of the clean-shaven head. It can provide a more stable appearance while properly filling out a narrow chin.
Blonde Beard
As an alternative to the customary black and brown beard, you can choose a blonde one. This is especially appropriate if your hair happens to be blonde. A blonde beard will complement your distinctive sandy as well as light blonde locks. The colour looks great on medium-length facial hairs, especially when groomed and trimmed properly.
Curly Beard Style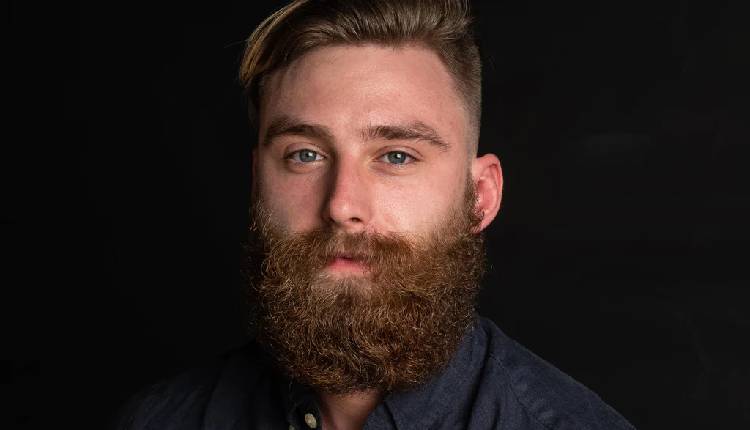 If you believe that the texture of your facial hair is perfectly adequate, the curly beard is ideal for you. The medium length is ideal because it makes your beard extra bearable. It's also short enough to allow you to maintain the neatness of the curls, which can be challenging if you choose to grow a very long and full beard.
Verdi Medium Length Beard Style
Allowing your beard to naturally develop short sides as well as a rounded bottom will give you the Verdi look. This style is conveniently identified by the presence of a long shaggy moustache that must be curled or combed down. It also necessitates consistent grooming. A well-groomed Verdi will not develop more than four inches. If you have a narrow jawline as well as a small chin, this is the right style for you.
Medium Stubble Look
Your beard can be styled so that it appears respectable and elegant for parties. You can accomplish this by sporting medium stubble. It is perfect for wearing to parties and whenever you want to look more relaxed.
Hunk Look
Every man wants to project the image of being a hunk, and the proper beard styling can help him achieve this. If you sprout a medium-length beard, you could indeed look like a hottie. If you combine it with your voluminous hairstyle, it can start giving you a manly, seductive, and raw appearance.
How to keep a medium-length beard well groomed and fine:
Beard comb
A good beard comb is necessary to maintain a neat and tidy beard, even though it might seem unnecessary to individuals who are new to the world of the beyond-scruff beard.
Beard wash
Most guys will be fine with their regular beard wash, but if you have sensitive or defensive skin, your new beard might irritate you unintentionally. So choose a good beard wash.
Trimmer
A medium-length beard requires a commitment to keep it maintained at its best, so pick a trimmer you feel confident utilising and get to understand it well because you'll be using it several times per week.
It's a beneficial practice to begin each day by sifting out your beard to make sure it's always looking its best and to avoid that sudden realisation that it's out of grasp, which might lead to spontaneous over-trimming. This fluffs up the hair, allowing you to assess which areas need to have a trim and which should be left alone. Moreover, proceed with a trimmer guard that is longer than you anticipate being necessary. You could always just remove more hair, but you can never bring it back immediately.
We will be delighted to have your thoughts and feedback. Please write to us at [email protected]
Follow Life and Trendz on Instagram: https://instagram.com/lifeandtrendz?igshid=Yzg5MTU1MDY=
Facebook: https://www.facebook.com/lifeandtrendz
Twitter: https://twitter.com/LifeandTrendz