The United Kingdom of Great Britain's King Charles III was formally installed as the country's ruler on Saturday, May 6. Additionally, he is now recognised as a ruler of the Commonwealth, including Northern Ireland. The members of the royal family were present for his coronation, which took place during a lavish ceremony. But that was not the end of the guest list. There were also some other distinguished guests there, including celebrities and dignitaries from other countries. A Coronation Concert was scheduled the following day as a part of the weekend's festivities. Numerous notables, including Bollywood actor Sonam Kapoor, were present at this special event.
At the coronation concert, Sonam Kapoor gave a spoken word performance. Additionally, numerous pop artists, including Take That and Katy Perry, performed at the event. Let's take a closer look at the details of her stunning outfit for the occasion before we continue to discuss her speech.
Sonam Kapoor, who is always dressed to impress, stole the spotlight in a white dress with a floral print. Designers Anamika Khanna from India and Emilia Wickstead from the UK collaborated on its creation. She posted a number of images of herself wearing the floor-length dress to Instagram while simultaneously feeling happy or proud.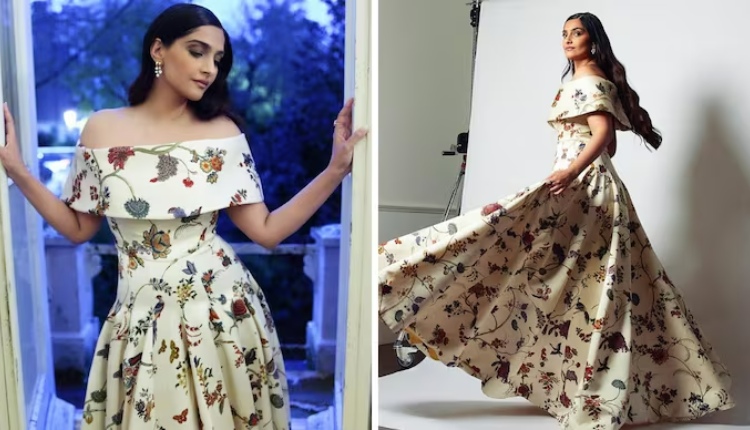 The off-shoulder garment honoured the rich traditional Indian craft with a lively floral and fauna print. The dress' calico-inspired print, according to sources, was made by Anamika. Around the shoulders of the dress was an expansive band design. It encircled a corseted bodice and a full skirt with godet pleats for architectural detail. Emilia, a fashion designer with roots in New Zealand and a base in the UK, created this magnificent design.
The actor was also seen wearing gorgeous jewellery with the ensemble. Her hair was styled in beachy waves, and she accessorised with a pair of drop earrings. Her discreet makeup, which included smokey eyes, blushing lips, and rouged cheeks, was also chef's kiss.
Sonam posted the pictures on her Instagram with the caption: "Historic moments call for fashion moments. I'm honoured to wear the collaborative vision of two of the most incredible designers from the two counties I'm lucky to call home…@anamikakhanna.in @emiliawickstead."
On the occasion, she was accompanied by her husband, the businessman Anand Ahuja. The couple also recently celebrated their seventh wedding anniversary.
You may also like: Indian Beauties Shine at Met Gala 2023: 4 Iconic Red Carpet Looks
Sonam Kapoor started her speech with a Namaste before continuing. Sonam Kapoor emphasised the Commonwealth's diversity as well as the unity that holds the country together during her performance. In addition, she presented Steve Winwood, who led a 70-piece orchestra in a contemporary rendition of his song Higher Love.
Here's a small excerpt from her coronation speech:
"Our Commonwealth is a union. Together, we are one-third of the world's people, one-third of the world's oceans, and one-third of the world's lands. Each of our countries is unique, and each of our people is special but we choose to stand as one. Learning from our history, blessed by our diversity, driven by our values and determined to build a more peaceful, sustainable and prosperous place where every voice is heard."
Social media has been flooded with images and videos of Sonam Kapoor's speech at King Charles III's coronation concert. Internet users attacked the Bollywood actor, labelling it an "embarrassing moment."
Joan Collins from Dynasty, Tom Jones, Pooh, Bear Grylls, and dancer Oti Mabuse were all present at the concert. Tom Cruise also performed. To commemorate King Charles III's coronation, they shared unknown details about the monarch in a number of pre-recorded videos. It is worth noting that his mother, Queen Elizabeth II, passed away last year.
What did you think of the Bollywood Stars' performance at the King Charles III Coronation concert? Let us know!
We will be delighted to have your thoughts and feedback. Please write to us at [email protected]
Follow Life and Trendz on Instagram:https://www.instagram.com/lifeandtrendz/
Facebook: https://www.facebook.com/lifeandtrendz
Twitter: https://twitter.com/LifeandTrendz