Every year, the summer flies by like clockwork, leaving us perplexed as to how the year has already passed halfway. But there's something else about Summers. Your winter clothing is no longer appropriate because, in order to make it through the Indian summers, you must wear lightweight, breathable clothing. So, let's look at some of the best summer-friendly fabrics to choose from for your shirts to wear all day this summer.
Top summer-friendly fabrics to choose for your shirts:
Cotton
It really is a classic that has been employed in the creation of clothing for nearly as long as humans have worn clothing! Cotton is the first material we've listed because it's a no-brainer for anyone who loves textiles. While remaining airy and breathable enough to keep you comfortable while others are baking, good cotton, which is easily accessible and completely natural, will enable a great deal of adaptability for whatever trends you have in mind.
You might not be aware of this, but when your body perspires due to the moisture levels outdoors, your cotton clothing isn't really absorbing it—rather, it is drying it out in a flash. You'll start noticing that even smell doesn't remain behind because of this. That still doesn't mean you should hide your perfume in a back drawer; it just means cotton will help keep you dry and prevent the troubles that humidity tends to bring.
Cotton shirts are available in a wide variety of prints and styles because cotton is so popular in India.
You may also like: Men in Floral Shirts? Yes
Linen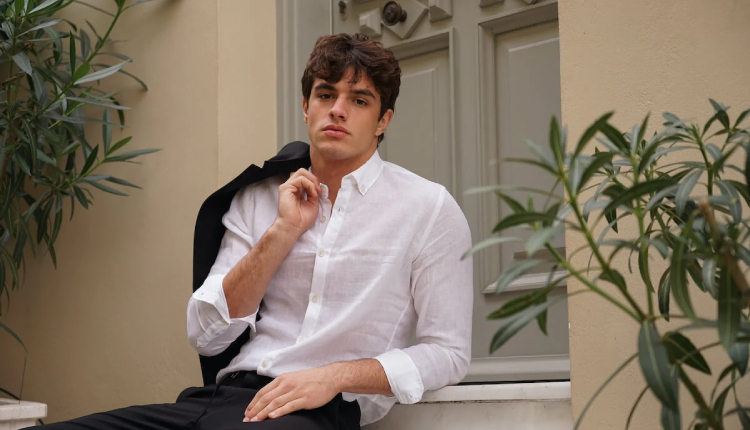 Pure linen continues to be a fabric that is favoured over many others because of its adaptability and minimalist design appeal, despite being at a more expensive pricing structure than cotton. Made primarily of flax fibres, linen is incredibly breathable and cosy in hotter temperatures because, like cotton, it facilitates air to pass through. Another benefit is that even when you're sweating, it doesn't stick to your body but rather remains a good inch from the skin's surface without appearing too stiff. It can make you the style expert of your squad right away and is also very popular for vacations in hot climates.
You can be confident that while choosing to wear stuff made of linen, you will not experience any clamminess of any kind because linen not only allows air to flow freely between its fibres but it also absorbs moisture or water. Because they absorb and aid in evaporation before you know it, many different kinds of linen fabric are often referred to as magical fabrics. When you get something this good, isn't it worth paying a little more money?
Chambray
The sun is always directly above your head, so not even your favourite pair of baggy jeans can keep you from drenching yourself in sweat. In a matter of seconds, you could very well start to feel itchy or uneasy, and even multiple trips to the toilet won't help. But you're not prepared to part with your jeans since they're your default option every day, are you? Wrong! Denim material ranks as one of the worst choices you can make for clothing, at least during the warmer months. In addition to drenching you quickly, wearing denim will make you feel heavy because it is not absorbent.
Don't let the idea of light clothes escape you quite yet; chambray is one of the materials that will take the place of your favourite denim in the hotter seasons. How? It provides the same ease and qualities as cotton or linen and has an exact denim-like appearance. Chambray is also extremely versatile and provides the "relaxed edginess" that both men and women desire in their off-duty wardrobe. We have faith in chambray regardless of whether it's a sharp shirt or even breezy yet structured trousers. Start giving these kinds of fabrics a try and see how your summertime wardrobe evolves into something that is only the stuff of dreams.
Your summer will be laid back and carefree thanks to all of these summer garments. However, since quality cannot be compromised, it's not just about the type of fabric; it's also about where you buy it. High-quality fabrics make you feel airy and cool during the warmer months. So, select high-quality fabrics at all times.
What are some of the things you do to have a budget-friendly vacation anytime you want? Let us know!
We will be delighted to have your thoughts and feedback. Please write to us at [email protected]
Follow Life and Trendz on Instagram:https://www.instagram.com/lifeandtrendz/
Facebook: https://www.facebook.com/lifeandtrendz
Twitter: https://twitter.com/LifeandTrendz