South Indian films have shown us many emotions like comedy, anger, sentiment, and romance. Sometimes, the stars and their films seem inseparable from us. In most cases, they have also inspired our daily lives. Usually, we tend to admire our stars for their work. But we can also learn a lot from their personal lives. Luckily most of our stars offer great relationship goals for us to follow. Many such stars are happy and successful not only in reel life but also in real life. This Valentine's day, let's slightly deviate and look at our real-life couples for some inspiration. Here, let us take a glimpse at 10 amazing celebrity couples in the South Indian film industry.
Amala Akkineni – Nagarjuna
This Tollywood power couple has completed 30 years of marital life and they are still growing strong in their romance. The adorable duo first appeared together in the 1987 Telugu movie Kirai Dada. Later they went on to co-star in movies like – Shiva, Chinababu, Nirnayam, and Prema Yuddham. The actor also mentioned that the actress's innocence and discipline are what attracted him. Now, the happy couple celebrates 30 years of togetherness. Furthermore, they often prove the fact that 'age is just a number'. They are still charming, dreamy, and also successful in their respective careers.
You may also like: 8 Kollywood Celebs who shook their fans with terrific Weight Loss
Shalini – Ajith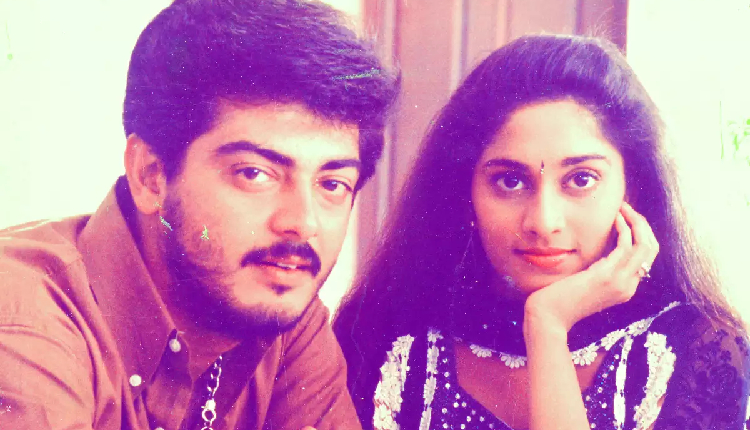 Ajith and Shalini are one of the inspirational celebrity couples down the South. They first met on the sets of 'Amarkalam' in the late '90s. It all started when our 'Thala' injured Shalini's hand unintentionally. He took great care of her and eventually, Shalini fell admired him for his personality. Even after more than two decades, this combo remains popular. Ajith is also said to have made a vow to only make one film per year so that he can spend more time with his family. Now, what's more romantic than spending quality time with loved ones?
Jyothika – Surya
Jyothika and Surya are the most adorable couple in the South cinema industry. They first met on the sets of 'Poovelam Kettupar' in 1999. Later, the rumors of them dating became the talk of the town. This rumor became almost official in the year 2003 during the shooting of 'Kaakha Kaakha'. It was stated that Suriya got engaged to Jyothika and the engagement was a low-key affair. Later the couple got married in 2006 and they are still setting goals for many youngsters. Also, their recent pics during the National Award ceremony went viral for the 'perfect couple' they are.
Nayanthara – Vignesh Sivan
Vignesh Sivan and Nayanthara are one of the most well-known couples in the South film industry. The director first met this popular actress during the narration of 'Naanum Rowdy Dhan'. It was rumored that the couple fell in love while filming NRD in 2015. However, they didn't make it official at that time. Soon their couple pics at airports, and award functions started circulating in social media. Also, with their mushy PDAs, they turned the town red. It was so adorable that even Netflix thought of making a documentary on their love life. The couple recently got married on June 9, 2022, and have two kids through surrogacy.
Namrata – Mahesh Babu
The romance between Namrata Shirodkar and Mahesh Babu also began on a film set. The two initially ran across each other in the sets of 'Vamsi' in 2000. It was love at first sight for our hero. Though 'Vamsi' was an average movie, Mahesh Babu quoted it to be memorable as it was the first time he met the love of his life. Furthermore, they dated for 5 years and got married in 2005. They also have two adorable children. Their family pics have always been always wholesome and lovable to watch.
Dileep – Kavya Madhavan
During the 1999 filming of Lal Jose's Chandranudikkunna Dikhil, Dileep started dating Kavya Madhavan. Also, it was a known fact that the actor was already married at that time. Most of the time, Kavya was even branded as Dileep's "other lady." Still, the couple worked together in 20-plus movies. Despite many turbulences, they got married in 2016. Now, these two are one of the most prominent couples in the Malayalam film industry.
Nazriya – Fahadh
Fahadh Faasil confirmed having met Nazriya Nazim while working with director Anjali in 2014 during the filming of Bangalore Days. They also portrayed a married couple in the movie. Eventually, Nazriya and Fahadh fell in love and got engaged soon. The stars were engaged in February of the same year, before the movie's release in May 2014. From then till now, they have been the most beloved couple in the South film industry. Also, most of the time, the actor has dedicated his success to his wife Nazriya. Furthermore, they also create trends with their not-so-often couple pics on social media.
Nikki Galrani – Aadhi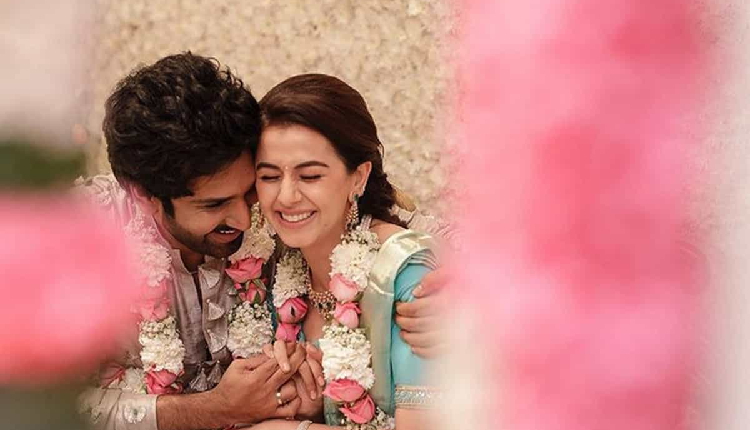 This is one of the latest and unique love stories in Kollywood. Aadhi and Nikki were just neighbors in Chennai, living within the same apartment complex. Nikki was once asked to come over to Aadhi's house, where she quickly felt at ease around his family. They quickly grew close, and later began dating. The Maragadhananayam stars tied the knot on May 18th in a private wedding ceremony which was nothing less than a dream. Their marriage pics went viral on social platforms. Also, they gave several perfect 'couple pic' goals.
Sneha – Prasanna
They first met on the set of Arun Vaidyanathan's 2009 film Achamundu Achamundu. For them, that movie has a special meaning because the stars fell in love and started dating. They were often seen together in press conferences and several public events. Thus rumors began to circulate faster. They married on May 11, 2012, in Chennai. Also, they currently have two kids – Vihaan and Adhyanta. Furthermore, Prasanna and Sneha also did many ad commercials after their marriage. They also often provide gorgeous images of themselves and their kids and give us 'family goals'.
Sayyesha – Arya
The marriage of Sayyesha and Arya in 2015 came as a surprise to Kollywood fans. Additionally, their marriage was kind of arranged. The actors only began dating after the formal marriage proposal. Meanwhile, Arya also participated in a reality program that sought to pair him with an ideal woman. However, the actor chose to wed actress Sayyesha with whom he shared screen space in 'Ghajinikanth'. The actor also mentioned that he fell in love with her maturity during the filming process. Now the couple has a cute little daughter.
We will be delighted to have your thoughts and feedback. Please write to us at [email protected]
Follow Life and Trendz on Instagram:https://www.instagram.com/lifeandtrendz/
Facebook: https://www.facebook.com/lifeandtrendz
Twitter: https://twitter.com/LifeandTrendz