"Divorce is not a Failure": Tamil Serial Actress Shalini conducted a Divorce Photoshoot for the first time in India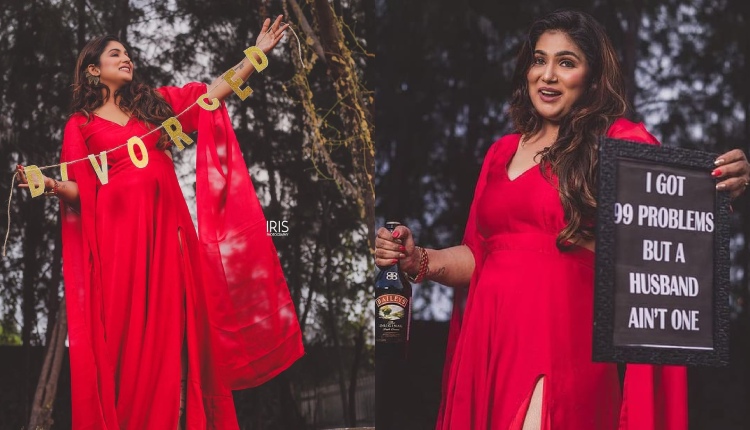 Tamil Serial actress Shalini conducted a divorce photoshoot for the first time in India. She posted a few pictures from her unique divorce photoshoot which no one saw coming. Actress Shalini is known for her role 'Valli' in the popular Tamil serial 'Mullum Malarum' telecasted in Zee Tamil. She also participated in a reality show, Super Mom, along with her daughter, Riya. Shalini, who actually married Riaz in July 2020, accused him of physical and mental abuse earlier. She later filed a divorce and celebrated it through a distinct photoshoot.
This is the first time in India, a divorce photoshoot has happened. It does have mixed response while several people come in support of the actress, some seems not so welcoming. Soon after she posts the pictures, it circulates faster in social media platforms. In the pictures, Shalini is seen wearing a fierce red maxi dress while exposing her being divorced happily. The pictures display her stamping on the framed wedding photo and another one, in which, she tears her wedding picture happily. In one of the pictures, she is also seen holding a placard with the saying, "Got 99 problems and a Husband ain't one."
The powerful caption, which she wrote below the pictures were noticeable as well, runs as "Divorced woman's message to those who feel voiceless: It's okay to leave a bad marriage cause you deserve to be happy and never settle for less, take control of your lives and make the changes necessary to create a better future for yourself and your children. DIVORCE is NOT a FAILURE!!! It's a turning point for you and to lead positive changes in your lives. It takes a lot of courage to leave a marriage and stand alone. So to all my BRAVE WOMEN out there I dedicate this."
Click here to see the pics: https://www.instagram.com/p/CrgT4X_yhwV/
Divorce is often viewed as a failure and negative thing and it cannot be embraced in the society. While this is the situation of the world, the actress flaunts her killing red look for divorce photoshoot by celebrating her freedom. Coincidentally, this can be a sight of glee and a message for all the single mothers out there who felt voiceless, as Mother's Day is around the corner.
We will be delighted to have your thoughts and feedback. Please write to us at [email protected]
Follow Life and Trendz on Instagram:https://www.instagram.com/lifeandtrendz/
Facebook: https://www.facebook.com/lifeandtrendz
Twitter: https://twitter.com/LifeandTrendz