Dilip Kumar shares a lovely picture of himself in his 'favorite pink shirt' along with his wife Saira Banu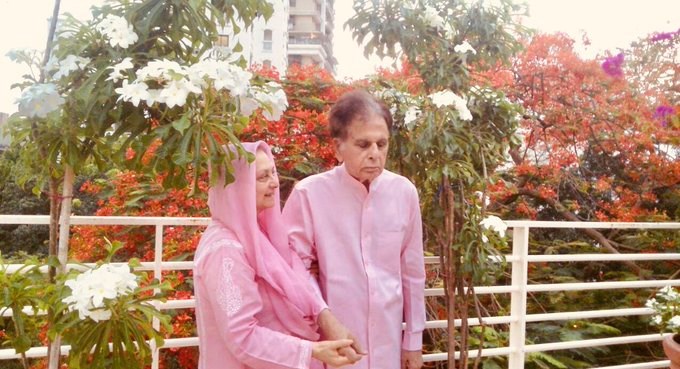 Veteran actor Dilip Kumar has shared a lovely picture of himself for his fans and followers on his Twitter handle on Wednesday. In the picture, 'Mughal-e-Azam' actor and his wife, veteran actress Saira Banu are seen in pink clothes and enjoying a nice time in a lush garden, wearing matching outfits.
Sharing the picture on his Twitter handle, Dilip Kumar wrote, "Pink. Favorite shirt. God's mercy upon all of us."
Dilip Kumar is not much active on his Twitter handle but as soon as he posted a picture of himself with his wife, his fans and followers started showering love upon them and wished for their good health.
Earlier on Wednesday, Dilip Kumar also retweeted a bunch of pictures of his ancestral home in Peshawar. He even asked his fans to send more. "Thank you for sharing this. Requesting all in #Peshawar to share photos of my ancestral house (if you've clicked the pic) and tag #DilipKumar," he wrote.
The provincial government in Pakistan's Khyber-Pakhtunkhwa has decided to purchase the ancestral houses of Raj Kapoor and Dilip Kumar to conserve the historic buildings, which are in dilapidated condition and facing a threat of demolition. Both houses are situated in the Qissa Khwani Bazar area.
Dilip Kumar is popularly known as The Tragedy King and The First Khan. He has been credited with bringing realism to film acting since his first film.
The 98 year old actor made his Hindi film debut with 'Jwar Bhata' (1944), produced by Bombay Talkies. In a career spanning over five decades, Kumar worked in over 65 films.
He is known for roles in films such as 'Andaz' (1949),  'Babul' (1950), 'Deedar' (1951),  'Aan' (1952), 'Daag' (1952), 'Devdas' (1955), 'Azaad' (1955), 'Naya Daur' (1957), 'Yahudi' (1958), 'Madhumati' (1958), 'Kohinoor' (1960), 'Mughal-e-Azam' (1960), 'Ganga Jamuna' (1961), and 'Ram Aur Shyam' (1967).
In March, Dilip Kumar had shared a health update on Twitter, saying that he and wife, actor Saira Banu, 75, were under "complete isolation" and quarantine due to the corona virus pandemic.
Recently, Dilip Kumar lost his two brothers to Covid-19. Ehsaan Khan and Aslam Khan tested positive for coronavirus in August and died within two weeks of one another. Ehsaan, 90 and Aslam, 88, were admitted to Lilavati Hospital after they complained of breathlessness.