Featuring Jaipur's Princess Diya Kumari, and her daughter Princess Gauravi Kumari, Femina's September issue is as regal as ever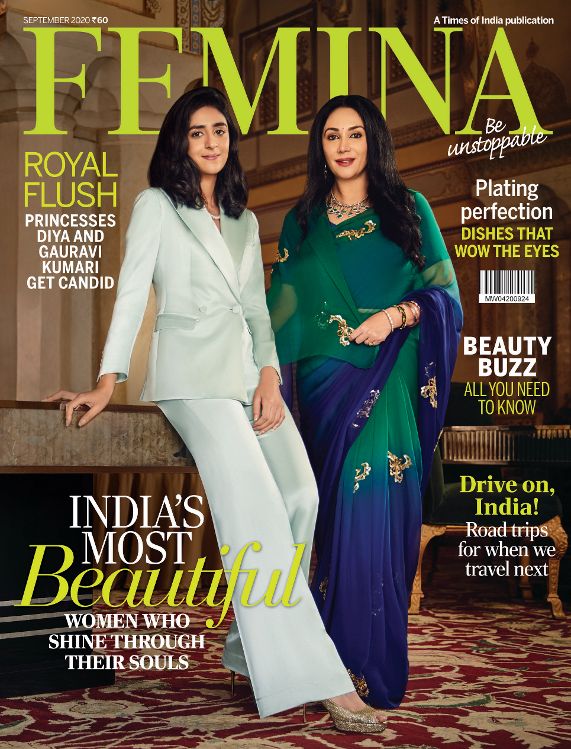 ~This special issue also features India's Most Beautiful women right from Bollywood to the modelling world who've shone amidst adversity to break the glass ceiling~
Femina, India's leading women's brand has over the years showcased the inspirational lives of women across diverse fields who have made a name for themselves in their respective fields. This time around, Femina's September issue features two women who exemplify royalty at every front, Jaipur's Princess Diya Kumari and her daughter Princess Gauravi Kumari. The issue sheds the light on the two royal scions, leaders in their own right, who have played a stellar role towards the upliftment of society and the betterment of the lives of many who look up to them with utmost respect. Carrying forward the legacy of their ancestors, these two blue-blooded ladies of Rajasthani royalty, have taken up the mantle of extending their royal patronage much to the awe and admiration of all.
Offering a fascinating insight into the lives of these two elegant women, the issue features a candid interview with Princess Diya Kumari, who dons many hats, one of them being the BJP General Secretary in the Rajasthan Pradesh Samiti. And if that wasn't enough, one gets to read about her fine grooming skills as she gets set to hand the reigns of the Princess Diya Kumari Foundation (PDKF), her craft-based NGO, to her daughter, young Turk Gauravi. Being the doting mother that Princess Diya Kumari is, she aims to see her young girl turn PDKF into a great, rooted, craft-based, and globally relevant brand. Contrary to the standard perception that they might be unlike any other mother-daughter duo due to their status and heritage, one reads about them seeking beauty and shopping advice from each other as they connect over everything under the sun.
Speaking about her mother, Gauravi, who is currently pursuing her graduation in media (major) and fashion business studies (minor) at New York University and looks like a splitting image of her mother, smiles as she says, "People also say I look like my Nani (Rajmata Padmini Devi), which is an equally big compliment. Both mom and Nani are the biggest role models for me. I respect the dignity with which my mother has led her life. How she has been a backbone to all three of us. Nani, on the other hand, is my pal, our nurturer. She fills us up with so many stories of the past. So many important nuggets of history that shape us in our role as people who will keep our legacy alive"
That's not all, the September issue has another treat in store for its readers by featuring India's Most Beautiful Women. Add to Princess Diya Kumari and her daughter Gauravi Kumari, the list of inspiring ladies includes the likes of actresses Deepika Padukone, Neetu Kapoor, Kareena Kapoor Khan, Madhuri Dixit Nene, Aishwarya Rai Bachchan, and author Shobhaa De to name a few.