Cooking meat the way you like is one of the best pleasures you can have in your kitchen. And, for doing it right you need to have the precise tools to get the job done. However, often it so happens that you've got your favorite meat from the store and kept it on the slab and when you're about to cut the meat, you realize you don't have the correct knife for it, bringing down your entire enthusiasm associated with preparing your favorite meal.
Choosing the right knife for cutting meat can be a game-changer in your kitchen and help you go a long way in pursuing your culinary goals. This article will help you choose the best knife for cutting meat while reviewing some of the top knives that are available online.
What makes a knife great for cutting meat?
Sharpness of material – The quality of the blade is the most important thing for you to consider in a knife good for cutting meat. The blade should be made from the right material and the edge needs to maintain its sharpness over a long period of time. Knives that are made from high carbon stainless steel are sturdier, durable, and are protected from any potential rusting.
Shape of blade – This determines the way you are slicing the meat. Shape of the knife blade becomes important for precision cuts on the meat, for example, when you are severing it from the bones.
Thickness – The thicker the blade, the stronger it is. Thicker blades do well as carving knives and thinner blades work better as slicing knives. Thinner blade knives are better all-purpose tools and more suited for precise cuts.
Handle grip – Last thing you'd want is that your knife slips from your hand and causes potential safety risk. Hence, the need for a tool with a good grip. You must find a knife that has a strong grip made from a material that has a good texture like good material like Fibrox that will help you to slice the meat better.
Other things to consider while buying a good knife for cutting meat:
Maintenance: Is your prospective knife-hand wash only or okay for dishwater too? Some knives are more used to rusting and wear and tear due to reacting to water. You must factor this in while choosing your knife.
Safety and storage: For a high-quality knife you ought to ensure enough storage space. It is advised that you don't store the knife in your usual utensil drawer loosely. To store a knife safely you must look for a good knife block or a magnetic knife strip and blade covers wherever necessary. Storage becomes a major issue when you have young kids at home. You need to make sure that you store the knives properly to avoid potential safety risks.
Sharpening: It is always good to invest in a high-quality knife sharpener. You must sharpen the knife whenever you feel it's beginning to dull after some uses. This is unique to different knives therefore handle the sharpening based on each tool.   
Balance: If you find that the handle of the knife is heavier than the blade, making the tool disproportionate, then it's time you reconsider using it. The good ones have proper weight distribution.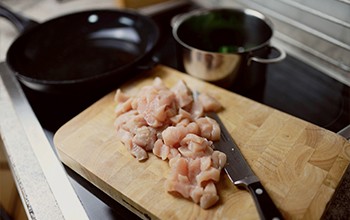 (Here's How to Choose the Best Knife for Cutting Meat. Source: Pixabay)
Reviewing top knives available online:
 

Victorinox Swiss Army Pro Slicing Knife

– Available on Amazon in both 10-inch and 12-inch variants, this is a robust product from a trusted brand. It has a comfy handle for ease of use. The stainless steel is lightweight yet sturdy. On the downside, the blade can become dull with time so investing in a blade sharpener could become necessary. Storage may become an issue owing to its long length.
 

Professional 10 Inch Meat Cutting Knife

– Its range starts from a mere $24.99 on Amazon but don't let the price fool you. It is a capable tool, can slice through meat effectively, and is useful for making jerky. It can be used for other purposes like cutting fruits and vegetables and due to its thinness, is very flexible to use and maintain. However, some customers have found it to rust quickly and may not be most suitable for cutting tougher meats.
 

Imarku Chef Knife-Pro Kitchen Knife 8 Inch

– The blade is made from high-quality carbon and stainless steel, making it more durable and highly resistant to wear and tear. The eight-inch blade makes it a flexible choice used to cut a variety of meats.
 

Dalstrong Butcher's Breaking Cimitar Knife

– The blade of this butcher knife is well curved at the end and can cut through flesh, cartilage, and fat with ease. This allows it to be ideal to cut meat in one slice without the need to saw it on the last bit. That's the reason why it is used by many professional chefs. Although its pakkawood handle can be slippery.
 

Victorinox Flexible Blade Boning & Carving Knife

– This NSF certified boning knife is ideal for trimming and removing raw meat from the bone without fuss. It is balanced and sharp for precision cuts and ergonomic Fibrox makes the handle slip-resistant.
 

Zelite Infinity Cleaver Knife

– If you cook meat regularly, then you should have a good quality cleaver knife. This one is ideal for chopping and slicing tough raw meats. It comes with a lifetime guarantee. On the flip side, it may need extra sharpening from time to time.
 

Wusthoff Classic Chef's Knife

– This multipurpose knife can be used for chopping and cutting not just meat but other foods too. This comes with a lifetime guarantee and the length options range from 7 inches to 10 inches. Although Wusthoff is a time-proven brand since 1814, this particular knife isn't NSF certified. Plus, it doesn't necessarily specialize in meat cutting.
 

Kessaku Slicing Carving Knife

– This 12-inch knife is best suited for cutting up thick meats such as roasts, briskets, hams, and lamb legs. It is an excellent choice for those who enjoy cooking meat. The blade is BPA free and made from Japanese etched carbon material. It is rustproof and can withstand heat, cold, and moisture. Only flip side is that it doesn't come with a knife sheath or cover.
You must adhere to the necessary storage and safety precautions while handling the knives. Avoid soaking them in water and keeping them in the open to air dry. Wipe them after use. Don't put them in the dishwasher because depending on the material, it can make them rust sooner and reduce its ability to cut meat thoroughly. Handwashing is the best way to clean your knives.
Each knife discussed above has its own strength and weakness and will help you decide which one is best suited to your kitchen for meat-cutting needs.