Noble Peace Laureate Kailash Satyarthi – Documentary special screening in the presence of Padmashree Kamal Hassan.
As we all are aware that Dr. Kailash Satyarthi, is a global thought leader for prevention of exploitation and violence against children. He dedicated his entire life for the creation of a child-friendly world. It was Dr. Kailash Satyarthi has rescued almost 88,000 children from the clutches of slavery, trafficking and child labour. It was Dr. Satyarthi's tireless efforts and activism that led the International Labour Organisation to declare June 12 as the 'World Day Against Child Labour". Dr. Kailash Satyarthi won the Nobel peace prize in 2014 for his contribution towards making a child-friendly world.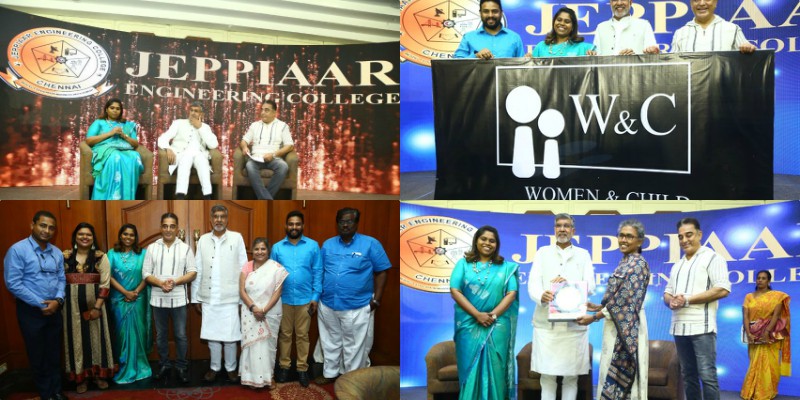 To honor the contribution of Noble Peace Laureate Dr. Kailash Satyarthi towards a child-friendly world, the movie titles "The Price Of Free" which is based on the life and struggles of Dr. Kailash Satyarthi was screened in the presence of versatile actor, producer and politician Dr.Kamal Hasan.
Dr. Jeppiaar J Murli from Jeppiaar Engineering College was also present at the event. They also launched the welfare centre for women and children initiated by her.
Mrs. Amudha IAS, Dr. Manorama, Mrs. Bhavani Devi, Mrs Kruthika Udhayanidhi were awarded women Achiever award presented by Noble Peace Laureate Dr.Kailash Satyarthi