Thanjavur or formerly called Tanjore, the 11th largest city of Tamil Nadu, has a rich history of art and crafts. The name of the city has been derived from the word 'Tanjan', the name of the very famous Asura or demon in the books of Hindu mythology. Thanjavur is one of the most ancient cities of India whose history dates back to the Sangam period.
Thanjavur's name is proudly called out when it comes to India's heritage, arts and culture. This city enriches India's history of art and crafts. Thanjavur's paintings, handicrafts, Tamil literature, classical dance and music, silk weaving and the dancing dolls are famous around the globe. This city is definitely a shopper's paradise. Among all the interesting things that Thanjavur offers, the dancing doll is the most unique and exquisite one.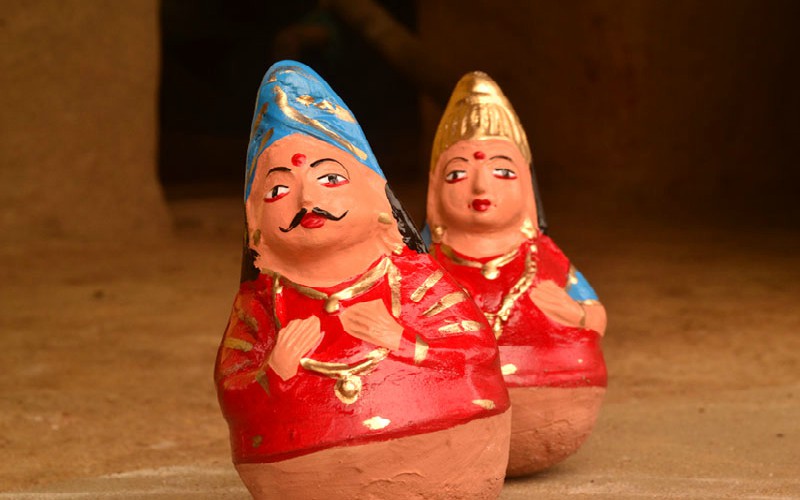 Also called Thalaiyatti Bommai, the dancing dolls are traditional hand-made dolls that can be used to decorate the house or give away as gifts. They are made out of sago, Plaster of Paris (POP), Papier Mache and wood pulp. These are basically a pair of a king and a queen symbolic of the many dynasties that homed Thanjavur. The heads of these dolls shake and are detachable too. The lower part of the body is bigger than the heads and as they shake, it is a delight to watch them.
Talking about the history of these dolls, they are believed to have arrived in Thanjavur in the early nineteenth century during King Saraboji's reign. Since then this craft is being made by the creative and talented artisans of the city.
These dancing dolls of Thanjavur have now been included in the Government of India Geographical Indications Registry. This has recognized the dancing dolls' origin to belong to the city of Thanjavur lawfully. This has been a noble step towards the protection of the heritage of Thanjavur. This registration has marked the items papier-mache, sago, wood pulp and Plaster of Paris to be its core manufacturing raw materials and methods. The clay that is used in the making of these dancing dolls is taken from the banks of the river Cauvery. This fertile soil adds to the beauty of the dolls after it's been made.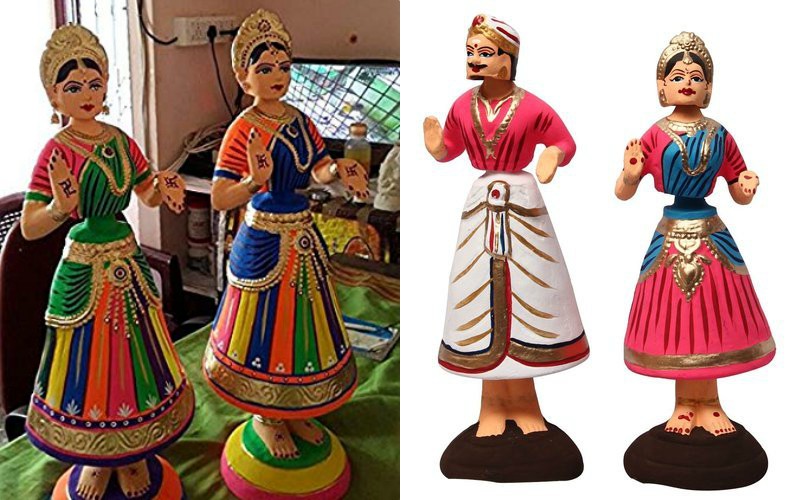 These dancing dolls contain their core weight at the bottom-most part of their body. This presents a dance-like movement due to its slow oscillations. The beautiful movement of the doll's head adds to its uniqueness.