Everyone loves the world of luxury. In today's world, 3-bedroom houses and SUVs are no longer a luxury. These are common necessities in a middle-class family. Then what defines luxury? Explore this article to know more about the high-end luxury cars and supercars in the market. Here, we have also included auctioned cars like Ferrari. The prices depicted here are approximate values and some of these cars are not available in India. Remember there is also an additional GST value for exported cars. Now, let us look at the top 10 expensive cars in the world.
Ferrari 250 GTO
This Ferrari 250 GTO is a GT vehicle built by Ferrari. This GT (Grand Tour) sportscar was built for homologation between 1962 and 1964. Additionally, it was estimated that only 36 Ferrari 250 GTOs were produced between 1962 and 1964.
One red 1962 Ferrari 250 GTO went for $48.4 million (Rs 334 cr) at an auction in California. Also, this is the highest price ever paid at an auction for a vintage automobile.
You may also like: 5 Reasons to Choose Electric Vehicles
Rolls Royce – Boat Tail
Rolls-Royce Boat Tail is a luxurious new-age car with antique features. Its design is influenced by sailboats from the 1920s and 1930s. Moreover, this design has trademark protection under the European Union Intellectual Property Office. Its price is around US$28 million. This roughly equals 200 crores in Indian money. Currently, this luxury car belongs to the global power couples Beyonce and Jay-Z.
Bugatti – La Voiture Noire
The flashy new Buggati La Voiture Noire is the trendy luxury car in the market now. It has avant-garde wheels and a carbon fiber body. Furthermore, the car's carbon fiber body was manually constructed. Also, its logo illuminates to spell the brand name. This car pays homage to the rich design history of all Bugatti cars. Buggati La Voiture Noire represents elegance and sophistication. It is the best amalgamation of technology, luxury, and speed. The cost of an all-black Bugatti is $18.7 million. This is approximately equal to 150 crores.
Pagani Zonda Barchetta
The Pagani Zonda HP Barchetta is the newest hypercar in town. It is from the Italian sports vehicle company Pagani Automobili. The car was unveiled at a staggering price of Rs 122 crore. This car comes under the expensive list due to its rarity. The company decided to produce only three vehicles and all three have already been sold. This vehicle doesn't have any detachable or convertible top. This allows its occupants to experience fresh air while cruising at a high speed. Its eye-catching features and carbon-titanium body parts also add to the luxury.
Mercedes Maybach Exelero
The Mercedes-Benz Exelero is an exceptional car. This perfectly engineered supercar also has the ability to prevent aerodynamic stress. Thus it is highly efficient. This car weighs heavily at 2,660 kg. It is also very fast with the highest speed limit of 351 km/h. It accelerates quickly, taking just 4.4 seconds to go from 0 to 100 km/h. With such tremendous features, this supercar was launched at just $8 million (60 – 65 crores). Though at present it would cost more than $10 million.
Bugatti Centodieci
The French automaker Bugatti made this limited-edition mid-engine sports automobile. The Centodieci model continues Bugatti's 110-year legacy of superior design and performance while also paying homage to the company's more recent history. The car also takes the contemporary wedge design of the Bugatti. They stand out for their elegance and faultless machinery. The car costs around $9 million (approximately 70 crores).
Koenigsegg CCXR Trevita
This is also a mid-engine sports car. A Swedish automaker company created this luxurious Koenigsegg CCX range. Here, the CCXR Trevita is a limited edition of the Koenigsegg CCXR with a diamond weave carbon fiber finish. With a price tag of US$4.8 million, the Trevita ranks among the most expensive sports vehicles. In Indian money, it is approximately equal to 36 to 40 crores. Floyd Mayweather owned one until he sold it for $2.6 million in 2017.
Lamborghini Veneno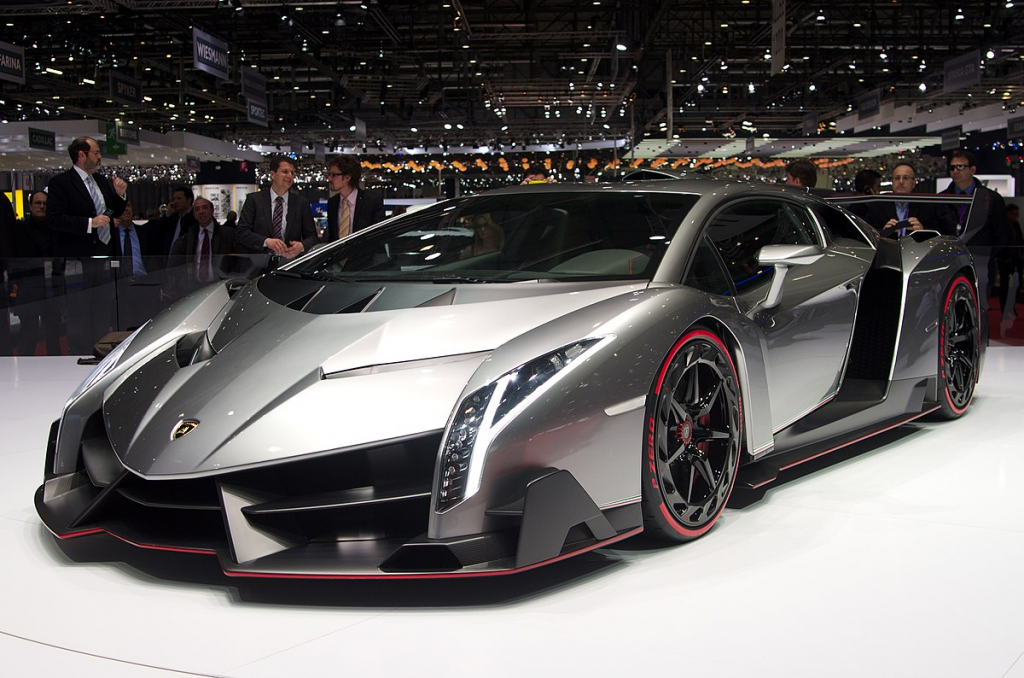 The Veneno model commemorates Lamborghini's 50 years completion. This innovative car was designed with the thought to produce race cars for daily use. Thus it is a perfect combination of sports and sophistication. The brand also marketed this vehicle with the tagline 'flying on the roads'. Furthermore, this automobile guarantees stability with the performance of the racing prototype. It also has superior aerodynamics. Lamborghini made only 14 Venenos between 2014 and 2015. Furthermore, each one cost about $4.5 million (30 to 35 crores).
Aston Martin Valkyrie
Aston Martin Valkyrie is a hybrid sports car. This sports car is the result of Aston Martin and Red Bull Racing working together to create a track-focused vehicle that is also totally fun to drive on the open road. They released their track-only version of the Valkyrie in 2018. These automakers produce their road-only automobiles in 150 units. Each of these costs around $3 million. While their track-only AMR Pros are produced in only 25 units. Thus each costs approximately USD 3.5 million.
Lyken Hypersport
This 2012 limited-edition Lyken Hypersport was created in Lebanon. Italian and Lebanese engineers at W Motors created this luxurious beast. It is a firm with headquarters in the United Arab Emirates. Also, it was the first ever sports car that was designed and produced in the Middle East. The headlights on the HyperSport are the first to have jewel-embedded titanium LED blades. They also include 440 platinum diamonds. This makes the Lykan HyperSport the third most expensive car at the time of its production. It costs around US$3.4 million.
We will be delighted to have your thoughts and feedback. Please write to us at [email protected]
Follow Life and Trendz on Instagram: https://www.instagram.com/lifeandtrendz_com/
Facebook: https://www.facebook.com/lifeandtrendz
Twitter: https://twitter.com/LifeandTrendz