We all know that India is surrounded by water on all sides. Thus one can expect a wide range of seafood cuisines in India. Especially the places along Konkan and Malabar coasts are known for their exquisite seafood. From little to larger diners you can find various seafood establishments in these places. Mainly, Kerala, Goa, Mumbai, Mangalore, and West Bengal are well-known for their fish curries. Moreover, seafood is a popular meal not only in these coastal locations but also throughout the country. Here we will see the list of the top 10 best places to enjoy sea foods in India.
Mumbai – Trishna
Mumbai is the go-to place for unique and fusion sea foods. Here, Trishna holds the number one spot in the hearts of all Mumbai seafood lovers. The place offers some yummy Mangalorean seafood. It is one of the top food spots for celebrities as well. Trishna has a simple ambiance but has the facility to pamper tourists who visit the nearby Fort region. The restaurant is famous for its Hyderabadi pomfret, prawn koliwada, and butter garlic crab.
Mumbai – Gajalee
Another favorite spot for Mumbaikars is the Gajalee restaurant. They offer some flavourful Maharashtrian seafood. Also, their authentic marine food speaks for itself. Gajalee serves both Maharashtrian as well as North Indian foods. This Konkan region delight is known for its clam masala, tandoori crab, surmai curry, and stuffed pomfret.
Kochi – Fort House Hotel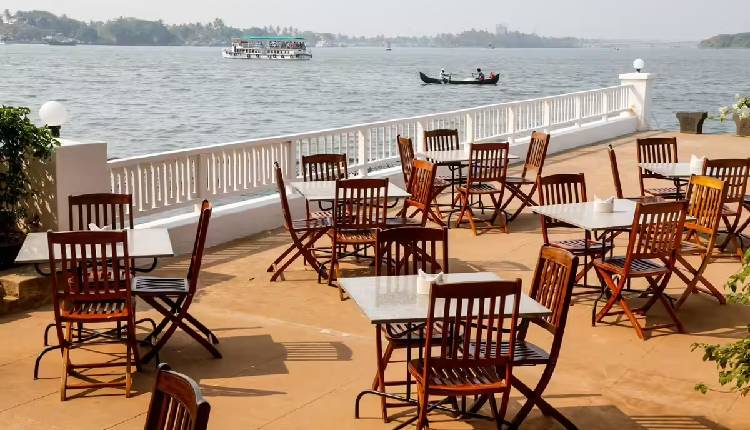 Kerala has some of the best places in India to explore sea foods. Fort House in Kochi is one such place. The restaurant has a spectacular view of the Arabian Sea. Thus you can enjoy your seafood with a sea view. Undoubtedly, the ambiance will elevate your seafood experience at this place. The Kerala masala prawns and meen vattichattu are some of the must-try dishes here.
Goa – The Fisherman's Warf
Just like Kerala, Goa also has some of the best seafood spots in the country. If you are in Goa, then you can't miss out on Fisherman's Wharf. This luxury seafood restaurant near Cavelossim beach offers classic Goan seafood. Apart from the great food, the rustic and calming atmosphere is ideal for enjoying your meal. This restaurant is best at offering yummy and juicy lobsters and prawns.
You may also like: 6 Famous Goan Foods You Should Taste
Chennai – The Marina
Chennai also has some best seafood destinations in the country. The Marina is one such place in Chennai. Their affordable dishes are prepared with clarified butter and rich ghee. Thus the place is always jam-packed. It also serves some tasty vegetarian options. The place serves excellent grilled prawns, fish, shrimp, tender coconut payasam, and Malabar gravy of Hamour fish. Another iconic dish is their Mango curry which is paired with the seafood of your choice.
Chennai – Bay View
Bay View is one of the most romantic and cozy dinings in Chennai. The place has a perfect coastal dining ambiance with a thatched roof and swaying palms. Thus they set the right tone for a memorable meal. Another trump card is their fresh catches from nearby the Kovalam beach. This restaurant offers some best-grilled seafood and fried anchovies. Also, the place has a bar to accompany it.
Kolkata – Santa's Fantasea
Santa's Fantasea is possibly the most famous restaurant in Kolkata. It is a peculiar place that offers tribal and seafood meals at its best. The tribal food section is unique, with a variety of foods served in bamboo stems. Their seafood section is the most famous one. Also, it is one of the best places to get octopus dishes. Mouthwatering pomfret, crab, and lobster dishes are also available here.
Mangalore – Machali
As mentioned earlier the Mangalorean seafood options are noteworthy. Machali in Mangalore will offer you the best samples of all Mangalorean seafood dishes. This tiny family-run seafood restaurant is located in the heart of the city. They cook traditional Mangalore dishes in pure ghee. Their squid ghee fry, fried Anjal and prawns are a must-try. The place is also famous for its fish thali.
Bangalore – Mangalore Pearl
Another Mangalorean cuisine to explore is the Mangalore Pearl. This restaurant in Bangalore offers traditional Mangalore seafood with added coconut flavor. You can get the true flavors of Mangalore when you taste their Bangada curry and prawn dishes. Also, the fish served at the restaurant has a completely distinct fan base.
Delhi – Sana-Di-Ge
Delhi also has some delectable seafood places. The Sanadige is a favorite seafood spot for most Delhites here. The place offers seafood recipes from Kerala, Goa, Mangalore, Konkan, and Maharashtra regions. Thus instead of traveling to different states, you can find all the best dishes of different cuisines in this one place. Here, the popular dishes include tandoori pomfret, jenji rassa, Goan fish curry, and jumbo prawn Rava fry.
There are many such seafood spots in India. These are some of the noteworthy places we could cover for you.
We will be delighted to have your thoughts and feedback. Please write to us at [email protected]
Follow Life and Trendz on Instagram: https://instagram.com/lifeandtrendz?igshid=Yzg5MTU1MDY=
Facebook: https://www.facebook.com/lifeandtrendz
Twitter: https://twitter.com/LifeandTrendz