Introduction
Whether you are at the bar with friends or hosting a cosy dinner party at home, booze and food often go hand in hand. But sometimes it can be challenging to find the right side dishes to serve alongside your drinks. To make your life easier, we've compiled a list of 10 of the best side dishes while boozing. These dishes will perfectly complement any drink and add some delicious variety to your evening. Read on to discover our top ten picks for the perfect accompaniment to your next boozing session!
When it comes to side dishes, there's truly something for everyone – even vegetarians! While many side dishes are heavy on meat and carbs, there are plenty veggie-based options out there that are perfect for pairing with your favourite booze. We have compiled a list with both vegetarian and meat options.
Spicy Jalapeño Poppers
Jalapeño poppers are a classic party food and a great way to spice up any gathering. They are super easy to make and extremely flavourful! Simply stuff a jalapeño with cream cheese, wrap it in bacon, and bake until the bacon is crispy. For an extra bit of heat, try adding some chopped jalapeños to the cream cheese mixture. Serve with ranch dressing or your favourite dipping sauce and enjoy!
French Fries
French Fries are the perfect side dish for booze. They are salty, greasy, and crunchy- all the qualities that make them irresistible. When paired with a refreshing alcoholic beverage, they are even more delicious.
There are many ways to cook french fries, but the most important thing is to use fresh potatoes. You have to slice them into thin strips and fry them in hot oil until they are golden brown. Serve them with a dipping sauce or ketchup for an extra burst of flavour.
You may also like: Best Cocktails that Make You High 
Cheese balls
There's nothing quite like a good cheese ball to accompany your favourite alcoholic beverage. Cheese balls are easy to make and can be tailored to your specific taste. Here are some tips for making the perfect cheese ball:
– Start with high-quality cheese. A good rule of thumb is to use one pound of cheese for every three to four people you're serving.
– Add mix-ins like herbs, spices, nuts, or fruit to give your cheese ball flavour and texture.
– Be sure to form the cheese into a tight ball so that it holds together well.
– Once you've formed the cheese ball, chill it in the refrigerator for at least an hour so that it firms up.
– When you're ready to serve, dip the cheese in a dry flour mixture and dip them in an egg wash and dip them in breadcrumbs and deep fry until golden in colour.
– Serve them hot with some ketchup.
Masala peanuts
Masala peanuts are the perfect side dish for booze! They're salty, spicy, and crunchy, and they go great with beer or any other alcoholic beverage.
1. To make masala peanuts, simply toss roasted peanuts with a spice blend of your choice. We like to use a combination of cumin, chilli powder, salt and garam masala, but you can use any spices you like.
2. Serve the peanuts in a small bowl or on a plate alongside your drinks. You can also squeeze a lemon wedge to up the flavor game. They will be gone in no time!
Pizza
When it comes to hosting a party, few things are as classic – or as delicious – as pizza. Whether you're serving up a classic cheese or a pepperoni pizza, or something a little more unique like a BBQ chicken or Hawaiian pizza, your guests are sure to love munching on some pizza. Plus, it's the perfect food to pair with booze!
Some light snacks that along with Pizza and booze are:
Salads: A salad is a perfect way to start off a meal, and it can also be a great side dish for pizza. Just make sure to keep the dressing light so that it doesn't overwhelm the flavour of the pizza.
Breadsticks: Breadsticks are always a hit, and they go great with dipping sauces like marinara or ranch dressing. Plus, they're easy to eat with one hand so that your guests can still hold their drink in the other!
Fruit: A fruit salad is a great way to add some sweetness and freshness to your meal. And since pizza is usually pretty rich, the fruit will help balance things out. Fresh fruits also go along great with alcoholic beverages.
Veggies: If you want to add some more veggies to your meal, roasted vegetables are a great option. They'll add some savoury flavour without being too heavy.
Tandoori chicken
1. Tandoori chicken is a classic Indian dish that pairs well with alcohol. It is typically made with chicken that has been marinated in a yoghurt and spice mixture, and then cooked in a tandoor (a type of clay oven). The result is a juicy, flavorful chicken that goes great with a cold beer or glass of wine.
2. If you're looking for something a little different, try the tandoori lamb. The same marinade and cooking method can be used, but the lamb gives the dish a richer flavour that is perfect for sipping on a strong drink.
3. Another option is to make tandoori shrimp. This version of the dish is lighter and more refreshing, making it ideal for enjoying with a fruity cocktail or white wine.
Fish fingers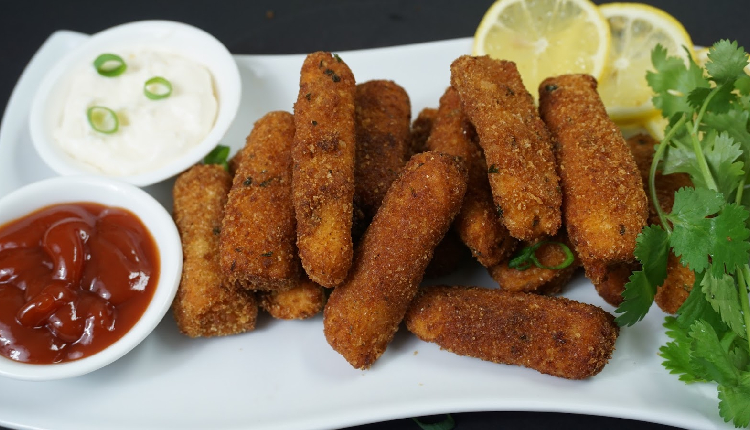 Fish fingers are the perfect finger food for any party. They are simple to make and can be served with a variety of dipping sauces.
1. To make fish fingers, simply cut fish fillets into small strips and then coat them in a flour and egg mixture. Then, simply fry them in hot oil until they are golden brown and crispy.
2. Serve your fish fingers with a dipping sauce of your choice. A tartar sauce or aioli would be perfect for dipping!
Spicy chicken wings
Spicy chicken wings are the perfect accompaniment to your favourite alcoholic beverage. They are easy to make and can be customized to your liking.
To make spicy chicken wings, you will need:
– 450 gms of chicken wings
-Your favourite hot sauce
-1 tablespoon of butter
-1 teaspoon of cayenne pepper
-1/2 teaspoon of garlic powder
Instructions:
1) Preheat your oven to 400 degrees Fahrenheit.
2) While the oven is preheating, melt the butter in a small saucepan over low heat. Once melted, add the hot sauce, cayenne pepper, and garlic powder and stir until well combined.
3) Place the chicken wings in a large baking dish and pour the sauce over them, making sure each wing is coated evenly.
4) Bake for 25 minutes or until the chicken wings are cooked through.
5) Serve immediately with your favourite dipping sauce and enjoy!
Baby corn fritters
Baby corn fritters are a perfect side dish for any occasion! They are crunchy and mildly sweet because of the babycorn and they are easy to make. Serve them with a variety of dipping sauces!
To make baby corn fritters, you will need 1 cup of baby corn, 1 egg, 1/3 cup of all-purpose flour, 1/2 teaspoon of salt, ½ pepper powder, 1/4 teaspoon of baking powder, 1/2 cup of water, 1 tablespoon of vegetable oil.
In a medium bowl, whisk together the egg, flour, salt, pepper powder, and baking powder. Stir in the water and oil until the batter is smooth.
Heat a large skillet over medium heat with enough oil for deep frying. Dip the baby corn in the batter and add them to the hot oil. Cook them on medium heat until they are golden brown on both sides. Serve the fritters with your favourite dipping sauce and enjoy!
Golden fried shrimps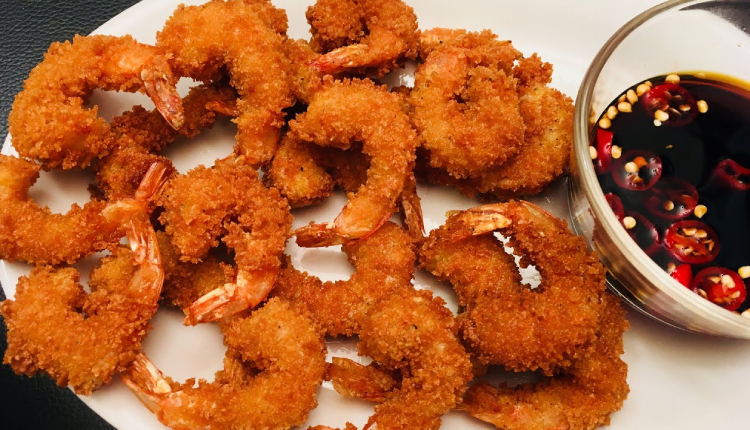 Golden Fried Shrimp are a delicious and crispy side dish that pairs perfectly with any type of booze. This will surely be a hit with all seafood lovers. And this recipe is for a healthier version that is oven baked and not deep-fried.
Ingredients:
-500 gms large shrimp, peeled & deveined
-1/4 cup all-purpose flour
-1/4 teaspoon garlic powder
-1/4 teaspoon Old Bay seasoning
-1/8 teaspoon cayenne pepper
-Kosher salt
-Freshly ground black pepper
-1/4 cup olive oil, divided
-2 tablespoons fresh parsley leaves
-Lemon wedges, for serving
Instructions:
1. Preheat oven to 425°F (218°C). Line a baking sheet with parchment paper and set aside.
2. In a large bowl, combine flour, garlic powder, Old Bay seasoning or curry seasoning, cayenne, 1 teaspoon salt, and 1/2 teaspoon black pepper. Whisk to combine.
3. Add shrimp to the bowl and toss to coat in the flour mixture.
4. Place the shrimp on the prepared baking sheet. Spray the shrimps with oil
5. And bake the shrimps for 2 mins on each side
6. Serve the shrimp immediately with parsley, lemon wedges, and additional salt and black pepper to taste. Enjoy!
Conclusion
There's nothing worse than waking up with a pounding headache and a queasy stomach after a night of heavy drinking. But there are certain foods that can help soak up the booze and ease your hangover symptoms. With the right side dishes, you can make your night of boozing even better. These ten delicious dishes are guaranteed to be perfect accompaniments to any alcoholic beverage. Whether you're looking for something hearty and filling or just a light snack that will complement your drink, there's sure to be an option here that fits the bill. So next time you pull out the drinks for a party or just want some good food to go with your beers and wines, give one of these 10 best side dishes a try!
We will be delighted to have your thoughts and feedback. Please write to us at [email protected]
Follow Life and Trendz on Instagram: https://instagram.com/lifeandtrendz?igshid=Yzg5MTU1MDY=
Facebook: https://www.facebook.com/lifeandtrendz
Twitter: https://twitter.com/LifeandTrendz