Pasta has been portrayed by diet culture as one of the "bad foods," but this is untrue. You are aware that no single food is unhealthy in and of itself. It can turn unhealthy when you add a lot of processed ingredients, like cheese, sugar, and ketchup. Due to the increased use of processed foods and a decrease in the use of fresh ingredients like vegetables, pasta has become one of the unhealthiest foods to consume. You can make some adjustments to your pasta-making process to ensure that it isn't excessively unhealthy. So let's look at some of the best guilt-free and healthy pasta recipes that we frequently prepare and devour.
Healthy Pasta Recipes to Try:
Fire-Roasted Tomato Pasta
What you'll need to make this Tomato Pasta:
Six Tomatoes (Large and cut into wedges)
Olive Oil
Seasoning: Garlic Powder, Salt and Pepper
You can add more spices according to your taste buds
How to make this Tomato Pasta:
Tomatoes could be roasted in two different ways: on the grill or in a conventional oven. If you are using an oven, prepare a baking paper with foil, arrange the tomatoes in a uniform thickness, and bake at 400 degrees for 10 to 20 minutes, having turned the tomatoes once halfway through, or until bruised. Heat the grill to medium if you plan to use that to roast the tomatoes. Over the grates, place a piece of foil, then layer a single layer of tomatoes on top of the sheet. Grill the tomatoes for 10-20 minutes, or until they are blistered.
After the tomatoes have been cooked, add the cooked tomatoes to a food processor or blender. When the mixture is nearly pureed but still slightly chunky, add the seasoning and olive oil. Pour the mixture into a saucepan, cover it, and simmer it for 10 to 15 minutes while stirring. After tasting, add salt and pepper as desired. Add your preferred pasta noodles and, if you like, sprinkle freshly chopped basil or parsley and parmesan cheese on top. Either consume it immediately or keep it in an airtight container to reheat and consume later.
You may also like: Health Benefits of Apple Beetroot Carrot Juice – ABC Juice 
Beetroot Pasta
Here's what you require to make this healthy pasta:
Pasta (obviously)
Three cloves of Garlic
Two thinly sliced and peeled Beetroot
One Onion, diced
Three Tomatoes, finely chopped
Seasoning: Red Chilly powder, Salt and pepper
Fresh cream (optional)
How to make this healthy pasta:
The very first task is to roast the beets, onions, garlic, as well as tomatoes together. Lightly coat a baking sheet with olive oil and set the oven temperature to 180°C. Put the beetroot, garlic, tomatoes, as well as onions in the oven and bake after tossing them with a little olive oil and salt. 20 minutes should be enough time to cook the beets in the oven; after 15 minutes, check to see if they are done in an oven that has been preheated to 180 degrees Celsius. The beetroot ought to have been baked, softened, and felt cooked. Take it out of the oven when finished, then let it cool.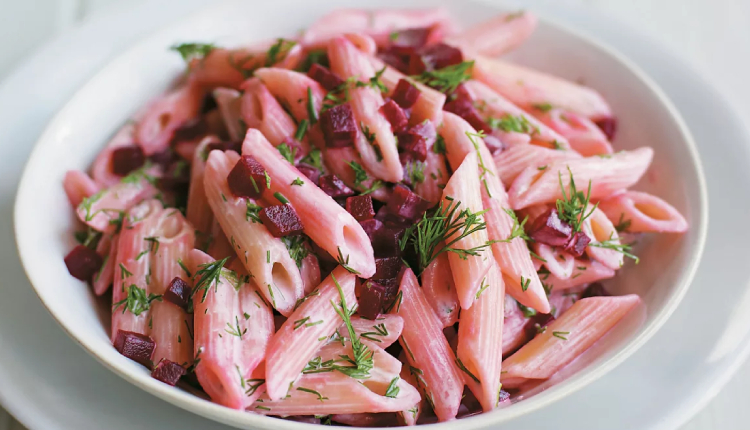 The grilled beetroot should be added to the mixer grinder along with the cream, a spoonful of olive oil, as well as about 1/2 cup of heated water once the beetroot has cooled. The mixture should be blended to create a smooth puree. In a skillet or a pan with a thick bottom, heat the oil. Add a teaspoon of oil, the baked beetroot pasta sauce, salt, black pepper, and red pepper flakes, as well as the cooked pasta. Toss everything together at high temperature until the pasta is completely covered in sauce. Serve it warm with garlic bread or by itself, garnished with parsley or coriander leaves.
Creamy Tomato and Red Pepper Pasta
Incorporating tomatoes, red bell peppers, and onions, this healthy pasta is a favourite among Instagram users. Adding garlic is a personal preference. All that is required is to roast all the vegetables simultaneously with a dash of salt and also some olive oil. After which blend the vegetables, bring to a light boil, and add the water and cream. If you have a lactose intolerance or simply don't like creams, skip the cream. You can season this sauce to your taste and add any cooked pasta of your choosing. In no time, you'll have a nice and creamy healthy pasta to enjoy.
We will be delighted to have your thoughts and feedback. Please write to us at [email protected]
Follow Life and Trendz on Instagram: https://instagram.com/lifeandtrendz?igshid=Yzg5MTU1MDY=
Facebook: https://www.facebook.com/lifeandtrendz
Twitter: https://twitter.com/LifeandTrendz