Champagne is regarded as among the most popular and stylish drinks in the modern era. Almost any special occasion deserves a decent champagne brand, regardless of the occasion. In fact, without popping and serving a bottle of champagne, an event is considered to be lacking. One of the most opulent beverages with the most elegant appearance is champagne, or bubbly as it's often called. When served in the ideal glass, a nice glass of champagne can end up making you feel like a king or queen. However, it can be challenging to choose a bottle of sparkling champagne because of various factors. Keep reading to know about the best champagne brands in the country.
Best Champagne Brands in India:
Dom Perignon Champagne
Dom Perignon champagne, created by monk Dom Pierre Perignon, is among the best champagne in India and something you will adore. This classic champagne is made by the Mot & Chandon house and comes in two different flavours: chardonnay and pinot noir. It has a distinctive texture and a mixture of flavours, including saffron, mustard seeds, smoke, and sweet yellow pepper. A wonderful champagne to sip on special occasions with friends and family.
Dom Perignon Champagne Price: Rs. 17,000
You may also like: Best Types of Donuts and What Drinks to Order with them 
Krug Champagne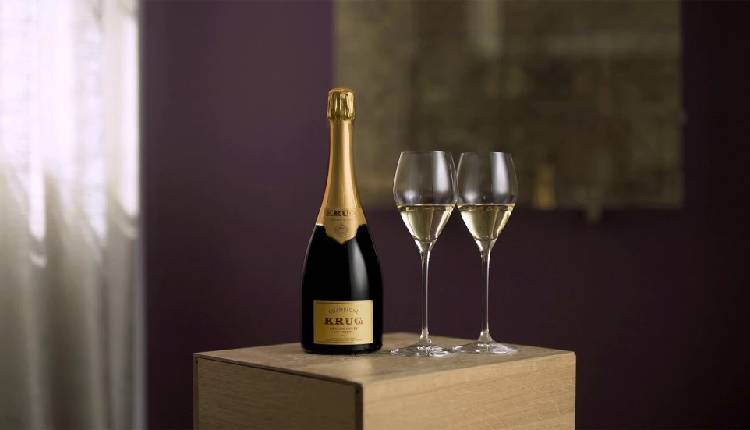 One of the most famous champagne houses in the world, Krug Champagne continues to store its champagne in small oak trees as per the traditional method. Joseph Krug established this brand in 1843, and ever since, the champagne's flavour and texture have remained constant. The 47 different wines in the champagne come from 25 various villages and are blended together after being aged 5-7 years. You get a citrusy and nutty taste on your palate.
Krug Champagne Price: Rs. 6,000
Louis Roederer Champagne
Louis Roederer, founded in 1776, is another one of the country's greatest champagne houses. Its name was changed to reflect Louis Roederer's inheritance in 1833 after it had previously been given a different name. It has a crisp yet elegant texture because it's made with the traditional combination of Pinot Noir, Pinot Meunier, and Chardonnay. Given its rarity in India and preference for non-vintage brut, this bottle of the champagne brand is a bit pricey.
Louis Roederer Champagne Price: Rs. 20,000
Besserat Champagne Cuvee Des Moines
In honour of the earliest Benedictine monks, Besserat Champagne Cuvee Des Moines is a champagne with a vivid yellow hue. Its production method is extremely distinctive and lowers bottle pressure to produce a product with a rich flavour and lots of tiny bubbles. It smells quite elegant when you first open the bottle, with samples of dried flowers and floral aromas. Champagne has a smooth flavour with hints of apricot, pineapple, and fresh fruit. This champagne's 30% finer, tinier bubbles compared to those of other champagnes in its category are an intriguing fact.
Besserat Champagne Cuvee Des Moines Price: Rs. 9,000
PALMES D'OR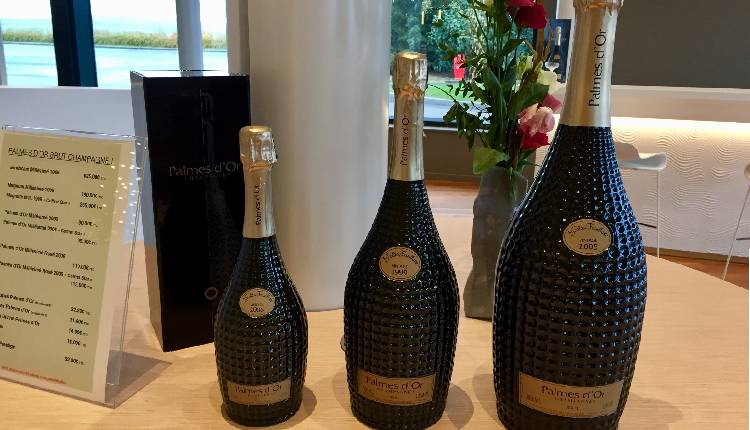 On this guide to the best champagne brands in India, Nicolas Feuillatte Palmes d'Or is one of the most expensive champagnes. A creamy-textured French sparkling wine with a fantastic aroma combination is made in France. It has a flavorful aftertaste and delicate notes of honey, beeswax, dried fruits, as well as tropical fruits. As one of the top 1% flavours in the world, this champagne is produced by using some of the best Pinot Noir and Chardonnay.
Palmes D'or Champagne Price: Rs. 16,000
G.H. Mumm Brut Cordon Rouge
One of the most popular items produced by Maison Mumm is the champagne Mumm Cordon Rouge. Each bottle of this champagne has been adorned with the use of a red ribbon of the Legion d'Honneur, France's highest civilian honour, since 1876. The flavours of this champagne include white peach, lemon zest, ginger, and clover honey, and it has a crunchy texture. The vanilla, as well as roasted nut flavours in this glass of champagne, become more pronounced with time.
G.H. Mumm Brut Cordon Rouge Price: Rs. 3500
Ace Of Spade Rose
The Armand de Brignac Ace of Spades Rosé champagne is the priciest on this list of the best champagne brands in India. It comes in a distinctive pink-gold bottle with perfectly matched embellishments that are filled with a pink champagne blend. On the palate, this sparkling wine has notes of spice and raspberry that are crisp and full-bodied. It goes well with foods like wild salmon, duck confit, and veal flavoured with truffles. The extremely low production volume of this champagne accounts for its high price and rarity.
Ace Of Spade Rose Champagne Price: Rs. 80,000
Champagne represents royalty. We've compiled a list of India's top champagne brands. The best champagne brands are always available for you to enjoy at your special events and functions, regardless of your financial situation.
We will be delighted to have your thoughts and feedback. Please write to us at [email protected]
Follow Life and Trendz on Instagram: https://www.instagram.com/lifeandtrendz_com/
Facebook: https://www.facebook.com/lifeandtrendz
Twitter: https://twitter.com/LifeandTrendz