Besides providing nutrients to the body, food has become a source of comfort and a canvas for creative expression. People's love for food goes beyond and infinite. Having said that, we are here to introduce you to the young restaurateurs who take you to their intertwined world of Nature and Food.
A dream of more than two years came true for the Tirupur youngsters who have a profound love for food. We introduce you – Vigash Priyan and Deepan, the proud partners of Tirupur's brand new restaurant, The Grove.
Gladdened to interact with Vigash and Deepan regarding the most-happening, coconut farm restaurant of Tirupur. Following are the combined interactions of the same.
Excerpts from an interaction with Lifeandtrendz.com:
1. It was the dream of more than two years. Congratulations on opening a brand-new Restaurant! So, what inspired you to open a restaurant?
– First of all, Thanks! Food was our inspiration! Basically, we lived in different cities and countries and we love trying out new foods. And when we came back to Tirupur we realized that our city has very few food options and we have to visit multiple restaurants to try different cuisines. And we know that there are many more people out there in our city just like us. So, we wanted to build a place where you get all options under one roof. From local food to continental, to satisfy all age groups, and all class people.
2. What were the biggest challenges you faced when getting started?
– One of the biggest Challenges we faced was to plan and construct the buildings in the middle of the  coconut farm without removing any of the trees. We have to utilize all the available spaces in between the trees and over the drip irrigation pipelines that run all over the Farm. Other than that, we faced a few other challenges too. Corona and the lockdown were one of the few others.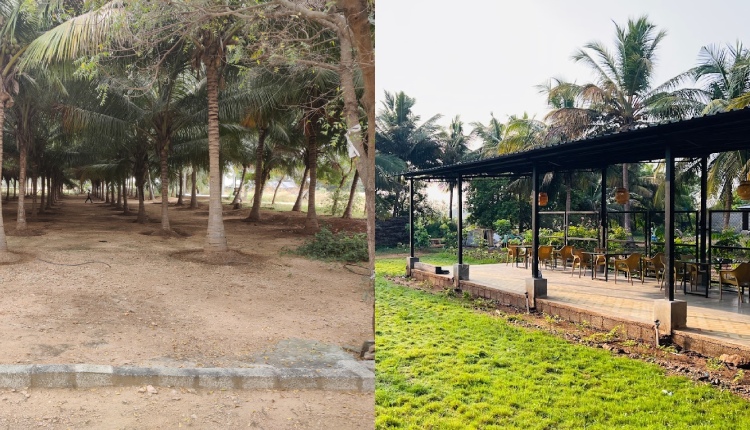 3. How did you choose the location for your restaurant?
– Vigash: It was my family's farm. We have a farm house here. We all will have a get together here every Sunday for lunch. I always wanted to start some business related to food when I was working in Chennai. When I quit the job and came back here, we had the usual get together and that was the day it all started. It was like 'Love at first sight'. Actually, the business did not choose its location, the location chose the business!
4. How did you decide on the concept for your restaurant?
– As we mentioned before we were clear about the type of food we are going to provide and with the location being selected even before that, Nature was our concept! So, we planned everything based on nature and the buildings being rustic.
5. What role does social media play in your marketing strategy?
– It does play a huge part in advertising and promotions. Most of our targeted customers were youngsters and middle-aged groups. Social media helped us in reaching out to them in an easier way.
Check Out the Instagram Handle: https://www.instagram.com/thegrove_tiruppur/
6. What kind of foods do you serve? / Do you have any vegan options?
– We serve multiple cuisines which are South Indian, Indian, Chinese, Italian, Tandoor and Continental. We have a wide range of options in continental like Pasta, Pizza, Burger, Lasagna, Stroganoff and much more. And we are planning to bring in more options soon! And yes, we have Vegan food options and also options to customize a few dishes for Vegans.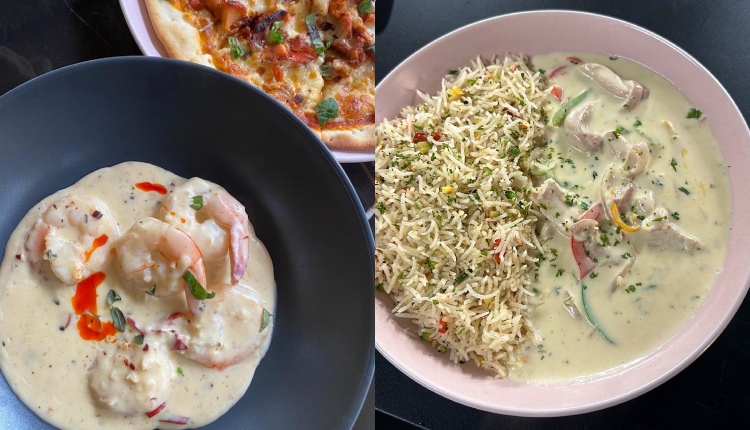 7. Do you have any signature dishes?
– Yeah, we have few. Roasted Chili Chicken, Crunchy Honey Garlic Chicken, Crispy Chicken Bullets, Butter Garlic Prawns and Mango Marinara Wings are some of the signature dishes which are already the best sellers of our restaurant.
8. How did you choose your menu items?
– Selecting the menu was one of the hardest tasks of starting our restaurant. Talking about food, there are a huge number of options available in every cuisine, it's almost endless. Initially we took a survey about the food items that our people would like to have. Then we gathered a few more items from our Chef, friends and family and we did a Trial run of all the items. Then we shortlisted the best!
9. Where do you source your ingredients?
– Better ingredients make better food! So, we concentrated more on sourcing the best quality ingredients. We source our ingredients from so many different Vendors. We have our suppliers from different parts of Tamil Nadu and few from different states. And we are very keen on the quality of the raw materials we procure.
10. What's your favorite dish on the menu?
– Vigash: Malai & Fish Tikka, Chicken Stroganoff, Kanava Chukka, Butter Garlic Prawns and Lamb Burger are my personal favorites. Meanwhile, Buffalo wings, Butter garlic prawns, Chicken Stroganoff, Malai tikka, Crispy chicken bullets andFish tikka are Deepan's favourites.
11. Do you have a private dining area?
– Yeah, we have 11 Individual huts in between the Coconut trees for people who want their privacy and peacefulness.
12. Do you host special events or parties?
– Of course, We have a huge lawn space, roof top area and an area in the middle of the Coconut farm to host events along with food with the capacity ranging from 30-500.
13. How would you describe your culinary style?
– As we mentioned before we describe ourselves as Multicuisine. We have South Indian, Indian, Chinese, Tandoor, Italian and Continental food options.
14. How did you come up with the restaurant's wall art idea?
– Since nature is our theme, we wanted to reflect it in our art too. Our Restaurant is filled with trees, leaves and flowers except the walls, so we wanted leaves and flowers-based murals. And while discussing the portrait, we thought it would be apt if we do something like 'Goddess of Nature'. And it really came out well!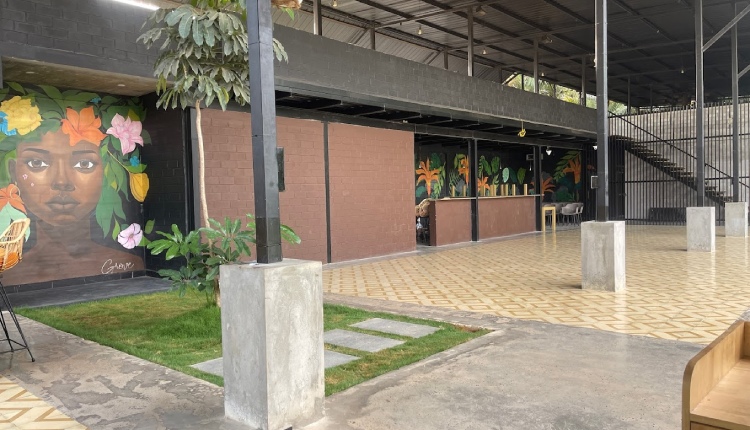 15. Tell us about the artist and why did you choose her?
– Vigash: I guess it would be right if I answer this! Jennipher Kerenhappuch, the artist from Chennai, is working as an Art Teacher. She is like a 'Sister from another Mother' to me. I got to know her when we both worked in a short film in which she worked as the Art Director, believe me she is the best. I usually admire good art and she is an excellent Artist.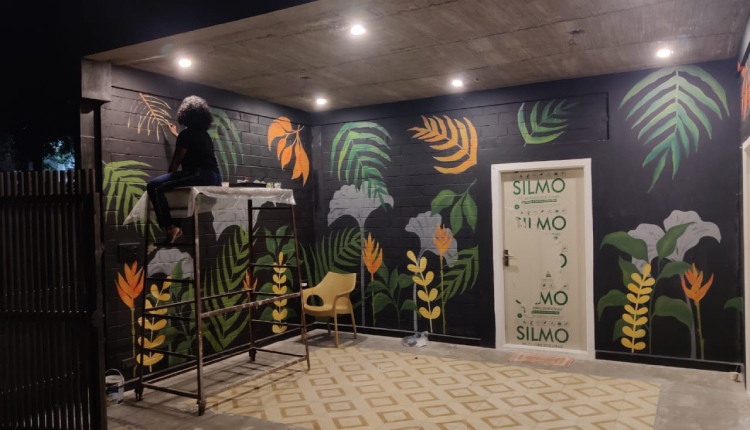 When it came to choosing an artist for murals, I called her without any second thought, and irrespective of all the personal loss and difficulties she came and did it for me. My love for her and her art lives forever. Also, Jennipher roped in a talented portrait artist, Shakthi, to collaborate for the beautiful wall art.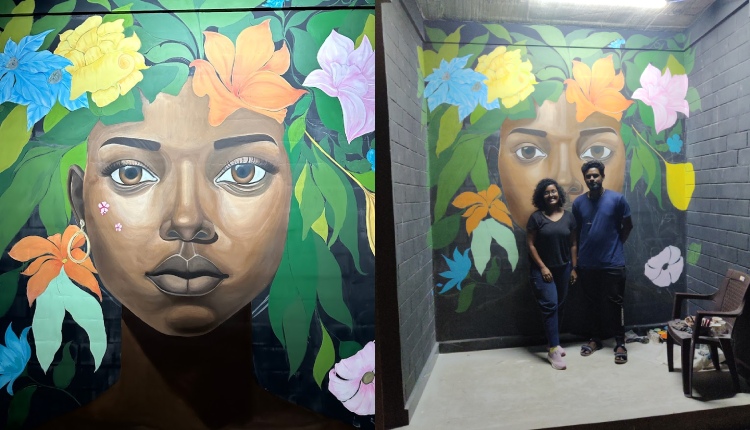 You may also like: 'I was doing Art Direction alongside Teaching from 2015 to 2020': Jennipher Kerenhappuch
16. Do you have any advice for aspiring restaurateurs?
– We have just started and are not in the position to advise other people with similar interests. What we can do is to share the things we did to reach here. Whatever the interest is, keep on working for it, irrespective of the barriers and hardships you face. If you fix a destination and keep walking, you will eventually reach it. All you need to do is be committed to your idea and work for it.
Thinking of exploring Tirupur? Then, The Grove is one of the places to visit to relish and explore tantalizing food varieties. They are also planning to incorporate a resto bar ambience sooner, with special menu for drinks.
We will be delighted to have your thoughts and feedback. Please write to us at [email protected]
Follow Life and Trendz on Instagram:https://www.instagram.com/lifeandtrendz/
Facebook: https://www.facebook.com/lifeandtrendz
Twitter: https://twitter.com/LifeandTrendz