Why people are often advised to have rasam during this Pandemic period?
This one is gonna be an "Ode to Rasam-King of Soups!"
None could resist the pleasant-tasting as well as drinkable rasam when it is served. Could you? Deep in you, you are bonded with this finger-licking taste and loving it moreish, aren't you?
Being an authentic traditional food, rasam is one of the best foods known for its medicinal abilities and soothing effects when you are affected by cold or flu. It is not just a permanently placed Indian soup but also it is a bowl of healthy ingredients together which in turn is healthy for our body. However, it is constant in South Indian cuisine and is served in every meal. Even your tummy-filled meal is incomplete when it is served without rasam. This amazingly- healing soup would be prepared with healthy ingredients such as tamarind juice, pepper, tomato, cumin, and other spices as well. Rasam is loaded with nutrients including minerals and vitamins and thus it could be the best for your health. That's how wonderful rasam could be and helps in fighting against the infection from entering into your body. This is the reason why rasam is often stressed during the pandemic period which could increase your immune power. Let's check out the benefits of rasam.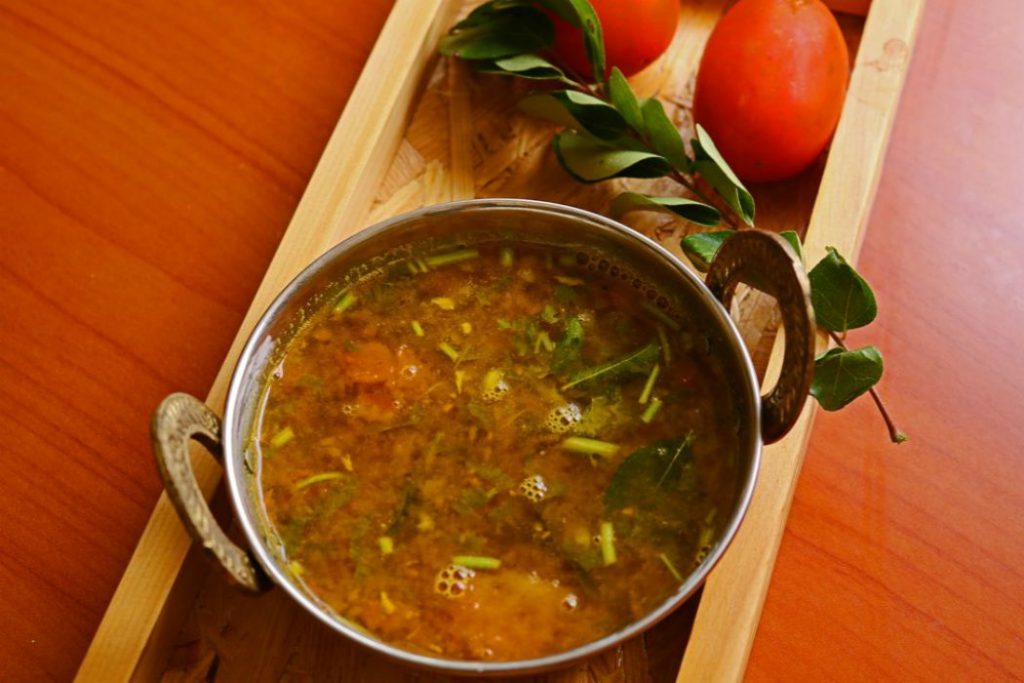 ACTS AS A GREAT HOME REMEDY FOR COLD AND FLU: With its piquant flavor, rasam could help you to clear out the respiratory tract. Also, the presence of curry leaves in it helps in fighting with the flu-like symptoms. Ever remember when you fell ill, your doctor could have advised you to have rasam for few days? Yes, here is the reason for it. However, the ingredients such as curry leaves, tamarind extract, turmeric powder, red pepper, and mustard seeds never fail to provide you its health benefits if you are suffering from cold and cough. Being the best recovery food, rasam could instill you with vitamins and nutrients you are actually in need of.
HELPS IN CONSTIPATION: The presence of tamarind content in the rasam would do magic for your problems like constipation. This is because it is rich in dietary fibers that would add to your stool and healthy bowel movement as well.
ASSISTS IN WEIGHT LOSS: Rasam could be helpful in weight loss by promoting the removal of toxins and making your body sweat, produces more urine, and provides a good metabolic rate as well. Meanwhile, it has been loaded with antioxidants that avert free radical activity. The tamarind is rich in antioxidants which helps in glowing up your skin and makes it look young. Even the use of tomatoes in rasam would also provide the necessary antioxidants and vitamin C, which thus improve your skin health.
HELPS IN HEALTHY DIGESTION: The addition of black pepper in the "King Soup" would help your body to remove acids that helps in healthy digestion. When you drink rasam after meals, it might aver the formation of acidity and flatulence and thus stimulates digestion. You might have seen people serving rasam after having meals or heavy meals which is due to its ability to promote healthy digestion. So, have a rasam and get rid of the digestion issues.
GOOD FOR PREGNANT WOMEN: Being good in proteins, vitamins, minerals, and antioxidants, rasam would be an ideal food for pregnant women. What else could give them this excellent mixture of healthiness together in a dish? Well, No other dishes could do so and thus comes rasam to help you stay healthy.