Raksha Bandhan is a well-known Indian holiday that honours the tie between siblings. This unique occasion asks for meaningful presents to be exchanged to demonstrate love and affection. Don't worry if you're on a tight budget! We've compiled a list of 20+ Raksha Bandhan gifts under 5k that will amaze your siblings while staying inside your budget. Let's take a look at some thoughtful and meaningful gift ideas.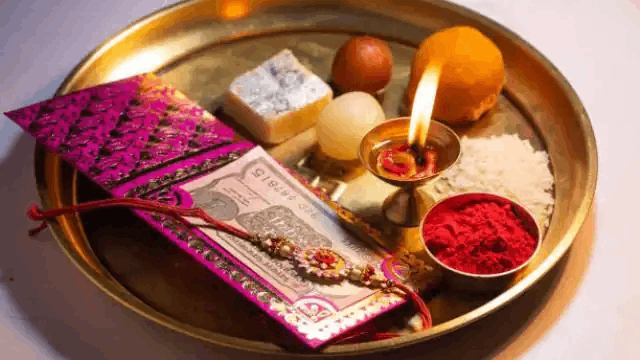 20+ Raksha Bandhan Gifts for Brothers and Sisters under 5k:
For Brothers:
Personalized Accessories (Wallet, Keychain):
Personalising your Raksha Bandhan gift can turn it into something truly unforgettable. Consider getting your brother a personalised wallet or keychain with his name or a meaningful message engraved on it. He'll be reminded of your bond every time he reaches for his wallet or keys. This tiny yet meaningful touch demonstrates your attention to detail and the consideration you put into selecting a present that fits his personality.
Grooming Kit:
A grooming kit is not only a useful gift, but it also displays to your brother that you care about his looks and well-being. Choose a grooming kit that is tailored to his unique needs, like a beard care package, skincare necessities, or a full grooming set. You show your support for his confidence and self-care regimen by giving him the tools he needs to look and feel his best.
Fitness Tracker:
A low-cost fitness tracker can be a game changer for a health-conscious brother. This gift not only demonstrates your interest in his hobbies, but it also supports his fitness quest. A fitness tracker lets him assess his progress and keep motivated, whether he's a runner, biker, or simply wants to be active. It demonstrates your attention and concern for his well-being.
Bluetooth Speaker:
Music has the ability to lift one's spirits. A Bluetooth speaker is a gift that will allow your brother to listen to his favourite music. No matter where he is. Whether he's out with friends, working out, or resting at home, a portable speaker will enrich his experiences. Your gift of a Bluetooth speaker indicates your grasp of his leisure preferences and brings a smile to his face.
Book or Graphic Novel:
If your brother is a voracious reader, a carefully chosen book or graphic novel from his favourite genre is a kind present. It shows you care about his intellectual interests. Whether he prefers fiction, nonfiction, fantasy, or science fiction, selecting a book that corresponds to his interests demonstrates that you value his literary journey. It's a thoughtful gift that can stimulate conversations and shared reading experiences.
Cologne or Perfume:
A well-chosen fragrance or perfume can be a long-lasting gift. It will help enhance your brother's presence and creates an indelible memory. Choose a scent that fits his personality and style. He'll carry a piece of your Raksha Bandhan celebration with him every time he wears it. This attentive gesture not only demonstrates your attention to detail but also adds a touch of elegance to his daily routine.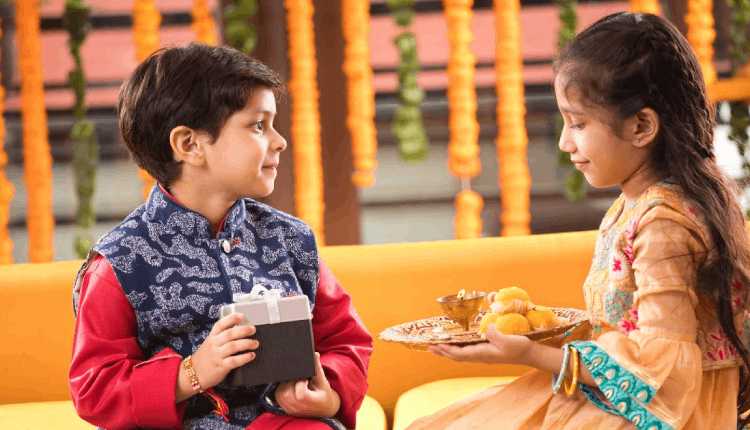 For Sisters:
Jewellery:
Jewellery has long been a popular gift option and for good reason. A simple pair of earrings or a delicate necklace can quickly elevate her look. It can also offer a sophisticated touch to any ensemble. Whether she wants studs, hoops, or dangling earrings, or if she chooses a simple or elaborate necklace, options are unlimited.
Skincare Set:
Give your sister a beautiful skincare set that will satisfy her senses while also pampering her skin. A properly curated array of her favourite skincare products, ranging from cleansers and moisturisers to serums and masks, can elevate her skincare regimen to the level of a spa treatment. Knowing that you've thought about her preferences and selected goods that cater to her skin's demands demonstrates your thoughtfulness. With each application, she will be reminded of your thoughtful gesture. And also the effort you made to make her feel valued.
Plant or Succulent:
Bringing a bit of nature into her area, such as a plant or succulent, is an excellent approach to instil positivity. These small green friends take little maintenance and may grow indoors, making them an excellent choice for any living area. She'll be fostering a living reminder of your affection and the strengthening of your sister bond every time she waters and cares for her plant. It's a gift that represents life, progress, and the strength of your bond.
Scented Candles:
Scented candles have the extraordinary capacity to transform a room into a refuge of relaxation and comfort. Choose candles with scents that appeal to her. Whether it's a soothing lavender, an energising citrus, or a comforting vanilla. She'll be surrounded in a cocoon of tranquillity as she lights these candles and enjoys their calming smells. This gift does more than just set the tone for relaxation. It also represents your wish for her to experience moments of calm and serenity throughout her day.
Handbag or Tote:
A trendy bag or tote is both a functional and fashionable component. Consider her personal style and select a design that suits her wardrobe. Whether she's going to work, at a social function, or just doing errands, this bag will be there to accompany her and hold her things in style. Every time she uses it, she'll be reminded of your exceptional taste and thoughtfulness in choosing a gift that seamlessly mixes usefulness and fashion.
For Both:
Board Games:
Board games are more than just a source of pleasure; they are also a means of spending quality time together. Gather your sibling around the table and enter a world of strategic thinking, teamwork, and humour. Board games, from classics like Monopoly and Scrabble to modern favourites like Settlers of Catan and Ticket to Ride, provide unlimited hours of entertainment and build lasting memories. The delight of playing together is unsurpassed, whether you're competing or collaborating.
Subscription Service:
Give your sibling a subscription service so they may get a constant dosage of their favourite entertainment. There's a subscription out there for everyone, whether they like films, TV series or periodicals.
Cooking Class Voucher:
Learning something new together is an excellent approach to strengthening your relationship. Give your sibling a virtual cooking class voucher and go on a gastronomic adventure together from the comfort of your own kitchens. These workshops provide step-by-step directions and guidance whether you want to master a certain cuisine or learn to produce a gourmet dish. As you chop, sauté, and simmer, you'll not only learn how to cook but also make delicious memories.
Celebrate the love between siblings this Raksha Bandhan with thoughtful presents that won't break the budget. There are numerous possibilities available, ranging from personalised accessories to emotional tokens. Remember, it's the thought and care that goes into the present that counts. With these budget-friendly gift ideas under 5k, you can show your thanks and make your Raksha Bandhan memorable.
We will be delighted to have your thoughts and feedback. Please write to us at [email protected]
Follow Life and Trendz on Instagram:https://www.instagram.com/lifeandtrendz/
Facebook: https://www.facebook.com/lifeandtrendz
Twitter: https://twitter.com/LifeandTrendz