Capturing moments with your significant other is an excellent approach to preserving your love and connection. Finding the greatest couple pose ideas can make your images genuinely unforgettable, whether it's a special occasion, a casual outing, or simply a typical day. In this blog, we'll look at eight creative couple pose ideas that can be used for any event and can help you make beautiful memories together.
Best Couple Pose Ideas for any occasion:
The Classic Embrace
The classic embrace is a basic yet lovely pose that is timeless, and you may use it for any memorable occasion in your life. Simply stand close to your spouse, wrap your arms around each other, and look into each other's eyes. This stance is like a warm hug frozen in time, and it expresses your love and intimacy. It's ideal for romantic relationship shots.
You may also like: 6 Exotic Couple Spas in Chennai to Relax Together
Dancing in Each Other's Arms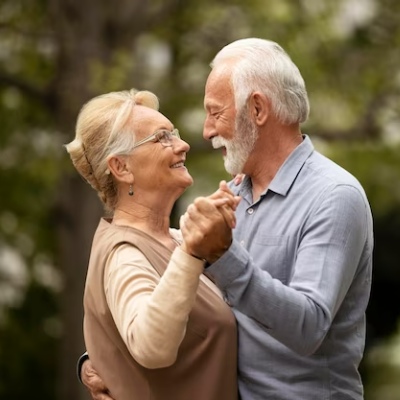 Dancing in each other's arms can give a romantic and fun touch to your images. It's not necessary to be a perfect dancer; simply swing to the music or move together gently. This position is ideal for a variety of events, such as weddings, date evenings, or whenever you feel a special love in the air. It captures the joy of being together and makes sweet memories to treasure for years to come. So, whether you're at a lavish party or just having a peaceful moment at home, don't be afraid to hold each other's hands and dance your hearts out.
Forehead Kiss
The forehead kiss is a lovely and loving way to pose for photos. Simply stand in front of each other and place one of your hands on the other person's cheek. Then, on their forehead, give them a soft and loving kiss. This beautiful gesture demonstrates how much you care about each other and wish to protect and comfort one another. It's ideal for capturing your relationship's love, trust, and sensitivity. This stance is appropriate for formal occasions like engagements and anniversaries, but it is also appropriate for casual photoshoots.
The Piggyback Ride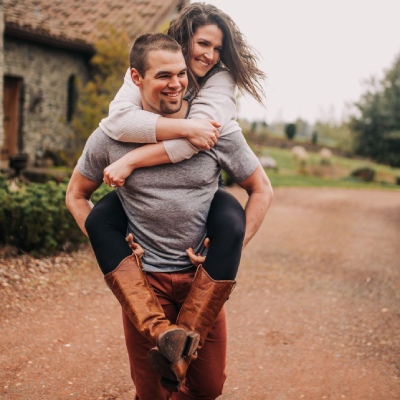 If you want to make your photos extra fun and playful, why not try the classic piggyback ride pose? It's ideal for a variety of options, such as casually hanging out, taking a break or even a romantic engagement session in a park. Here's how it works: the person giving the piggyback ride should wear a large smile and radiate happiness, while the person riding on their back can get creative – perhaps wave at the camera, laugh heartily or make crazy and goofy faces. It's a definite way to inject some fun and spontaneity into your photos!
Stolen Glances
Imagine yourself sitting in a cosy coffee shop, immersed in your own world, sipping a warm latte when you unexpectedly catch your partner's eye. It's only a momentary moment, yet it's lovely in its simplicity. These stolen looks, when you're both lost in your own thoughts, have a certain allure. It's not about the elaborate outfits or the perfect lighting; it's about the true connection you share. This candid pose has the capacity to be immensely true and unforgettable, whether it's at a lively party, a serene coffee shop, or just a quiet evening on the sofa.
Hand-in-Hand Walk
Holding hands and enjoying a leisurely walk together is one of the simplest and most pleasant poses you can do with your sweetheart. It's a versatile stance that can be used for any situation, whether it's a romantic stroll through the park, a casual outing in the city, or even a quiet walk along the beach. The natural and unposed nature of this position distinguishes it. When you're strolling hand in hand with someone, you tend to forget about the camera, which allows the photographer to catch true and candid moments.
The Jumping Shot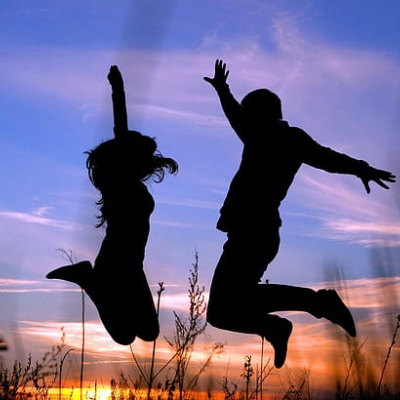 If you want to add excitement and energy to your love shots, you should definitely attempt the leaping shot! It's as easy as holding hands with your spouse and jumping into the air together. When you do this, you are capturing a moment of pure delight and fun. This type of shot is ideal for a variety of occasions such as holidays or festivities. It's also wonderful for breaking up with the standard and monotonous positions you've seen previously. So, the next time you're taking pictures with your loved one, don't be scared to jump with excitement and make a happy memory!
Silhouette Sunset
Photos taken at sunset or sunrise provide a lovely backdrop for a couple of poses. You and your companion can face each other while the sun sets or rises behind you. In this wonderful light, holding hands or sharing an embrace will create a romantic mood. The sun's gentle, warm rays will produce a stunning light on both of you, making your images look like they're from a beautiful movie. These moments, captured against the golden colours of the sun, will undoubtedly become treasured recollections of your love and togetherness.
It is not necessary to have professional modelling talents or expensive setups to create memorable relationship images. The goal is to capture your true love and connection with your partner. Whatever the occasion, these eight best couple pose ideas can help you do just that. So, take your camera or hire a photographer and start creating memorable memories with your loved one. Remember, it's not about the setting; it's about the love you have for one another.
We will be delighted to have your thoughts and feedback. Please write to us at [email protected]
Follow Life and Trendz on Instagram:https://www.instagram.com/lifeandtrendz/
Facebook: https://www.facebook.com/lifeandtrendz
Twitter: https://twitter.com/LifeandTrendz