You might be preparing a memorable vacation to a stunning location as Christmas as well as New Year's Eve draws near. After all, this time of year is the most lovely since everything is quiet but still looks to be glowing. You are ruining the holiday spirit if you don't take advantage of this opportunity to savour some of your nicest life experiences with your friends and family. We cannot permit that to happen! So, we've put up a list of the top Christmas celebration spots worldwide and in India. Since we just mentioned the greatest places, you can choose any one of them. Quick browse each point quickly and then get prepped for the joyful holidays!
Best places to celebrate Christmas:
Goa
Is it possible to outdo Christmas in Goa? Many various types of individuals celebrate Christmas in distinct and unique ways. There are carols, exhibits, sprees, and other occasions to celebrate. Most streets would have Santa Claus. The most popular Christmas Eve pastime is a drive through Goa's streets while admiring the lights as well as other displays. Numerous hotels will offer traditional Christmas celebrations in Goa fashion. If you are looking for something different, beaches would be accessible for you to celebrate a family beach Christmas. The streets would be bustling with wine and alcohol in Goa at this time of year as well.
You may also like: Top 6 Christmas Movies to Watch
New York City, USA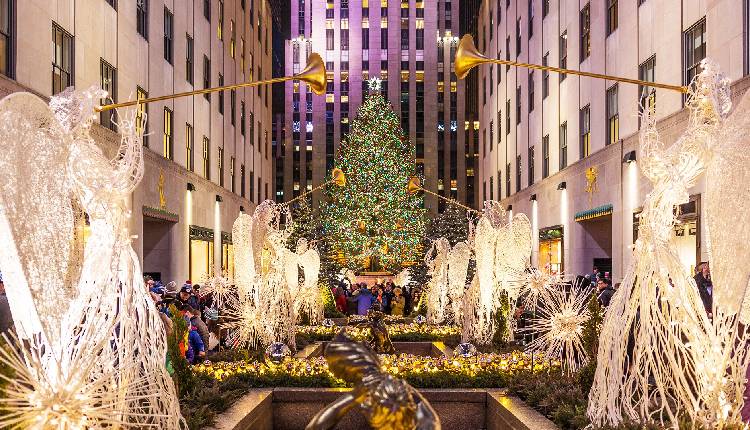 As numerous movies have clearly shown, Christmas is very prominent in the Empire State. The city transforms into a hotspot enjoying one of the best Christmases in the history of the planet with the addition of Christmas decorations, tasteless muzak, and light snowfall. At the Rockefeller Center, the biggest Christmas tree in the world is awe-inspiring to visitors, who skate underneath it. There is a great shop window with the items displayed in the appropriate approach too. If you can't make it to New York for Christmas this year, don't panic; put it on your bucket list for next year!
Delhi
Delhi is a place where people from different ethnicities and areas can be found. Explore Sacred Heart Cathedral, which is close to Connaught Place, if you're seeking midnight services or other religious events. The markets will also be brimming with Christmas deals, snacks, as well as souvenirs. Attend the Capital City Minstrel Choir concert for a classic Christmas celebration. Tour St. James' Church, St. Alphonsa's Church, and other locations for a Christmas celebration. Explore the new Christmas libations that have recently been released in time for the Christmas celebration in India and take advantage of the luxury resorts and eateries in Delhi.
The Vatican City, Italy
The scintillating Vatican City is still stunning throughout the year, but December is especially splendid. The city is overrun with beautiful scenes, and it experiences additional rhythms with roasted clichés served on every street. Midnight Mass in St. Peter's Basilica draws many tourists to Vatican City on Christmas Eve, giving them an occasion to cherish. Explore this city that is among the top Christmas destinations in the world to make your Christmas even more memorable.
Kolkata
You should take in the holiday celebration, music festival, as well as food festival that take place in Park Street if you find yourself visiting Kolkata around Christmas. There are many locations where large celebrations take place in public spaces. Nearly every component is present, from a massive Christmas tree to a sizable number of Santa Claus. If you want to spend Christmas devouring nothing but food, this is the place to go. The unusual banana Christmas tree is also featured here. Here, contrary to several western nations, there is very little snowfall and few pine trees. As a result, banana trees are frequently decorated for Christmas.
Amsterdam, Netherlands
A wonderful place to celebrate Christmas throughout the world is Amsterdam. In the Dutch city, where every home from the 16th and 17th centuries is decked out in shimmering lights in early December, the legend of Santa Claus (also known locally as Sinterklaas) is widely propagated. Relax here till New Year's Eve and experience champagne and firework displays in Dam Square or perhaps the Nieuwmarkt to make Christmas even more unforgettable for you. Moreover, don't forget to attend the celebration with the community for the best experience.
We will be delighted to have your thoughts and feedback. Please write to us at [email protected]
Follow Life and Trendz on Instagram: https://www.instagram.com/lifeandtrendz_com/
Facebook: https://www.facebook.com/lifeandtrendz
Twitter: https://twitter.com/LifeandTrendz