Chennai's very own ITC Grand Chola is a structure that you need to visit at least once in your life. Sure, it's expensive (maybe a bit too much) but we just feel that it's worth all of the popularity it gets around the city. If you're someone who has never been to this royal hotel in Chennai, you should stick around until the end. Because we're gonna take a look at every possible thing you need to know about this special place in this article. So get your popcorn and start reading because we're hoping this to be a long post.
This is ITC Hotel's flagship building in the vicinity, reflecting the greatness of the Chola Dynasty, one of the finest and longest-ruling maritime empires in southern India's history. It is grand in every meaning of the phrase, with 522 rooms and 78 tastefully outfitted serviced apartments.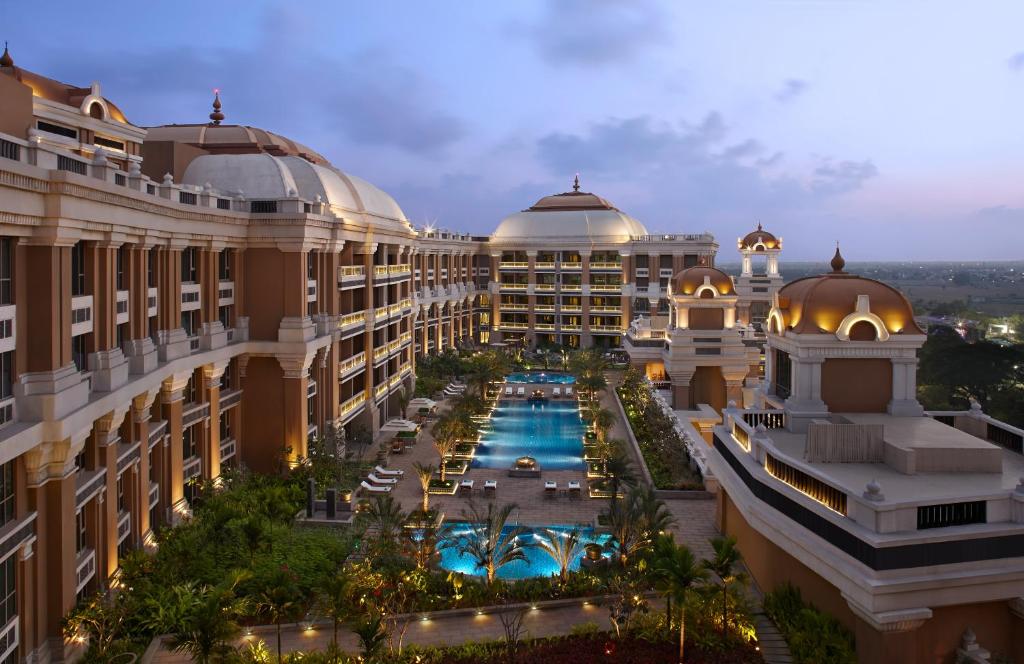 In a magnificent hotel with a distinct personality, the finest standards in Indian hospitality are combined with graceful constraints. Simply said, this was by far the greatest ITC Hotel and hotel in general that you could stay in during our five-week trip to Chennai or India if you're from outside the country.
You may also like: Top 5 Indian Luxury Hotels You Should Know 
The property is so huge and beautiful that each one of its three wings does have its welcome desk, with the main lobby basking in the majesty of a spectacular curving central stairway.
The immense rooms, magnificent columns, alabaster granite and marble walls and flooring wash you along the hallways. You take another turn, enter another elevator, and emerge on another floor or balcony. It's a little tricky to navigate (especially if you have no sense of direction), but that's the kind of place you don't bother getting lost in and wouldn't want to leave.
The exterior of the structure will indeed look stunning at night with some judicious spotlighting, but they chose to utilize a small amount of lighting to save electricity. There is also an eco-friendly mode inside the rooms that glow only little LED lights close to the floor, which is more than enough to see with it while using less electricity.
The company's ecological qualifications are so strong that it has the most LEED® Platinum Qualified properties and is known as the "Greenest Luxury Hotel Chain in the World."
The Grand Chola features the nation's largest dining and convention area, and all in-room features are controlled by an iPad: lights, air conditioning, and entertainment. You could even see who's toward the front door and answer it from the convenience of your couch.
Grand Chola is home to several establishments that specialise in various cuisines. The hotel's buffet restaurant, the Madras Pavilion, is the most popular. But it offers a wide variety of gourmet cuisine, including the finest selection of Indian and international recipes.
Aside from the Madras Pavilion, ITC Chola provides:
* Peshawri serves the best northwestern cuisine ranging from grills to kebabs.
* Royal Vega is a high-end vegetarian restaurant.
* Avartana offers a modern and traditional South Indian foods
* Pan Asian Offers all kinds of Asian meals
* Ottimo Cucina Italiana is an Italian restaurant, as the name suggests.
* Tranquebar is a fancy bar where you should spend some time with your friends
* Cafe Mercara Express is a coffee business that is open 24 hours a day, seven days a week.
The price range of ITC Grand Chola:
It typically costs around 15,000 per day for two people and if you choose special suits, it can go over to 25,000 or even more.
To sum it up, you would probably be thinking about when you can visit ITC Grand Chola again while departing because of its royal aesthetics and services.
Have you ever stayed at this magnificent hotel in Chennai before? Let us know!
We will be delighted to have your thoughts and feedback. Please write to us at [email protected]
Follow Life and Trendz on Instagram:https://www.instagram.com/lifeandtrendz/
Facebook: https://www.facebook.com/lifeandtrendz
Twitter: https://twitter.com/LifeandTrendz