Situated in Ratnagiri amidst the brown and green atmosphere, Thiba Palace is one of the historical buildings in India. It is just 2 km from the Ratnagiri bus terminus and is located on a small hillock in Ratnagiri of Maharashtra. Did you know the palace is one of the major tourist attractions of Ratnagiri? Yes! It attracts people with its beauty bounded atmosphere which is all brownie and greenie. Not so many people are aware of this particular wonderful palace over in India. It welcomes you with nature and tranquil filled surroundings. The natural brown muddy carpet paves the way to the amazing palace along with its greenish grasses by the sides and it opens the doorway to step into the majestic palace. The clouds naturally hanging at the top of the Palace adds extra beauty to the palace.
Thiba Palace in Ratnagiri was built from 1910 to 1911 by the British and the palace area is about 25803 sq. meter. It is stupendously wonderful in its architectural grandeur which was created for King Thibaw of Myanmar who was in exile here. It was also said that the Palace was built by the British to keep the king of Burma or Myanmar under house arrest. They shifted King Thiba from Bramahadesh to Ratnagiri all the way. Wasn't that cruel? But they built an awe-inspiring palace in Maharashtra where it came into existence from 1910 until the King's death on 16th December 1916. And after the death of the king, it was taken back by the British officers, which is said as it was!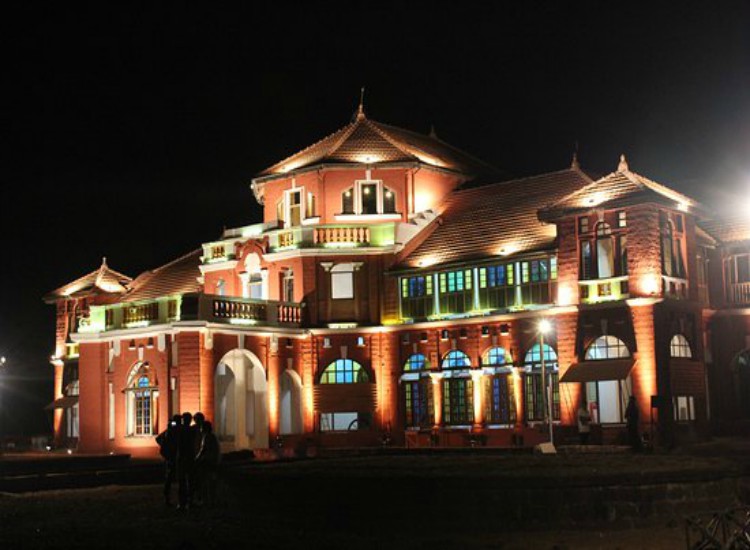 The vibrant red painted palace is a prepossessing and amazingly constructed with three-storied structure with sloping roofs, semi-color wooden windows that are beautifully carved that will be attracted by the visitors and the structure of the building itself manifests the greatness in its appearance outwardly. There is a spacious dancing hall with a staggering marble floor on the first floor. There is also a peaceful instilled Buddha idol placed at the backside of the palace, which was brought by King Thiba to India. As of now, the palace is maintained by ASI  and the palace is installed with a museum that actually exhibits the various artifacts used by the King during the exile period.
Also, there is a viewpoint named Thiba point which is situated near the Thibaw Palace. Visitors can enjoy the fabulous view of Someshwar creek, Bhatye Bridge and the Arabian Sea from this particular point. It is also famous for the spectacular view of Sunset. And the visiting time of the architecturally beautiful palace is between 9 AM to 6 PM.
Amazement at the historical palace of India! Ratnagiri offers you with the 20th-century ambience!