India is a colourful country and for good reason! Holi, one of India's most popular festivals, is the best time of year to see the nation's vibrant culture. The way that Holi is observed varies due to cultural and geographic differences. You'll discover that different areas in India have their own distinctive delights for Holi. There are so many incredible ways to celebrate this important festival in India, from the party-style Holi of Rajasthan to the more customary Holi of North India. So, let's take a look at some of the best places to celebrate Holi in 2023 so you can decide whether or not to go somewhere!
Best places to celebrate Holi in 2023:
Mathura, Uttar Pradesh
For Holi celebrations, Mathura is among the best cities in India. Mathura is famous for being the birthplace of the Hindu god Krishna. It is one of the few places in the nation that allows visitors to see the results of his wonders. This location transforms into a sanctuary for people during Holi because it is where the nation's most lavish Holi celebration takes place. Throughout Mathura's Holi celebrations, you can take part in everything from morning chants and bhajans to enjoying purple gulaal at the Dwarkadheesh Temple to vibrant parades from the Vishram Ghat to the Holi Gate as well as a number of music and dance carnivals. Additionally, Mathura hosts events like Ras-Leelas and Matki Phod.
You may also like: 7 Bollywood Movies that create an urge to celebrate Holi
Pushkar, Rajasthan
Pushkar is regarded as one of the best locations in India to celebrate Holi and is home to the wildest Holi parties. If you want to observe the conventional holiday with a contemporary flair, we recommend visiting this place. Additionally, Pushkar is home to the world-famous Holi Festivals, which draw visitors from all over the world to play Holi there. Aside from that, you can find just about everyone living there playing, dancing, as well as singing on the street corners! Although there isn't any alcohol provided at the Holi parties, the city is filled with government-approved Bhang shops.
Vrindavan, Uttar Pradesh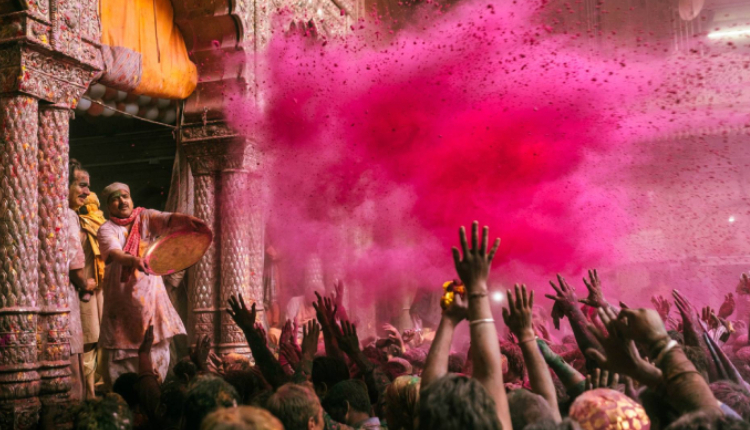 This is regarded as the place where Lord Krishna often used to play Phoolon ki Holi. Each year, thousands of followers travel to Vrindavan to commemorate Holi with flower petals, which are thought to reignite universal brotherhood. The Banke Bihari Temple marks the beginning of the Holi festivities in Vrindavan. The week-long celebrations begin with Phoolon ki Holi (flower splattering), keep going with Widows Holi, and culminate in a colour explosion the day before Holi. People bathing in various colours can be found in this Krishna-obsessed area. Guests may observe the distinctive Holi games played by widows at the Gopinath Temple, another well-known destination. A large number of marigold flowers mixed with gulal produce an incredibly mesmerising scene that resembles a live picture.
Udaipur, Rajasthan
Among the best places in the country to embrace Holi is Udaipur, also widely recognized as the City of Lakes. In Udaipur, people assemble in large groups to celebrate the beautiful festival of colours with great fervour, smearing colourful paint all over each other and indulging in local delicacies. City Palace, Fateh Sagar Lake, as well as Gangaur Ghat, are some of the best locations in Udaipur to celebrate Holi because they allow visitors to see traditional Rajasthani cultural activities and musical performances. Additionally, the city's magnificent palaces and forts offer the ideal setting for capturing special festival scenes. Ultimately, Udaipur's Holi events are a sensory treat that allows visitors to fully experience India's vibrant culture and festive spirit.
Barsana, Uttar Pradesh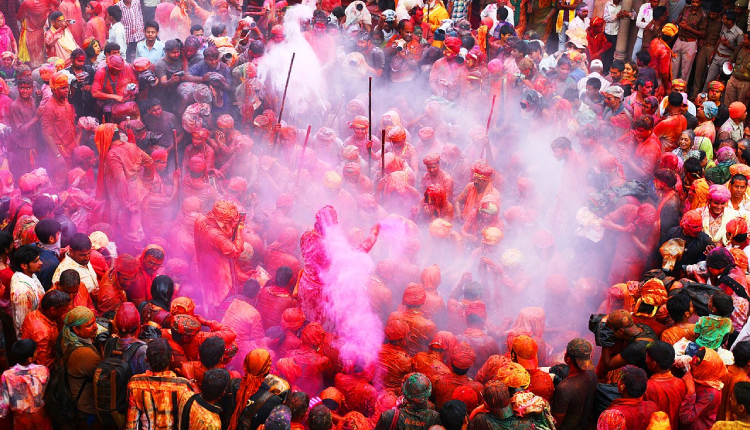 The distinctive and colourful Holi gatherings in Barsana, a town located in Uttar Pradesh, are well known. It has gained popularity as a travel destination for both tourists and locals because it is regarded as one of the best locations in India to celebrate Holi. The community is well-known for its Lathmar Holi celebrations, during which women beat men with sticks to commemorate the heavenly love shared by Lord Krishna and Radha. Another notable Holi ritual in Barsana is the colourful procession of Radha and Krishna's idols carried by locals dressed in traditional garb. They hurl coloured objects at one another while singing and dancing to the beat of traditional songs. In Barsana, the holiday is not limited to a single day; it lasts for an entire week, and each day is significant.
We will be delighted to have your thoughts and feedback. Please write to us at [email protected]
Follow Life and Trendz on Instagram: https://instagram.com/lifeandtrendz?igshid=Yzg5MTU1MDY=
Facebook: https://www.facebook.com/lifeandtrendz
Twitter: https://twitter.com/LifeandTrendz