Holi, the festival of colors, is one of the most joyous and vibrant festivals in India. It is also a time when people forget their differences and come together to spread happiness and love. Bollywood has always played an important role in celebrating Holi through its movies. There are many iconic sequences and songs that capture the essence of Holi in detail. From classics such as Sholay to contemporary hits like Ram Leela, Bollywood has perfectly captured the vibrant spirit of Holi. Furthermore, they create an urge to celebrate the festival with loved ones. This Holi, let's revisit some of these films. Here are seven such Bollywood films that create an urge to celebrate Holi.
Bollywood Movies that create an urge to celebrate Holi:
Sholay (1975)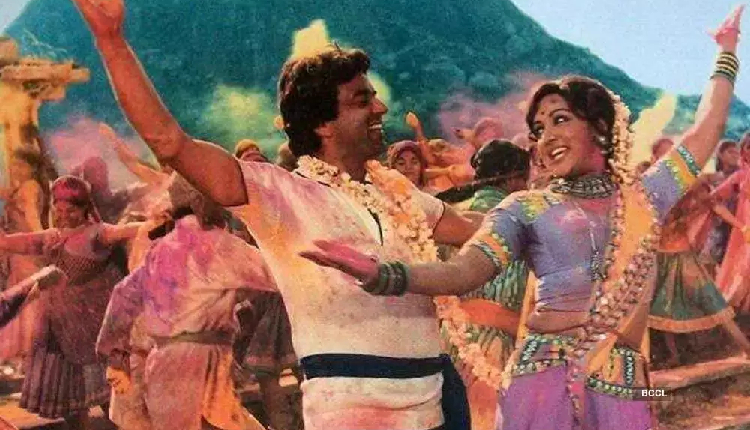 Sholay, directed by Ramesh Sippy, is one of the most iconic movies in the history of Indian cinema. The film starring Dharmendra, Amitabh Bachchan, and Hemamalini is a classic to revisit this Holi. The movie has a famous Holi song, "Holi Ke Din," which is still popular among the masses. Furthermore, the song perfectly captures the essence of Holi. In the song, the masses come together, dance, sing as well as play with vibrant colors. The song also depicts the playful banter between the lead actors, Amitabh Bachchan and Dharmendra, which adds to the festive mood.
You may also like: How to Celebrate Holi when you are residing in South India?
Darr (1993)
Yash Chopra's 'Darr' is a classic psychological thriller film. Darr made Shah Rukh Khan the most compelling antagonist. The film also reminded us that Holi isn't just about spreading love. Darr kept the spotlight on the antagonist and created the fear that something bad would happen shortly. SRK as Rahul visiting Juhi Chawla (Kiran) during Holi is such a terrific scene to watch. While Kiran and the other leads are busy dancing to the song "Ang Se Ang Lagana", Rahul enters the festival grounds with colors on his face and sends a chill down Kiran's spine as he applies color to her face in the most horrific and frightening manner.
Mohabattein (2000)
Mohabattein is another classic movie starring SRK, Amitabh Bachchan, and Aishwarya Rai as leads. This Aditya Chopra's love drama includes a fun-filled Holi segment. The scene in which SRK utilizes his skills to persuade the strict principal (Amitabh Bachchan) to let the students enjoy Holi is an iconic scene. The frame also symbolized how the strict principal embraced Holi. This particular Holi montage enhances the film's festive ambiance. Also, the movie has many foot-tapping songs making it an ideal choice for Holi celebrations.
Baghban (2003)
Ravi Chopra's 2003 hit 'Baghban' is a heartwarming family drama that has Amitabh Bachchan, Salman Khan, and Hemamalini. The film also has a beautiful Holi song, "Holi Khele Raghuveera." The song, sung by Amitabh Bachchan and Alka Yagnik, depicts the bond between a family and how they come together to celebrate Holi. The song also shows the importance of forgiveness and letting go of past grudges, which is a significant message during the festival of colors. In fact, Amitabh also did a similar evergreen Holi song in his 1981 hit Silsila.
Ram Leela (2013)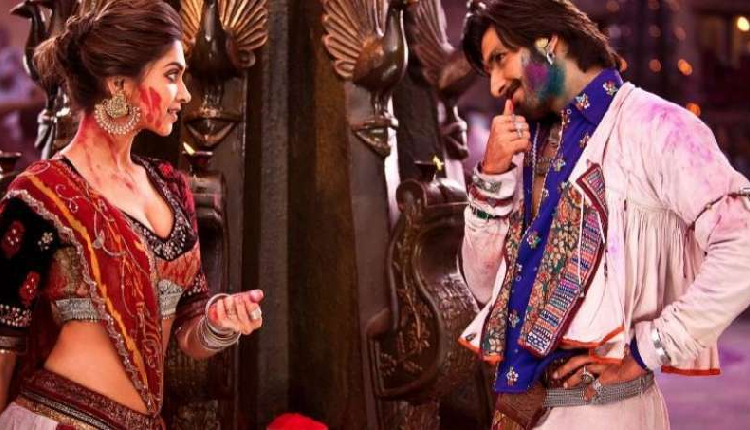 Ram Leela is a tragic love drama starring Ranveer and Deepika Padukone. This Sanjay Leela Bhansali's romantic drama is loosely based on 'Romeo and Juliet'. The film is also a trendsetter in many ways. It first introduced us to the 'DeepVeer' combo. In the film, Ranveer enters Deepika's place and casually starts to flirt with her during a Holi celebration. Also, the plot would have been incomplete if the Holi sequence in the film did not happen, as it depicts the characters falling in love for the first time. We can all still remember the beauty of Deepika in the song 'Lahu Muh Lag Gaya'. Her smooth steps and the colorful Holi backdrop made it an iconic song in Bollywood.
Yeh Jawaani Hai Deewani (2013)
This coming-of-age rom-com by Ayan Mukerji stars Deepika, Ranbir, Kalki, and Aditya Roy Kapoor. This millennial drama is all about love and friendship. The movie also has a fun-filled and vibrant Holi sequence. The famous song 'Balam Pichkari' is more than just a song. It influences the plot significantly as well. During the song and celebration, Deepika develops a love for Ranbir but she has no idea that she will have to split ways with him in the future. This catchy song is also a perfect track to add to your Holi playlist.
Padmaavat (2018)
Padmaavat is again a magical film from the 'DeepVeer' combo and Sanjay Leela Bhansali. It is a period drama that also has a grand and classic Holi sequence. At first, it shows the budding romance between the leads – Shahid and Deepika. It also shows how Ranveer makes a master plan to see his 'Queen', Deepika Padukone. He paints his face in bright saffron and enters Shahid's palace to catch a glimpse of the Queen. The whole Holi sequence and its aftermath play a vital role in moving the plot forward. The scene will also make the viewers want to celebrate Holi in a grand way, just like the characters in the movie.
Some of the mentioned movies are also Bollywood's must-watch classics. Thus, this Holi, get ready to spread happiness and love with colors, great music, and classic movies. Happy Holi!
We will be delighted to have your thoughts and feedback. Please write to us at [email protected]
Follow Life and Trendz on Instagram: https://instagram.com/lifeandtrendz?igshid=Yzg5MTU1MDY=
Facebook: https://www.facebook.com/lifeandtrendz
Twitter: https://twitter.com/LifeandTrendz