Being a guest at an Indian wedding will always be exciting. You get to put on your Indian attire, run into a lot of old relatives or close friends, and also eat a lot of delicious food. But what should an attendee wear to an Indian wedding? There are many different materials and attire to choose from, and Indian clothing is not only stunning and glittery but also offers a huge variety. In order to relieve some of your stress, we're going to discuss some of our favourite wedding guest dress ideas so you can look your best this wedding season.
Best Wedding Guest Dress ideas:
Lehenga – The Ultimate Wedding Guest Look
If you enjoy fusion style, getting dressed up for a wedding event will be right up your alley. For special occasions, flared maxi skirts with traditional accents like zari weaves as well as embroidery are ideal because they are airy, light, and allow for airflow. Combine the skirt with just a crop top or blouse that also has a desi aspect. This look can also be given a bohemian flair by wearing a lehenga skirt and crop top that feature mirror work and perhaps even tribal motifs. Leave the necklace at home and accessorise with appropriate, but big, earrings.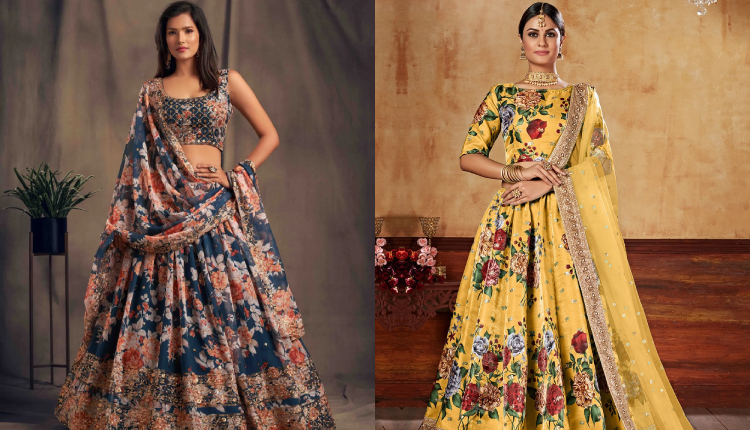 You could always purchase a high-end artist lehenga from Sabyasachi, Manish Malhotra, or perhaps even Shyamal Bhumika, but that would be very expensive. Alternatively, you could have a local tailor make you a custom lehenga, which would be much more affordable and offer amazing quality and total customization.
You may also like: Top 5 South Indian Wedding Songs to add to your sangeet
Saree – The Graceful Wedding Guest Outfit
You did indeed read that right! As long as you avoid wearing one that is overly layered, sarees are the ideal clothing choice for summer weddings because they are breathable and allow for plenty of ventilation. For a royal appearance, go with a silk saree. For a more traditional appearance, you could also choose a chiffon saree with tasteful embellishment only on the borders as well as pallu. For a statement of style, wear it with diamond jewellery. Alternatively, you could choose a handloom silk saree and accessorise with big silver pieces to achieve the current "it" boho look.
You can choose from a variety of sarees, such as a Banarasi silk saree or a Kanjivaram saree, but as an Indian wedding guest, you must be careful not to over-accessorise because it will take away from the gracefulness of the saree.
Ethnic Floor Length Dresses – The Majestic yet Simple Wedding Look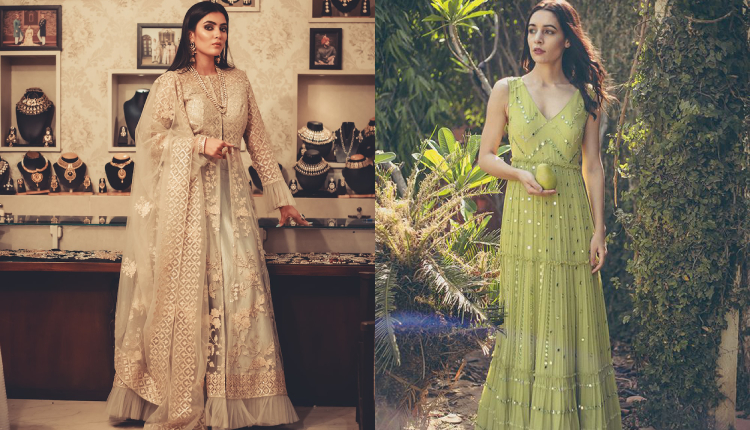 If a summer wedding announcement comes your way, you could really close your eyes and go out and buy an ethnic gown. Fusion clothing, as we previously stated, is what's going to safeguard us during this summer's wedding season. Such dresses are conveniently offered in shops and online. But be careful when selecting the fabric. These gowns look great in silk and chiffon, but stay away from anything that is heavily brocaded velvet, or adorned all over. It shouldn't be difficult for you to wear it because gowns are one-piece clothes that are simple to move around in. If you choose an elegant hairstyle, some elegant stone or pearl jewellery, and an embellished clutch, you'll stand out at the wedding reception.
Salwar Kameez – The Classic Ethnic Look
The salwar kurta, which comes in last but certainly not least, is arguably the cosiest piece of Indian clothing. However, to avoid coming off as too boring in a salwar outfit at a wedding, add some heavy embellishments with a dupatta to give it a unique twist. Use a lightweight dupatta with a bulky suit, and the opposite with a light suit. You can also wear a dhoti bottom, a Patiala, or even a sharara. These bottoms will immediately elevate their appearance. To feel comfortable and look completely unique, choose from clothes like raw silk and maybe tussar for your clothing. A stunning necklace, earrings that don't draw attention away from your outfit, and some studded bangles are some additional accessories you'll need to amp up the look.
That's about some of our favourite Indian wedding guest dresses to wear during a Summer wedding or any other season's wedding. What do you usually wear as a wedding guest in an Indian wedding ceremony? Let us know!
We will be delighted to have your thoughts and feedback. Please write to us at [email protected]
Follow Life and Trendz on Instagram:https://www.instagram.com/lifeandtrendz/
Facebook: https://www.facebook.com/lifeandtrendz
Twitter: https://twitter.com/LifeandTrendz