This movie has won every single award there is, including the 95th Academy Awards and previous awards like the Golden Globes, BAFTA, SAG, as well as Critics' Choice Awards. As Everything Everywhere All at Once wins seven of its eleven Oscar nominations, it has sparked a similar occurrence to Parasite, the first non-English film to win an Oscar for Best Picture. We decided to write a piece about the movie because it is the talk of Hollywood and everyone is raving about it. This will help you understand all the hype.
What 'Everything Everywhere All At Once' is all about?
Just one day following the big win, it became available in India on the OTT platform SonyLIV and having to watch it defines your soul in compassion and humanity. The comedy-drama subgenre doesn't really support the film's complex structure. The same as Evelyn, played by Michelle Yeoh and her daughter/villain Joy, performed by Stephanie Hsu, who confront the issue of 'you could be anything, anywhere,' the writer-directors Daniel Kwan, as well as Daniel Scheinert, emerge as true heroes for creating a film about almost everything. Although it may sound controversial, the verse version that the movie has produced seems to be superior to the MCU's multiverse (yes, we just said that).
You may also like: Everything you need to know about the Oscar winning Documentary Short Film: The Elephant Whisperers 
The movie, which deals with both big-picture issues and specific details, is amazingly splendid because it discusses both real and made-up topics while emphasising family and science. There are times when you're totally lost, but you can still relate to it. There are times when the absurd comedy makes you laugh out loud while also building to an emotional moment. In the same way that the three-act layout of Parasite's shocking turn of events was praised, this American comedy-drama also does something novel to keep viewers interested. It's an out-of-this-world concept; a modernistic belief that another version of yourself exists in another universe.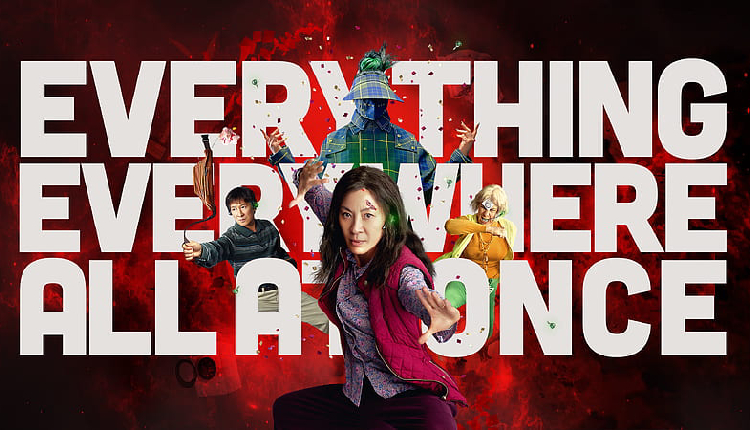 By focusing on that, it integrates all the pertinent themes, including familial life trauma, internal conflict (in this case, Chinese-American), Yeoh's midlife crisis, and depression, but somehow still maintains to emphasise the importance of affection and kindness. Waymond, played by Best Supporting Male Actor Ke Huy Quan, is the source of one such love theme making popular posts on social media. In the movie, he once says, "In another life, I really would have liked just doing taxes and laundry with you."
Not quite a teen, 32-year-old Stephanie Ann Hsu ended up playing the multiverse villain Jobu Topaki as Joy and nailed the role despite being half her age. However, Jaimie Lee Curtis, who was also the actress' co-star, won the competition and ended up taking the trophy back to her home. The film contains a beautiful yet powerful scene in which Evelyn assures Deirdre Beaubeirdre, "You are not unlovable. There is always something to love. Even in a stupid, stupid universe where we have hot dogs for fingers, we get very good with our feet." This line definitely stuck with many viewers, like us, and will always be with us.
Achievements and Awards:
The movie, which has made more than $100 million worldwide, pulled off the seemingly impossible by defeating leading Oscar competition like Cate Blanchett's Tár, Steven Spielberg's The Fabelmans, as well as the German war drama All Quiet on the Western Front. Michelle Yeoh became the first South Asian woman to win the Best Actress Oscar for her work in the movie.
The movie has received 158 nominations during this award season, more than the venerable Peter Jackson film The Lord of the Rings: The Return of the King, which was recognised with 101 nominations. Additionally, the movie received more nominations than Jackson did (295 to 189).
Here's the list of all the awards won by Everything Everywhere All At Once:
● Best Picture, Best Director and Best Original Screenplay in the 95th Academy Awards
● Best Actress for Michelle Yeoh, both at Oscars and Golden Globes
● Best Supporting Female Actor for Jamie Lee Curtis at the Oscars
● Best Supporting Male Actor for Ke Huy Quan, both at the Oscars and Golden Globes
● Best Film Editing on both Oscars and BAFTA
Ultimately, it was and still is the movie of the year. So, if you haven't already, we recommend you watch it right away.
We will be delighted to have your thoughts and feedback. Please write to us at [email protected]
Follow Life and Trendz on Instagram:https://www.instagram.com/lifeandtrendz/
Facebook: https://www.facebook.com/lifeandtrendz
Twitter: https://twitter.com/LifeandTrendz