Sarees will always be the classy Indian ethnic clothing that makes any woman look absolutely stunning. When you wear a saree, you simply feel wonderful and self-assured. Black is another thing that instantly instil confidence in people. Everyone agrees that colour enhances beauty and confidence in a very enigmatic way. Therefore, fusing these two concepts together in a fashion aspect is undoubtedly iconic. Even though there are many people who often wear black sarees, we believe our favourite South Indian actresses are the best at pulling it off. They are merely our country's diamonds, and seeing them dressed in a black saree has undoubtedly shattered many individuals (in a good manner).
Today, we'll be discussing the black saris worn by South Indian actresses. Here are 7 southern actresses—from Sai Pallavi to Nivetha Thomas—and how exquisitely they have worn it. Now let's go right into the blog, shall we?
Iconic black saree moments of South Actresses:
Nivetha Thomas's Black and Golden Floral Saree
Nivetha Thomas has long been regarded as the enigmatic beauty of South Indian cinema. In many of her Instagram fit-check posts, she has won the hearts of many people. However, this one in particular sticks out due to a crucial feature: a black saree. It appears as though Nivetha Thomas was made for this black saree with golden floral designs in the corner. The star has taken it by storm and added a traditional touch with her casual haircut and round bindi. She is wearing it with a golden, open blouse. The actress most recently appeared in the action comedy movie Saakini Daakini in Telugu.
You may also like: South Indian Film Stars who defy fashion rules: Making a statement with simplicity
Sai Pallavi's Iconic Black Saree from Premam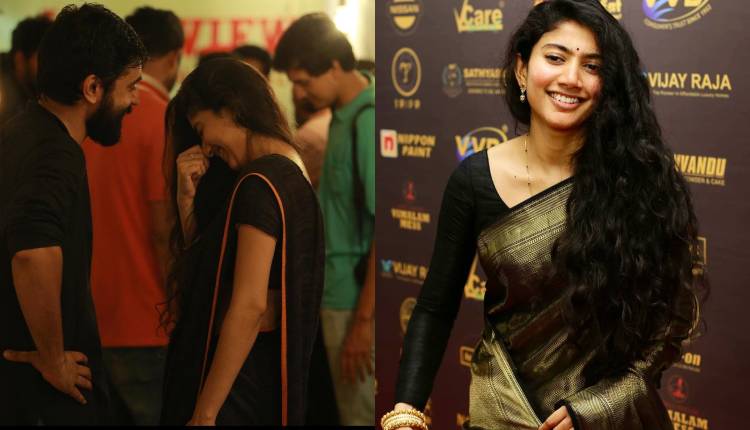 The natural beauty queen of the South is renowned for consistently donning lovely sarees. She is one of the top South Indian actresses and she is able to wear a saree effortlessly. She certainly rocks the black saree look as well. Sai Pallavi may be seen wearing a full black saree in a photo from the Premam set that she posted on Instagram. Sai Pallavi has an alluring appearance because of her blush, gorgeous features, along with the curls in her hair. She last appeared on screen in 2022 as Gargi in the Malayalam movie Gargi. We are eagerly awaiting news about her upcoming work.
Nayanthara's Half and Half Black Saree Moment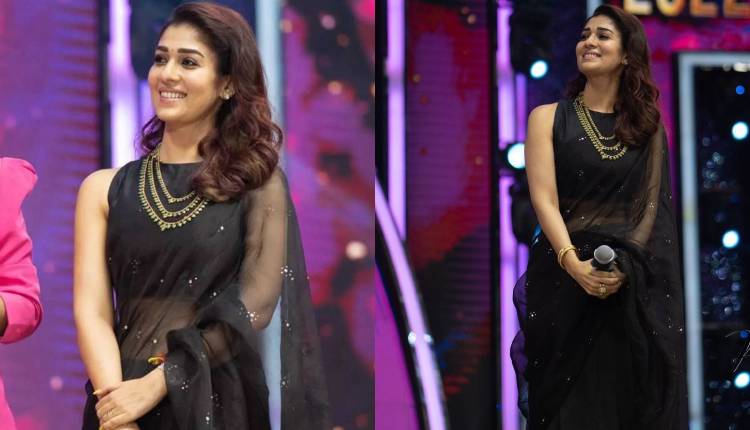 Over the years, the queen of Kollywood has had a number of iconic black saree moments. So it was quite difficult to choose just one. So we agreed that it doesn't really matter which one we choose. because she looks stunning in each one. Nayanthara wore this specific black saree to an awards ceremony in 2022. She and her man in black were truly twining, and they both looked lovely. She decided to don a black saree that was half and half. Silk was used for the lower half, while Organza was used for the top half. Additionally, the upper half has mirror-worked floral buttis while the lower half is left simple.
Samantha's Traditional Cotton Black Saree
In a lot of ways, Samantha is regarded as South India's fashion icon. She always has a great outfit on and has an amazing sense of style. She has never been ashamed of what she wears and always exudes boldness and confidence. She, therefore, exuded the same spirit while wearing her black saree ensemble. Samantha Akkineni's cotton saree and conventional blouse serve as another evidence of her willingness to experiment with fashion. The saree's simple golden border with the blouse's gold thread embroidery makes the entire ensemble a visual feast.
Shruti Haasan's Goddess-like Chiffon Black Saree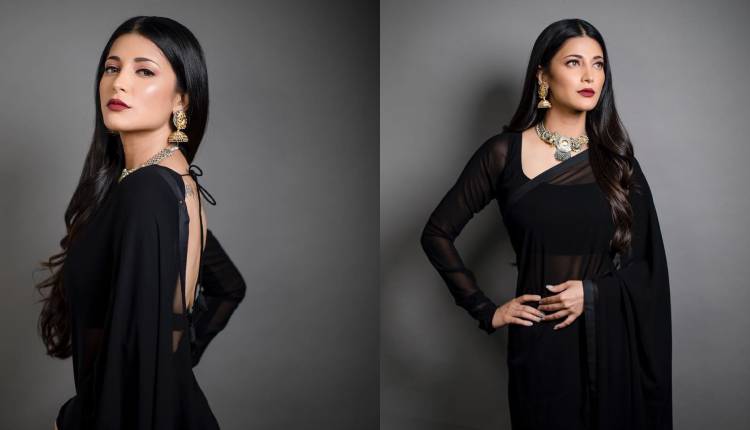 Another actress from Kollywood, Shruti Haasan, exudes confidence and looks beautiful in anything she wears. This black saree is evidence that the actress is stunningly charming when wearing saris. In this transparent chiffon saree, actor Shruti Haasan from the movie 7aam Arivu looks like an enchanting goddess. Her free-flowing hair and full-sleeved blouse give this outfit a contemporary vibe. Her vintage jewellery and makeup add a touch of tradition.
What are some more iconic black saree moments of South Indian Actresses that you have always adored? Name the actresses and tell us why!
We will be delighted to have your thoughts and feedback. Please write to us at [email protected]
Follow Life and Trendz on Instagram:https://www.instagram.com/lifeandtrendz/
Facebook: https://www.facebook.com/lifeandtrendz
Twitter: https://twitter.com/LifeandTrendz