In France, the 16th of May marked the beginning of the Cannes Film Festival. The festival, which is the biggest and most well-known in the world as a whole, is scheduled to go until May 27th, 2023. All of the festival's efforts are focused on identifying and showcasing new films and artists. So, certainly, it is a significant event that occurs every year. Numerous Indian superstars have already been spotted slaying the red carpet this year. We just saw a certain South Indian actress, and after seeing how she looks, we can't help but stare. Yes, we are referring to the talented Shruti Haasan. Yes, we are talking about Shruti Haasan at Cannes 2023.
Shruti Haasan in Cannes 2023 Red Carpet:
Shruti Hassan, the well-known Indian actress, turned heads and sent hearts racing. At the renowned Cannes Film Festival in 2023, she was spotted visiting the Chopard Event. In the spotlight on the red carpet, the multi-talented beauty emitted grace and glitz. Her flawless sense of style and sparkling personality enthralled the audience. The multitalented and very beautiful Shruti Hassan made a lasting impression on the world stage. We were all proud of her for representing Indian cinema in one of the most prestigious film festivals in the world.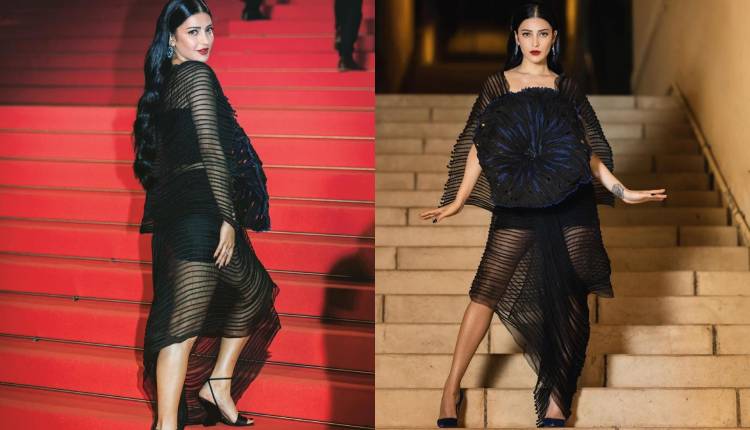 She displayed her outstanding awareness of style and forward-thinking attitude while wearing a stunning designer outfit. Shruti Hassan impacted the global fashion community with each of her appearances, leaving a lasting impression. She had carefully selected outfits that were complimented by fine jewellery and picture-perfect cosmetics. So it's clear that she made a striking statement on the red carpet and displayed her natural sense of style. The actress is skilled at putting together some of the trickier combinations in a stylish manner. She is also the most adept at selecting the proper attire and accessories. The actress has ultimately charmed her fans once again. And this time she was dressed like a punk princess in all-black, which made it difficult to take our eyes away from her.
You may also like: 5 Iconic Black Saree Moments of South Actresses 
Look details:
For the occasion, Shruti wore a black latex dress. She was dressed in a fashionable outfit with a body-hugging shape, lengthy sleeves, a collar neckline, a button-down fashion, and an ankle-length hemline. As accessories, she only wore earrings and rings. Shruti had shiny, bare lips in addition to a dramatic, winged eyeliner. With a centre-parted hairstyle and a set of black stiletto heels, the actress completed her stunning look. She made a pretty strong, bold statement on the red carpet, as you can see with very little of everything.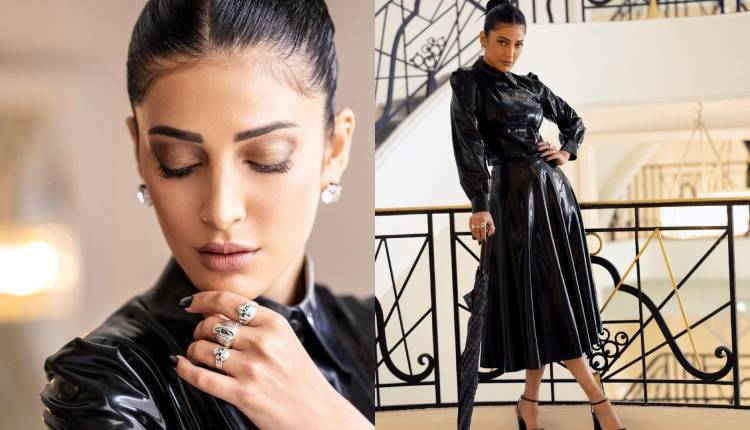 She returned to the Cannes event again, and she continued to wear black. We're not complaining because we all agree that Shruti looks great in black and the colour matches her style.
Shruti chose a bolder, more feminine appearance for the second day of walking the red carpet. She was spotted wearing a black gown, with a large black flower sewn onto the front of the dress serving as the outfit's focal point. With bright red lips and beautiful, straight hair, she enhanced her appearance.
The actress also posted photos of herself at a private Chopard reception with the description, "Cannes again.. today was wonderful at the @breakingthroughthelens event for the action grant supported by @chopard – supporting storytelling and the sisterhood – I love this."
She exuded a really retro vibe in all of her outfits, and we are all for it.
What Shruti Haasan has been up to on the work front:
In the forthcoming action-thriller Telugu movie Salaar, Shruti will soon be back on screen. It is set to be released on September 28th this year. She will appear on screen alongside Prabhas, Prithviraj, Yash, and other actors. The trailer for the film was released lately, so fans are eager to see it.
In addition to Salaar, Shruti will soon be seen in the international motion picture The Eye. According to reports, Daphne Schmon is directing this psychological thriller. The movie's leading lady is the talented Indian actress Shruti, and Mark Rowley from "The Last Kingdom" is also in it. Anna Savva, Linda Marlowe, and Christos Stergioglou are also featured in the cast.
What did you think about Shruti Haasan's stunning look on the Cannes 2023 red carpet? Let us know!
We will be delighted to have your thoughts and feedback. Please write to us at [email protected]
Follow Life and Trendz on Instagram:https://www.instagram.com/lifeandtrendz/
Facebook: https://www.facebook.com/lifeandtrendz
Twitter: https://twitter.com/LifeandTrendz