The festival of colours is coming up soon, and the majority of us are prepared with plans to fervently celebrate the day. Even though Holi is one of the festivals where you can wear whatever you want, style-conscious people still need to dress to impress. We've found some of the best outfits you can wear this Holi to rock the day after poring over numerous pictures of Holi parties, consulting with experts, and much team discussion and debate. We've a list of must-have outfits for this Holi. So before you head out to shop for your Holi outfit, read this entire blog!
Outfits for this Holi:
Punjabi Salwar Kameez
A traditional Punjabi Salwar Kameez is always a good choice, and it has become increasingly popular thanks to numerous Bollywood films. In addition to being incredibly convenient to put on, the short shirt and the well-known Patiala salwar will make you stand out from the crowd as the stylish one. This outfit is the ideal fusion of tradition and modern fashion, and it can be worn to both the Holi religious rituals as well as the festive parties that follow. You will never run out of choices to add to your wardrobe because they come in an unlimited variety of colours, beadwork, and patterns.
You may also like: Simple Beauty Routine When the sun's super-hot outside
White suit with a vibrant dupatta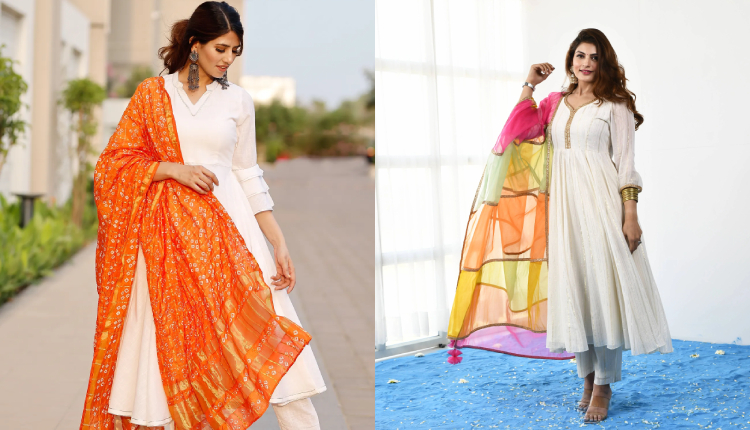 Any Holi celebration would not be complete without white clothing. However, if the wrong accessories are worn with monochromatic white clothing, the result can often be dull and uninteresting. Nothing goes together more beautifully than a brightly coloured dupatta to add colour to an otherwise plain white outfit. The vibrant dupatta gives your simple outfit the much-needed wow factor, and the white fabric lets all the Holi colours shine on you.
Tie-Dyed outfits
Tie-dye clothing is a great choice for the day because it goes well with Holi's vibrant colours. When everyone is covered in colour from head to toe at the festival, the kaleidoscopic patterns of these outfits are especially attractive to the eye. What's even more amazing is that tie-dying can be a simple DIY project you can do at home with your peers, doubling the amount of joy you could have during Holi. There are lots of tie-dye kits on the market that you can use to expertly transform your worn-out, boring clothes into something fashionable and stylish!
Bohemian Dresses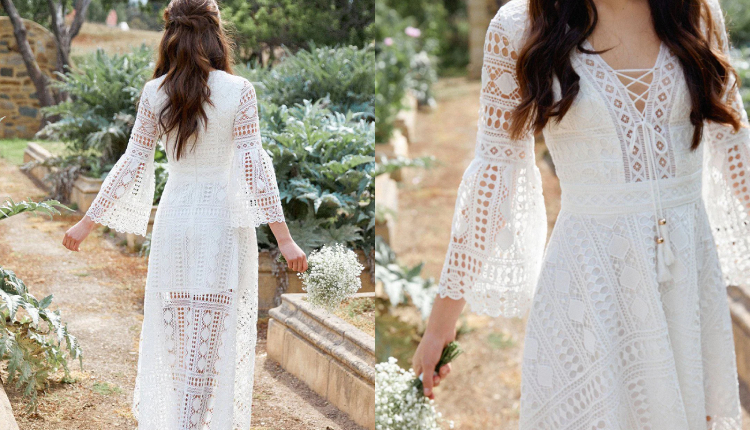 Throughout the spring, bohemian style is a timeless trend, but few women consider wearing it for Holi. If you want to partake in celebrations and festivities throughout the day, you must wear boho dresses because they are soft and created of the most relaxed materials. Bohemian dresses are a fashionable and classy introduction to your wardrobe that first gained popularity during the Coachella music festival. Furthermore, since boho dresses are flattering on all body types, selecting one for a special occasion is always a good idea.
Sarees
Wearing a high-quality saree is the best option for a more classical Holi celebration. The ethnic attire is made to look sophisticated and sophisticated on any woman, whether you choose to wear a saree made of silk, chiffon, or perhaps even cotton. But just because you're choosing to wear a traditional outfit doesn't mean you can't have fun with it. Choose the most eye-catching patterns and colours, and tie the saree any way you want to give it a contemporary and trendy flair. You will undoubtedly be the centre of attraction at any gathering, no matter what you decide.
Denim Shorts
Denim shorts are typically associated with a casual, almost lazy look, but there are days when you must cut loose and have fun! Wearing denim shorts during Holi is stylish, cool, and above all else, incredibly comfortable. The best course of action is to wear something that won't stick to your skin and leave you uncomfortable when your day is centred around celebrations that involve the use of water. Wear your shorts with a short kurta, an oversized tie-dye T-shirt, or even a worn-out white button-up. With a good pair of Denims, you are never going wrong.
Chikankari Outfits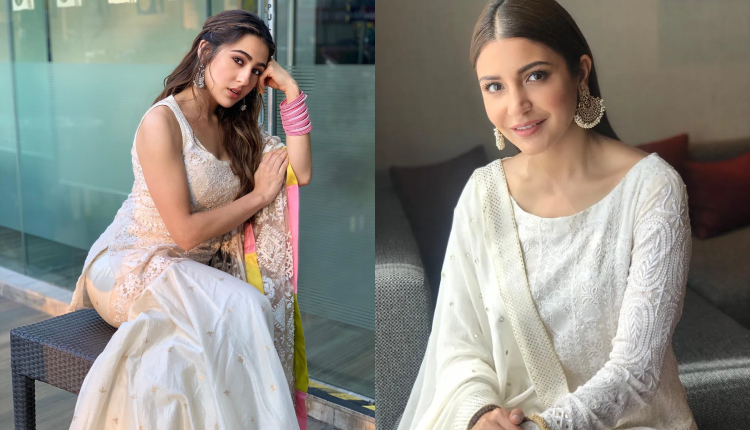 The last, but certainly not least, item on the shopping list is a garment with lovely chikankari work on it. Chikan is a customary embroidery design from central Lucknow that has long been connected to aristocracy and nobility. Chikankari, a type of delicate embroidery that frequently features floral patterns, is a perennial fashion for women's clothing during the height of spring because it serves as an extension of the blossoms that one is certain to see during the season. The embroidered clothing will make you feel regal and beautiful, just like the clothing, and is available in a wide variety of items including suits, Kurtis, palazzos, as well as lehengas in addition to others.
We will be delighted to have your thoughts and feedback. Please write to us at [email protected]
Follow Life and Trendz on Instagram: https://instagram.com/lifeandtrendz?igshid=Yzg5MTU1MDY=
Facebook: https://www.facebook.com/lifeandtrendz
Twitter: https://twitter.com/LifeandTrendz