In today's fashion world, we often treat skinny jeans as the go-to trousers to wear when we run out of statement pieces. However, if skinny jeans are your only sort of jeans, you're losing out on a bunch. From the top of our heads, two different types of jeans that look terrific are boyfriend jeans and bell-bottom jeans. In this post, we'll focus primarily on the latter. We've created a list of some of the best bell-bottom jeans combo ideas to show you how to wear them. Let's have a look at them now.
Bell Bottom Jeans: How to style them?
With a ruffle top and a hat for a retro look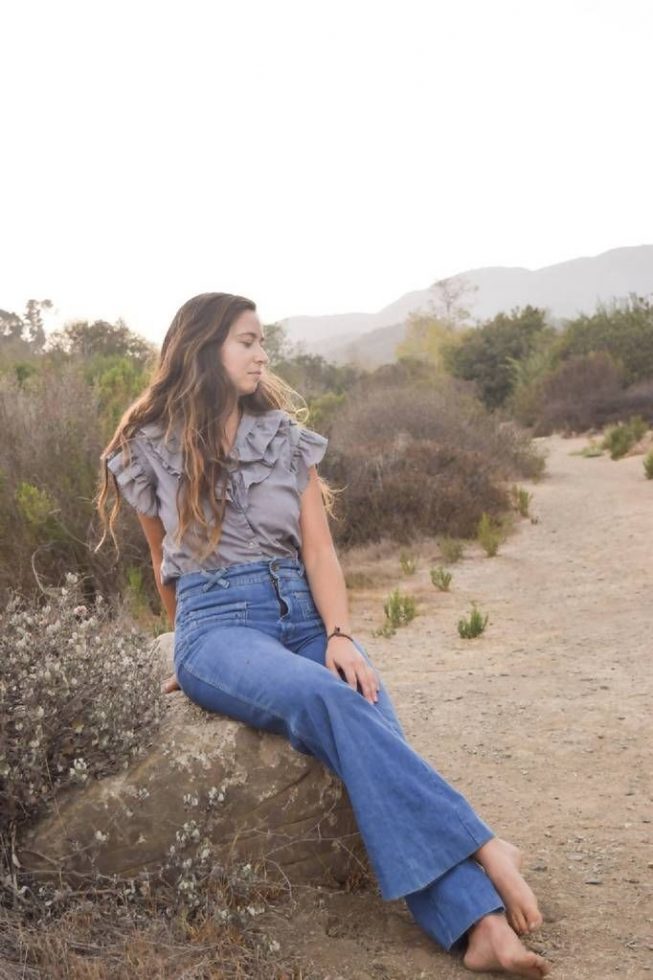 Image credit: Pinterest
A ruffled top and a piece of bell-bottom jeans are indeed a great match, as both pieces include bell-shaped features. Wear a white off-the-shoulder ruffle shirt with blue bell-bottom jeans and black heels for a fantastic combination. Enhance the outfit extra artistic by wearing a black felt hat too.
You may also like: Top 5 Ways to Flaunt that 'Turtleneck Look'
Pair it with a white button-up shirt for a stylish look
Skinny jeans and a white button-up shirt are quite a popular outfit combination. The outfit can look more feminine and creative by changing the skinny jeans with bell-bottom jeans. To add a sophisticated feel to the whole look, combine this attire with black ankle strap open-toe shoes.
Denim on denim with Chambray Shirt
A chambray shirt is a perfect pick-me-up for any diva. If you want to look slimmer, try denim on denim style by wearing a denim chambray shirt with bell-bottom jeans. Wear a deeper shade on the bottom and a lighter colour on top.
White T-Shirt with Bell Bottom Jeans
Image credit: Pinterest
It is most likely the simplest clothing idea in the collection. A pattern white t-shirt and blue bell-bottom jeans complete this look and it'll be perfect for small errands or hanging out with friends. Use black heels as well as a black leather belt to make it complete.
Pair it with a Faux Top
One perk of wearing bell-bottom jeans is that you really can conceal your heels or shoes beneath those jeans, making you look bigger and sleeker. This clothing is an excellent example of that. Combine a blush pink faux fur blouse with dark blue bell-bottom jeans for a simple and charming outfit. Underneath the jeans, tuck a pair of black heeled boots. You can make the outfit even cuter by wearing a pinkish knit cap.
Wear Bell Bottom Blouse with Bell Bottom Jeans
Many of you may be wondering what will happen when a bell-sleeved top is paired with a pair of bell-bottom pants. The truth is that they'd end up as a stylish combination. Combine a white bell-sleeved top with a couple of high waist royal blue bell-bottom jeans to look chic and smart. To look really glamorous, wear the outfits with pink ankle boot open-toe heels.
Wear it with a Black Lace Top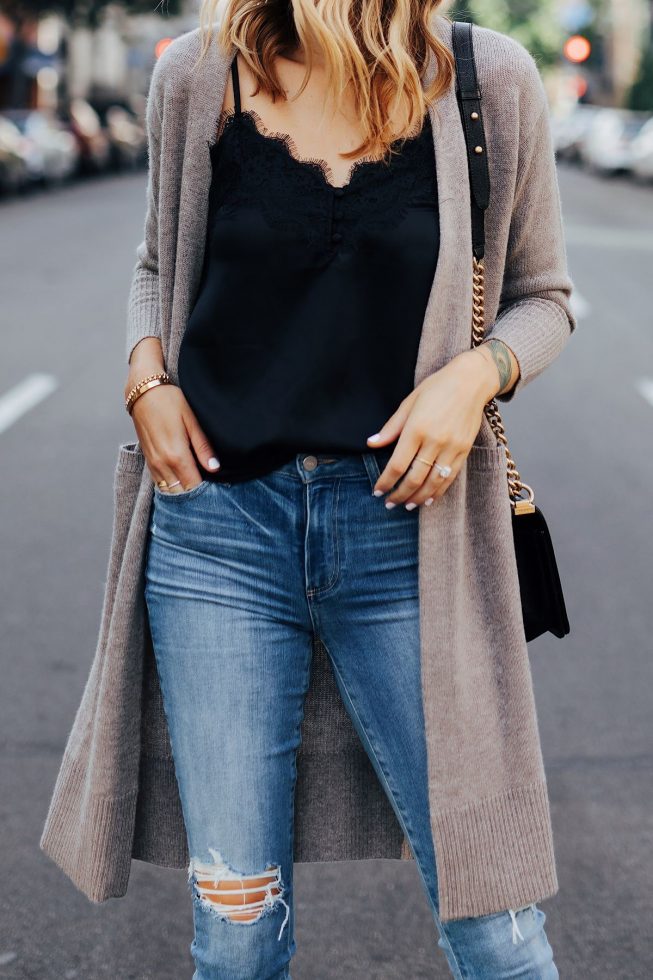 Image Credit: Pinterest
It's not like all bell-bottom jeans are visually appealing. For example, for a low-key approach, choose jeans with slight bell-bottom shaping. Pair them with a black lace shirt and a jean jacket for a fashionable look. You could probably wear black heels, although most of them will be concealed beneath the pants.
Go with a Striped Long Sleeved Shirt
The navy and white striped long sleeve t-shirt is a classic design that is frequently seen in everyday clothes. It's typically worn with skinny jeans or denim shorts. It seems significantly different when matched with the blue bell-bottom pants. It appears to be less casual but perhaps more feminine. To perfect the street appearance, pair the attire with beige strappy sandals.
What are some of your favourite ways to style bell-bottom jeans and why? Let us know!
We will be delighted to have your thoughts and feedback. Please write to us at [email protected]
Follow Life and Trendz on Instagram: https://www.instagram.com/lifeandtrendz_com/
Facebook: https://www.facebook.com/lifeandtrendz
Twitter: https://twitter.com/LifeandTrendz