Wondering whether you can pair shoes with sarees? Here we give you the answer with some styling tips. Undoubtedly shoes are one of the unique options to add a little twist to your traditional wear.
How to pair shoes with sarees? Sarees are one of the most elegant outfits that can be worn at any event. But when wearing a saree, the first thing we think about is what shoes or sandals to put on. Here let's look at what to wear and not to wear with a saree.
What Not To Wear?
Footwears are always about comfort. Whatever footwear it might be, carry it with confidence. Even though there are no set rules for styling a saree, try to avoid slippers and flats. This is because they hinder the style of the saree. Also, big platform heels are always a big no. They again kill the elegance of the outfit. Furthermore, be careful while wearing sports shoes, as they might not go well with all sarees.
You may also like: Sarees and Sleeveless Blouses: The Untold Love
How To Pair Your Shoes And Sarees?
The majority of us believe that sarees go best with heels. Stilettos might look classy with any saree. But shoes do great as well. Here let's look at some shoe options that go great with traditional sarees.
Jutti
Juttis are traditional shoe-like footwears that are decorated with beads, stones, mirrors, and embroideries. The inner sole of this footwear is soft and well-cushioned. Thus it is not only attractive but also a comfortable shoe to pair with sarees.
Kholapuri Shoes
Kolhapuris are handcrafted sandals that go well with all ethnic outfits. They mostly come in tanned colors. Usually, these sandals have a T-strap and are open-toed. Furthermore, Kolhapuri chappals go well with most sarees that have a golden zari border.
Boots
Leather or velvet boots typically protect your feet from cold weather. Thus if you are in cold countries, you can pair your sarees with boots without any second thought. Also, while walking, it gives you a tall and cozy feeling. Any style of saree with a straight hemline looks great with high-heeled boots.
Leather Shoes
Sometimes, classic black or brown leather shoes can also go well with a saree. All you need to know is how to style them.
You must wear less jewelry with your saree to look elegant in this style. Try to wear a unique blouse with a distinctive design or neckline. Moreover, these shoes look great with cotton sarees. Also, try to tuck it in slightly higher at the waist for the shoes will be visible.
Designer Sneakers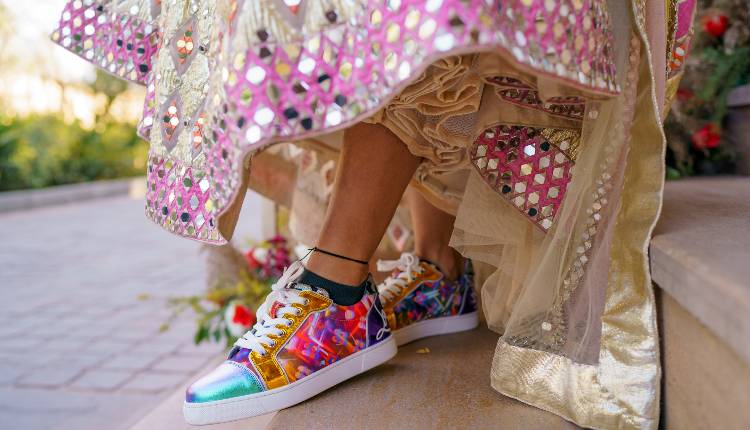 For a sporty and spunky look pair a sneaker with your saree. This look needs a little more confidence to pull off. Nowadays designer sneakers are most preferred and are paired with designer lehengas and sarees. Also, sneakers with embroidery and crystals are becoming a favorite among new-gen brides.
We will be delighted to have your thoughts and feedback. Please write to us at [email protected]
Follow Life and Trendz on Instagram: https://instagram.com/lifeandtrendz?igshid=Yzg5MTU1MDY=
Facebook: https://www.facebook.com/lifeandtrendz
Twitter: https://twitter.com/LifeandTrendz