Varalaxmi is a well-known Indian actress who has made a name for herself in the South film industry. This south diva is an electrifying performer. She is mostly known for her versatile acting skills. She debuted in Tamil cinema alongside STR in Poda Podi (2012). For over a decade, Varalxmi did many memorable roles in Tamil films like Sarkar, Sandakozhi 2, and Tharai Thappattai. She also worked in other South Indian languages and gave hits like Kasaba and Krack. In every movie, she has often proved herself as a versatile performer. She is a committed performer who fits in perfectly with any role. Who can forget her terrific performance as Komalavalli alias Pappa in 'Sarkar'? Even after that, Varalaxmi gave many great performances in South films. Here, we shall see 5 such electrifying performances of Varalaxmi Sarathkumar in recent films.
Electrifying Performances Of Varalaxmi Sarathkumar:
Veera Simha Reddy
This Pongal hit is Balakrishna's 107th film. The film also stars Shruthi Haasan and Varalaxmi. Here, Varalaxmi convincingly portrayed the role of vengeful Bhanumathi. Though a supporting artist, she did mark a presence with her outstanding performance. Varalaxmi has played several antagonist roles in the past. But her recent performance as 'Bhanumathi' surprised many. Here, she is not just a baddie but also the sister of Balakrishna in the movie. Thus she balanced her emotions perfectly and delivered the role with utmost convince.
You may also like: 5 Women-lead Movies of Kollywood to Watch 
Michael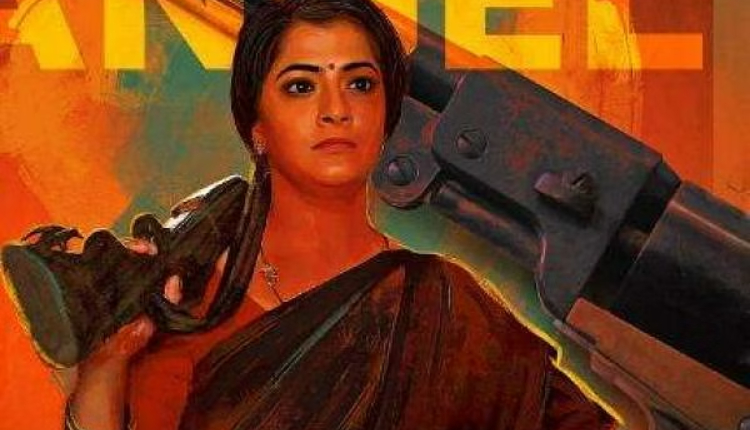 Michael is a neo-noir gangster film starring Sundeep Kishan. The film also features Varalaxmi, Vijay Sethupathi, and GVM. Here, the brief and intriguing appearance of Varalxmi as 'Kannamma' is a must-watch. In fact, the entertaining cameos of Varalaxmi and Vijay Sethupathi are what picks up the pace of the plot. Also, earlier this year, the film's crew released a poster of Varalxmi as 'The Knight's Angel' with a gun in her hand. The intense poster look in itself describes her as a power-packed performer. Furthermore, the whole star cast won praise for their stellar performances.
V3
V3 (Vindhya Victim Verdict) is a 2023 Tamil film starring Varalaxmi as the lead. Though the film received mixed reviews, Varalaxmi's performance as Sivagami won praises. The film sees Varalxmi fighting against a gang rape murder injustice. Varalaxmi's character appears in three different roles. She first plays an IAS officer in the past. In the present, she is a superintendent and in the future, she is a human rights activist. In general, the film covers her life journey and what brought her to her current destiny. Thus it is apt to say that she carried the whole plot on her shoulders.
Yashoda
This 2022 action thriller has Samantha and Varalaxmi as leads. The former is the protagonist and the latter is the antagonist. Here, Samantha had many action sequences and performances to deliver. Still, Varalaxmi managed to capture audiences with her fascinating performance. Varalaxmi steals the show as 'Madhubala'. She plays a beauty-conscious doctor who owns a surrogacy center. She did execute the role with utmost satisfaction. Together, both the actors will hold your attention throughout the movie. Thus the film as a whole displayed Samantha and Varalaxmi as powerhouse performers.
Poikal Kuthirai
This underrated action thriller film stars Prabhu Deva and Varalaxmi as leads. Here, Prabhu Deva as Kathiravan decides to kidnap Rudra's (Varalaxmi) daughter for a ransom. What follows is the impressive performances of the leads. They carried emotions and depth throughout the movie. Furthermore, Varalaxmi's role was very clearly laid out. This also allows us to believe and empathize with her performance.
Varalaxmi is a brilliant and underrated actress who has done many catchy roles. As a performer, she rocked in many movies like Vikram Vedha, and Iravin Nizhal. Varalaxmi Sarathkumar is also a very approachable actress. Thus the makers of 'Danny' gave her the tag 'Makkal Selvi' in the title cards. Her warm nature, humour sense, and unique roles make her apt for the title.
Also, as the years go, the actress has carved a niche for herself as a performer. She did build her profession on conviction and courage. Her line-up movies also confirm the fact that more mature performances are yet to come.
We will be delighted to have your thoughts and feedback. Please write to us at [email protected]
Follow Life and Trendz on Instagram:https://www.instagram.com/lifeandtrendz/
Facebook: https://www.facebook.com/lifeandtrendz
Twitter: https://twitter.com/LifeandTrendz