'What Babil Khan's closet looks like?' is what we start to rethink every time he stuns the fans with his distinct fashionable look. The Qala actor dropped a few pictures on his Instagram handle of his new look yesterday. He captioned it as such, "I knew I was taking a risk with this look but here's the deal, 1 outfit for you, 1 for me and 1 for art. There can be no art without the courage to take risks." However, he started it with the word, "Simurgh" which is actually the name of a mythical bird in Persian history. It is often portrayed as a large, colourful and benevolent creature. Moreover, it symbolizes wisdom, healing, rebirth, life and divinity. No wonder why he added to it to his caption for the new look which is a multi-coloured dress paired with a black jacket by Abu Jani Sandeep Khosala.
You may also like: 5 Summer Accessories that are an absolute must
The Similarities between Babil & Harry:
Making his father's (the late actor, Irrfan Khan) spirit alive in him, Babil Khan always give a glimpse of different and innovative fashion approach. The selections of his collective outfits manifest what he is as a person. Meanwhile, the recent drop-dead gorgeous pictures of the actor remember us the popular Hollywood actor-singer, Harry Styles. We do know the impeccable fashion choices of the popular British Singer, Harry Styles and how innovative it is. Similarly, we do remember Vogue feature of where Harry Styles once wore a Gucci laced-dress and paired it with a tuxedo jacket. Those pictures of the former Directioner Singer went viral and we cannot still get over it. Howbeit, he continues to be a stunner when he appears with a new look.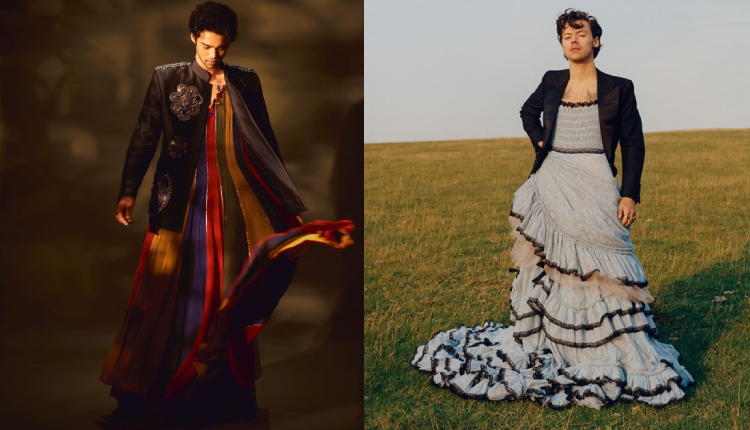 We feel the similarities between two artists who like to play with clothes more often. The way they carry fashion, art and creativity stands out. And how they make revolution in the fashion world is the talk of the table. While the Indian Actor flaunts his multicoloured dress paired with silver-designs embedded jacket, we immediately remember Harry Styles in a dress and jacket. The former carrying it with a touch of Indianness and the latter with western touch. The artists, time and again, firmly stating us that dresses have no gender while exuding the pieces of a designer's creation.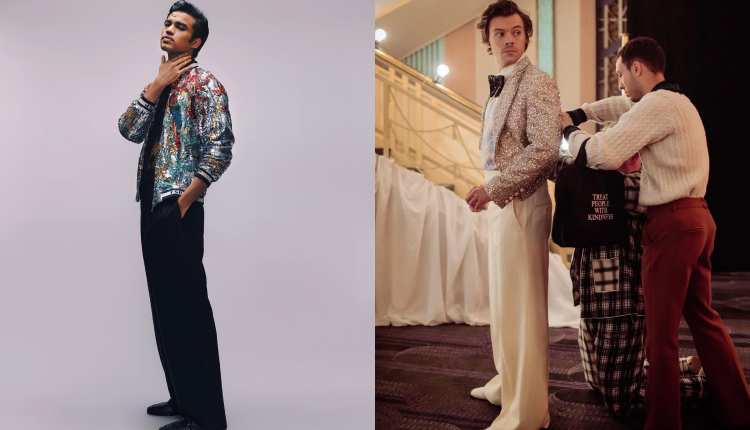 Be it wide-legged pants or printed and vibrant outfits, both Babil and Harry love experimenting them. Not only this, but they do know how to accessorize each outfit they pick. The rings and neckpieces they choose are notable as well. Although the designs vary, the accessories deserve an attention as the fans go obsessed with their choice of accessories for the outfit. Making a fashion statement with contemporary accessories and painted nails are sure of a similarity between the stars.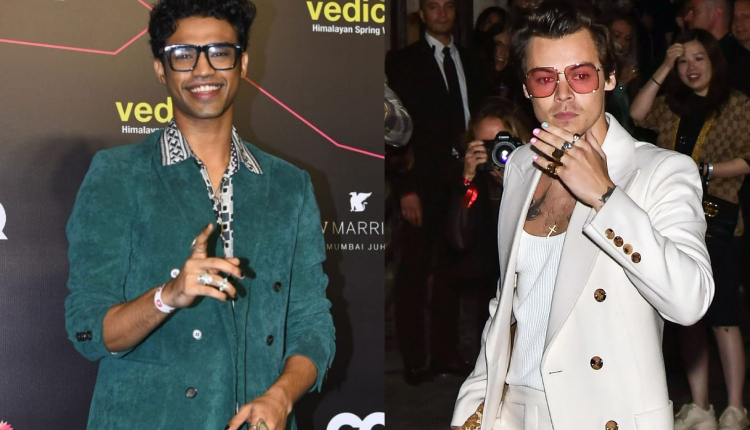 Furthermore, the actor himself quoted "Harry Styles and Johnny Depp" in one of his interviews when asked about the two celebrities with whom he would swap his wardrobe with. That's how Babil's fashion sense go in similar with Harry. It is no surprise if we feel the similar fashion sense between them. So, it is obvious that he is the Harry Styles of India.
We will be delighted to have your thoughts and feedback. Please write to us at [email protected]
Follow Life and Trendz on Instagram:https://www.instagram.com/lifeandtrendz/
Facebook: https://www.facebook.com/lifeandtrendz
Twitter: https://twitter.com/LifeandTrendz