8 Shatteringly Amazing Souvenirs from Kerala You would love to take back home!
Who else would not love to travel? Often people love to travel for relaxation r with the passion to explore the new land.  We would love to purchase the trademark products of the land we are traveling to and so the travel becomes complete in all means. When it comes to narrating your travel memories, it is truly delightful along with some photographs, ethnic artifacts and other things from a distant land. Most of us would love to collect significant things but it may a valuable thing for the owner which we could not get from them. And when it comes to exploring the nook and corner of Kerala, you would collect so many souvenirs that you would love to take back to your home. God's Own Country is already offering so souvenirs, which is nothing but the keepsakes or the tokens of remembrance to cherish the memories. Here are some of the souvenirs which are unique in Kerala.
COCONUT SHELL HANDICRAFTS: Of course, Kerala is famous for its coconuts and so it is used in many art objects. Every part of the trees has been used in so many ways in Kerala. For instance, the shell of the coconut is hard and is tough to be used yet the artisans smoothen and carve to make useful and attractive articles. While we throw the bowls, cups, and ladles, there are table lamps made up of shell with overlaid with metalwork that is beautiful. Coconut shell is bio-degradable and so these products are eco-friendly.
NETTIPATTOM: You could have seen the elephant wearing the glittering ornament on the forehead and it is called Nettipattam. Did you know it is crafted from gold and copper? Yes! The front line sports golden crescents and also imitations are available, which can be used as a wall hanging. The small ones are also available which can be used for hanging behind the front glass of the car.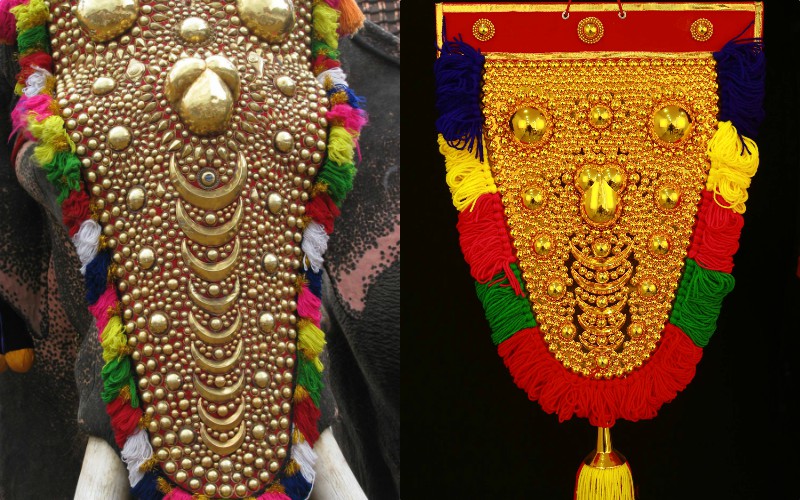 NILAVILAKKU (TRADITIONAL LAMP): Yet another thing you can get in Kerala is the 'Nilavilakku.' It is lit during every auspicious occasion and it is a must during the dusk in Hindu households in Kerala. Nilavilakku is lit in the front of the courtyard to vanish the darkness in our minds and it invokes blessings and you can buy such lamps over here available in all sizes.
KASAVU SARI (KERALA SARI): This is the traditional cloth of Kerala women and is known to be Kasavu sari, which is worn during special occasions. It is woven from the fine cotton and edged with the gold and copper jari. So many people are attracted to purchase this traditional sari of Kerala.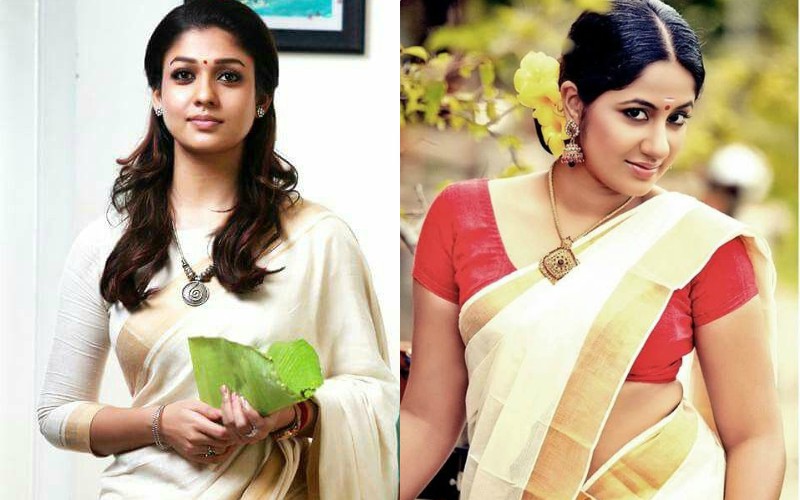 ARANMULA KANNADI: This kind of mirror is made only in Kerala that too by a particular family who retains the composition of the alloy in clandestine. It is not silvered glass but it is made from a metallic alloy and it requires a lot of effort, due to which is high of a cost. It is believed that the mirror brings prosperity to those who possess it and it is best to buy it from the family workshop where it is made as a whole!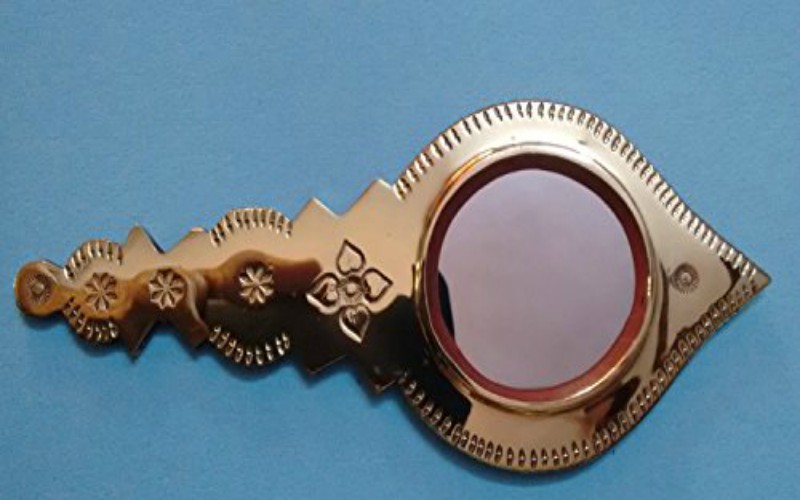 KATHAKALI MASKS: Different masks are available here in Kerala. Masks of dance performers of Kathakali and Theyyam are the most popular ones. Kathakali mask is so special and the mask is made up of fiber, painted and studded with glittering stones. The artisans cautiously give it the same look and feel like that of an actual Kathakali dancer. Masks, as well as Kathakali figurines of different sizes, can be bought from Handicraft shops.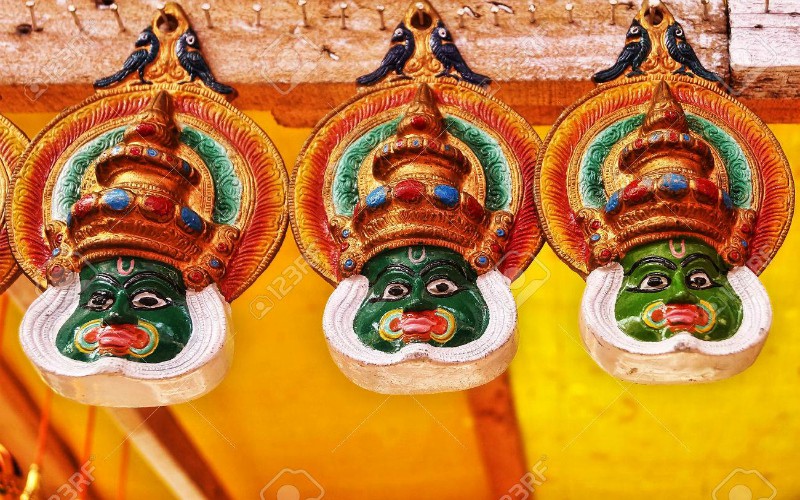 SNAKE BOAT MODELS (CHUNDAN VALLAM): Snake boats or Chundan Vallams are made of Anjili wood and have raised sterns that resemble the hood of the cobra. Models of snake boats which are used at traditional boat races that are worth purchasing here in Kerala.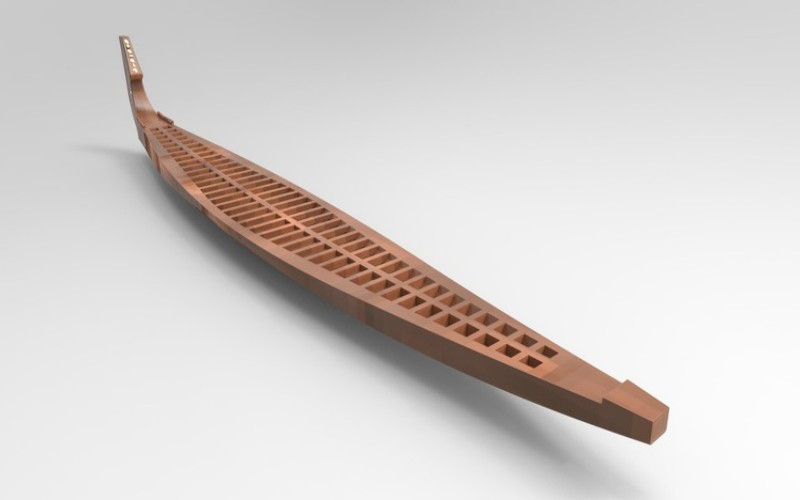 MURAL PAINTINGS (TEMPLE PAINTINGS): Kerala is also popularly known for the rich and colorful temple paintings commonly known as Mural paintings. You can witness the walls of ancient temples, palaces, and churches of Kerala which are adorned with Mural arts exhibiting the mythology and legends. And it takes a lot of dedication to create this wonderful visual art. They are available in handicraft shops or you can also order them directly from noted mural art creators.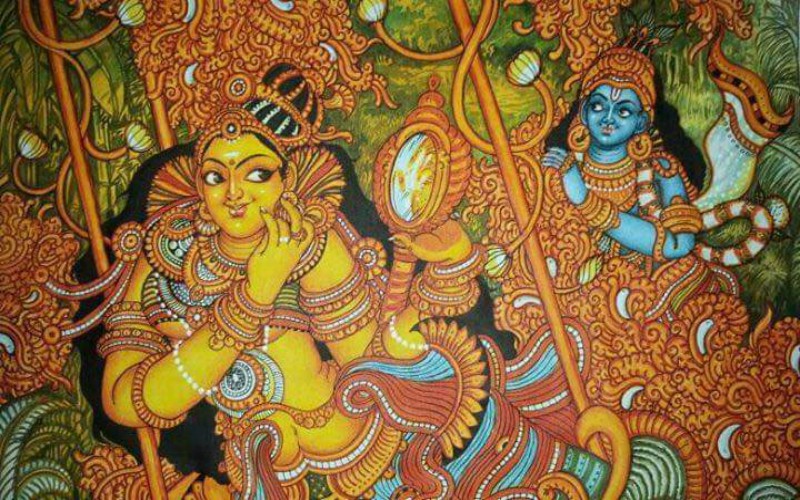 Narrate your travel days along with the souvenirs from the new land!