The antioxidant-rich sweet potatoes are a great weight-loss-friendly veggie. The rich source of nutrients makes the underground tuber a must-added one. Sweet potatoes can be taken in a boiled or steamed or fried form even. So, we thought of listing some lip-smacking ways to indulge in delish sweet potato recipes. Why not? They are an amazing choice to munch. Let's check out the following easy and delicious sweet potato recipes to try at home.
Try the Following Sweet Potato Recipes:
Sweet Potato Pancake:
First in the list is going to be Sweet Potato Pancakes. To prepare top-notch pancakes using sweet potato, the following ingredients are needed – pureed sweet potato, eggs, milk, vanilla extract, whole wheat flour, baking powder, cinnamon powder, pinch of salt and maple syrup is an optional. Take a bowl and blend all the ingredients to get a batter. And now, use a pan to prepare delish pancakes and serve it with maple syrup and nuts. We can hear your hankerings now!
You may also like: 6 Yummy and Luscious Paneer Dishes to Try at Home
Sweet Potato Toast: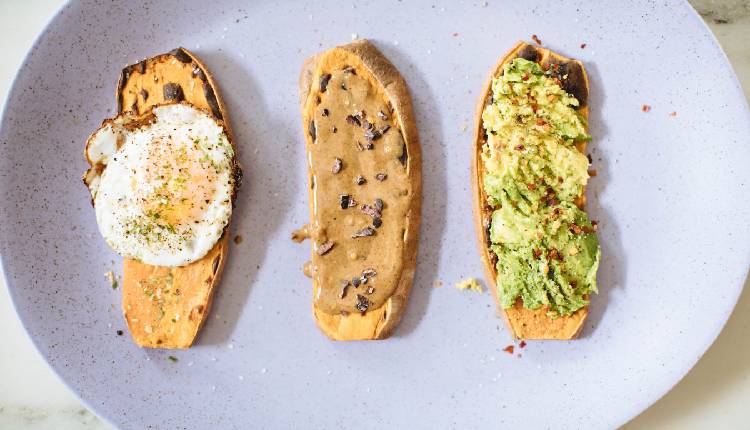 Sweet potato toast? Wondering how? Well, make use of your toaster at home. Not only breads but sweet potato slides will do. Slice the sweet potato and place them in the toaster and now flip and repeat to get a toast. Garnish it with peanut butter or any fruit of your choice.
Stir Fried Sweet Potato:
It's time to give a spicy touch to the ingredient. Let's make a spicy stir-fried sweet potato dish. All you need is required count of sweet potatoes, cinnamon, chili flakes or powder, salt, onion and green chilies. Firstly, boil the potatoes with required amount of water and add a pinch of turmeric powder. Once it is done, remove the outer layer and slice it evenly. Now, heat the pan and add oil. Add the boiled sweet potatoes and stir fry it on sim. Later, add onions, two or three sliced green chilies, cinnamon, chili flakes or powder, required amount of salt and curry leaves. Blend and stir fry them together. This is the perfect Indian touch to your sweet potato recipe.
We will be delighted to have your thoughts and feedback. Please write to us at [email protected]
Follow Life and Trendz on Instagram: https://instagram.com/lifeandtrendz?igshid=Yzg5MTU1MDY=
Facebook: https://www.facebook.com/lifeandtrendz
Twitter: https://twitter.com/LifeandTrendz