Craving some hot momos this rainy season? Then here we give you the steps to prepare yummy momos at home with ease. Firstly, momos did not originate from India. Still, the dish has evolved and expanded so much to fit billions of taste buds. Nowadays, there are separate food stalls just to serve hot momos with sauce. It has become so popular like tea stalls in our country. This popular food can also be made at home without compromising on the taste. Let's see how?
Secret To Make Tasty Momos
Momos are not a difficult dish to prepare. Also, the preparation method and the ingredients are the ones that determine the taste of this dish. Make sure to use fresh and high-quality dough to get the perfect momos. Moreover, you can also use hot water to knead the dough. This makes the dough soft. You can fill the momos with a stuffing of your choice. It can be any vegetable or meat that is finely minced. Furthermore, finely chopped garlic and ginger add that extra punch.
You may also like: 5 Delicious Snacks for a Rainy Day
Steps To Make Momos At Home
Firstly, knead one-and-a-half cups of maida and one cup of wheat flour with some hot water, Add salt to taste, You can also add a teaspoon of white vinegar if needed. Now, let the momos dough rest for a while. Meanwhile, let's chop some ingredients for the filling. Here, let's look at the steps to make delicious chicken momos:
1. Finely chop one onion or preferably half-a-cup green onions. Mix it with one teaspoon of chopped ginger and one teaspoon of chopped garlic.
2. To this mixture add 300-350 grams of minced chicken and some soy sauce. Also, add a pinch of salt to taste. Remember that soy sauce also has a mild saltiness. Thus add the appropriate amount.
3. You can also add finely chopped green chillis as per your taste. Now mix all these fine chopped ingredients in a separate bowl.
4. Now, dust your workplace with some flour and start to roll the dough on it. It should ideally be spread into thin round disks. Then keep your fillings inside and close the dough like a pocket. Additionally, you can fold them in whatever shape you like.
5. Finally, these momos are steamed for 15 minutes and are ideally served with spicy momos chutney.
Steps To Make Momos Chutney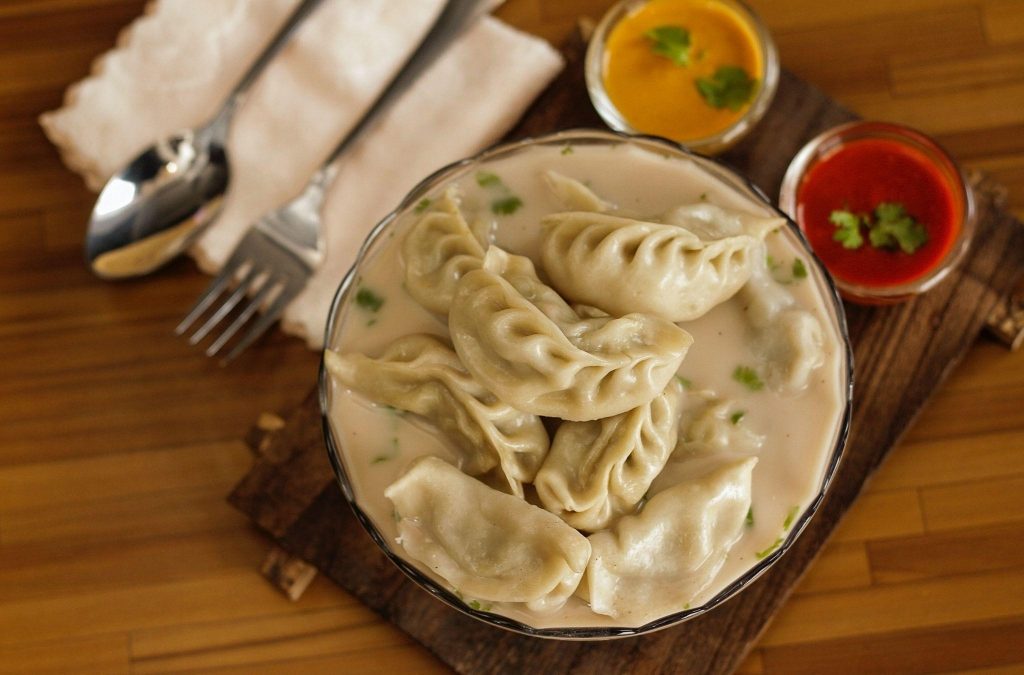 Heat oil in a wok and add Kashmiri red chillis, salt, and tomatoes. Also, add water according to your required consistency. Give it a good five to six minutes to cook. Meanwhile, dry roast the coriander seeds and peanuts in a separate pan for 2 to 3 minutes. Now add everything to a blender along with some garlic cloves and blend to a smooth chutney. The chutney can also be made with just tomatoes, garlic, and red chilli.
We will be delighted to have your thoughts and feedback. Please write to us at [email protected]
Follow Life and Trendz on Instagram: https://www.instagram.com/lifeandtrendz_com/
Facebook: https://www.facebook.com/lifeandtrendz
Twitter: https://twitter.com/LifeandTrendz