Top 4 mouthwatering Non-Vegetarian South Indian Dishes you must try in Mumbai!
Food is our common ground, a universal experience! -James Beard.
Food is a LIFE FORCE to our lives. Each one of us relishes a plate of steaming idlis along with the delightful combination of sambar and chutney or maybe masala dosa or even curd rice or a vegetarian thali in Mumbai. When people can enjoy every piece of vegetarian dishes which are popular in South Indian cuisine, they can also enjoy the spicy or piquant non-vegetarian fare such as mutton, seafood and chicken dishes from various regions of Southern India. It goes from Mutton Ghee Roast to a Kerala Fish Stew and Andhra Fried Chicken to a tangy Prawn Briyani all available and you can savor them in Mumbai. And this is the time to turn your heads from idlis, uthapams to spicy Prawns and mutton dishes. Mumbai welcomes you to have the top 4 South Indian dishes.
MOPLAH CHICKEN BIRIYANI AT SOUTH OF VINDHYAS, THE ORCHID, VILE PARLE EAST: It is said that the hotchpotch of rice, chicken, and spices together cooked over here can never be missed by any non-vegetarian lovers. The aroma of the biriyani served here will instill you with the memories of the South Indian flavour Briyani. Every spoon will take you to South Indian cuisine!
FISH MOILEE AT THANGABALI, ANDHERI WEST: Fish Moilee is a fragrant treat for you which should not be missed as this is said to be Syrian Christian inspired popular dish. This is prepared using spices, coconut milk, and fish which will be served to the fullest and delights your taste buds. And Thangabali invites you for the literal way of having traditional food style.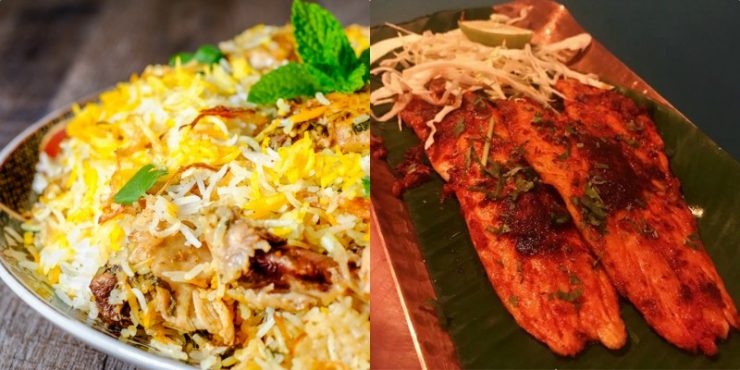 TRADITIONAL CHETTINAD AT 3 STATES KITCHEN, KHARGHAR, NAVI MUMBAI: The flavorsome chicken preparation with yogurt which is marinated with chicken and also the plethora of curry leaves, pepper, ginger-garlic, and chilies will make to feel like you are right there in Chettinad ambience of Tamil Nadu. Well! This one is a must-try in Mumbai city.
MIRAPAKAI KODI OR ANDHRA ROAST CHICKEN AT DAKSHIN CULTURE CURRY, MAHIM: Here is the snack which tickles your taste buds for sure. Well-Picante and served with the onions and garnished with crumbled coconut together makes a savory chicken snack which is a popular Andhra dish. It should never be missed and is worth tasting over here in the northern part of India. It can be a great starter along with the main dishes.
Check out the spicy South Indian part of Mumbai!