Like saggy skin, saggy breasts are something that bothers every woman. Sagging skin texture is one of the signs of ageing. Although it occurs naturally in your body as you age, it cannot be acceptable when you are being a young adult. You cannot allow yourself at the younger stage of your life, regardless of the factors responsible for it. So, if you wish to go get rid of the sagginess, here are some of the powerful yoga asanas to work on your saggy breasts. The change cannot happen overnight but consistency matters the most. Check out the following 4 yoga asanas to work on your saggy breasts.
Bhujangasana (Cobra Pose):
This particular yoga pose is no new to you as it is suggested often for your well-being. All you have to do is to lie on your chest on the floor while you inhale the air. Now, slowly lift your upper body with the help of your hands being placed on the floor. Then, exhale the air while your head is lifted. Now, return to the initial position. Do this for at least 5 minutes to experience the expected result. The regular practice of this yoga asana can be beneficial in fortifying the abdominal muscles, improving the volume of the lungs and working on your chest part.
You may also like: 4 Best Yoga Asanas to Beat the Heat this Summer 
Dhanurasana (Bow Pose):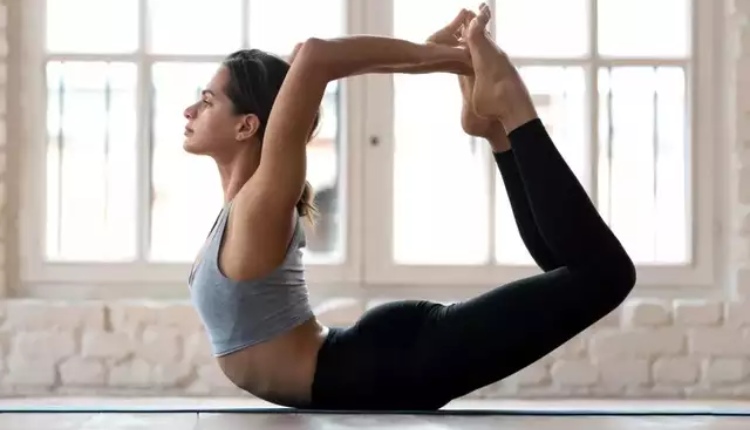 Like Cobra pose, bow pose or Dhanurasana is familiar to many. It shares the same initial pose as the previous pose and the only difference is you have to lie on your stomach and exhale the air. Now, bend your knees and try to bring to close to your head as if it looks like a bow. At this point, you have to breathe out while you grab your ankles. Now, you just try to balance on your stomach and hold on to this position for about 30 seconds. Regularly practising this pose cannot only work on the saggy breast but also gets rid of back pain.
Trikonasana (Triangle Pose):
Triangle pose is just as simple as that you check this particular asana on the internet. You just have to keep your feet wide apart and turn your left foot to a 90-degree angle and make the right one be at a 15-degree angle. Now, try touching your left ankle with the left hand while you stretch the right hand upwards thereby making a straight line. Moreover, ensure to keep your knees and spine erect as much as you can and keep your eyes on the fingers. Do the same for the opposite side. If you wonder whether this can be beneficial? Well then, it reinforces your thorax, works on your spine, enhances blood circulation and adds firmness to your breast.
Virshasana (Tree Pose):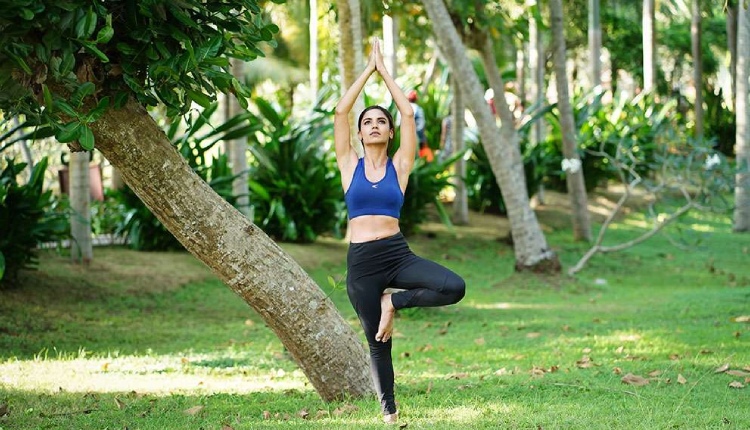 Well, most of you might have tried this tree pose or virkshasana once in your lifetime but ended up falling on your first try. All you have to do is to stand straight and lift your hands over your head and grasp them as if you are saying namaskar. Now, slowly lift your left leg to place it on the inner thigh of your right leg thereby balancing your body weight. Keep breathing while are holding to the position for at least 30 seconds and do it alternatively with the opposite leg. This is extremely effective because it firms the sagging muscles around your breasts and tones them well.
Following these 4 powerful yoga asanas to work on your sagging breasts can provide you with the best result within weeks. Generally, Yoga asanas come with essential benefits for your body thereby making it healthy and flexible. So, it is better if you do not ditch the practice of yoga asanas in your lifetime as infuses robust benefits.
We will be delighted to have your thoughts and feedback. Please write to us at [email protected]
Follow Life and Trendz on Instagram:https://www.instagram.com/lifeandtrendz/
Facebook: https://www.facebook.com/lifeandtrendz
Twitter: https://twitter.com/LifeandTrendz